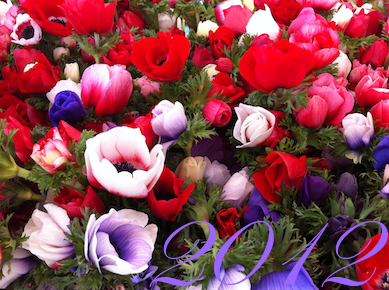 It's that time of year again to take some time and reflect on all the events of this year. I hope you had a successful, happy 2012 with lots of progress towards shattering the template lifestyle and spending more time doing the things that make you come alive. Overall I had a great year, but I did have a fair amount of bumps and rough patches too.
I like to reflect on both the good and the bad times, however, because I think we can't appreciate the good times as much without all the disappointments, setbacks, and challenges that life throws at us along the way. I also set a ton of goals this year and looking back I think I set my expectations too high. But at the same time, I didn't anticipate all the family and work issues I had to deal with, or my health scare over the summer. Thank goodness I am healthy again.
2012 Highlights
I would rate 2012 as a successful year and I had many personal highlights. I achieved a lot of small goals, worked harder than I have in a long time, and also had a ton of fun exploring new places and trying new things. Here are some of my personal 2012 highlights:
Traveled a ton: I can't even count how many trips I had this year. I went to Europe (Bruges, Belgium is so awesome!), Canada, Las Vegas, New York, LA, Charlotte, and Philadelphia, just to name a few.

I got my health back: I went through a really scary time this summer when I thought my liver was failing. I had to go into the hospital for tests and was really sick for weeks. There is nothing scarier than fearing your life could end prematurely. Fortunately I am healthy again and I'm always trying hard to manage my stress through sanctuaries that keep me calm.
Took care of my family: I spent a lot of time nursing and caring for my family this year. They needed my help, and I dropped everything I could in order to be there for them.
Simplified & Organized: I continued on my obsessive minimalism journey to have fewer possessions and donated about 8 bags of clothing, books, housewares, electronics, and random stuff. On top of that I helped my parents declutter about 20 bags of reusable items, 10 huge bags of junk, and a full truck load of old furniture.
Increased my computer and blogging related skills: I learned a lot of new tricks in Photoshop, Aperture, WordPress, PHP, and HTML. There's so much to learn and even though it can feel overwhelming at times, it's been really rewarding.
Met a great new group of friends: Finding close friends can be hard, and I feel really fortunate that I met a fabulous new group of local friends this year and had one of the most fun filled, active summers in a while. I've also continued to build relationships and friendships with more Yakezie Members and Challengers, who are a huge reason why I became a blogger.
Improved my communication skills: I recognize that I'm an introvert and communication doesn't come as naturally to me as it does to some. I've learned a lot of tips on how to improve communication and think I've made some nice progress this year.
Danced my heart out: I admit I am not the best at exercising but I did a great job compared to prior years, taking a ton of bollywood and other dance classes. Dancing is so much fun and a fabulous cardio workout even if I look like a clutz.
2012 Failures
Every year inevitably has its failures and disappointments and it wouldn't be right to try and deny or forget about them. I have no problem admitting when I've failed because acknowledging defeat it's the only way we can truly grow, strengthen our weaknesses, and become better individuals. We are who we are because of both our failures and achievements. And sometimes we need to make the tough decision to fail or persevere. Most importantly however, we need to learn from our mistakes and move forward.
Got passed up for a promotion: This was my

biggest

disappointment and failure for the year. I have a long post coming up about this on Jan 7th because I am 100% convinced my boss screwed me over, I am so furious, and I want to help anyone who ever finds themselves in the same boat.
Still struggling with staying focused: This year I was hoping to work on improving my focus, blocking out distractions, and getting more done in less time. My stress levels were high a lot this year, and with all my traveling, I had a hard time fighting fatigue and blocking out distractions. I want to work on this more in 2013.
Wasn't as active as I hoped on social media: I wanted to utilize platforms like Facebook and Twitter on a daily basis this year, but totally failed. I put the time I did have commenting on other blogs, responding to readers, and writing, which I think is more beneficial anyway, so this wasn't a total loss.

Ate too may processed foods: I wanted to eat at least 2 servings of raw fruits and vegetables every day, but didn't come close. I think most of this was due to me being lazy or too busy and not going to the store enough to keep raw foods on hand. I also didn't do much cooking this year, so I ended up eating a lot of processed foods.
2012 Memorable Public Events
A lot can happen in one year, and it's easy to forget all the various events that took place in the world and our communities. I've put together a list of 2012 memorable public events that had an impact on me or that I found noteworthy.
The world didn't end: All the hype about the world ending on 12/21/2012 was complete garbage and we are all still here, thank goodness!

London Summer Olympics: I had a blast watching all the Olympics coverage in London and recognizing all the places I visited.
SF Giants Win!: This was the second time during my time living in San Francisco that the Giants won the World Series. Market Street was a complete mad house on the Parade day which was also Halloween. It was incredible!

US Presidential Election: Obama made it for a second term, announced his support of gay marriage, and Donald Trump still wants to see his birth certificate.
Costa Concordia: This 4200 passenger cruise ship sank off the coast of Italy this year. I've been on a big cruise ship like this before and it's crazy that the Concordia sank. I remember being blown away by the pictures and footage. Cruise ships are enormous!
Lucasfilm: Disney buysout Lucasfilm for over 4 billion dollars and more Star Wars movies are being planned! Lucas is a Bay Area icon and I am a big fan of his creativity and of course Yoda.
Hostess Brands: Hostess shuts down and the world is now without Twinkies and those delicious, tempting chocolate cupcakes with the white swirly frosting. I grew up begging for them at the grocery store, and even though I stopped eating them long ago, they were a part of my childhood and will be missed.
Hurricane Sandy: This catastrophic storm pelted the NorthEast and the stock exchanges were closed for 2 days. Sandy caused $50 billion in damages and over 130 people were killed.
Sandy Hook Elementary: It's so awful what happened to the children and adults at this school. My heart goes out to all of the families affected, especially during the holiday season.
Notable celebrity deaths: Dick Clark, Andy Griffith, Neil Armstrong, Mike Wallace, Sally Ride, Michael Clarke Duncan, Etta James, Whitney Houston, and more passed away this year.
A lot sure can happen in 12 months. I hope you had a fantastic 2012 and are looking forward to the New Year. If you want to take a further trip down memory lane, flashback with my 2011 Year in Review.
Untemplaters, how did 2012 pan out for you? Were there any 2012 memorable public events that that stick out in your mind? What were some of your 2012 highlights and failures? Are you ready for 2013?!
Copyright 2012. Original content authorized only to appear on Untemplater.com. Thank you for reading!