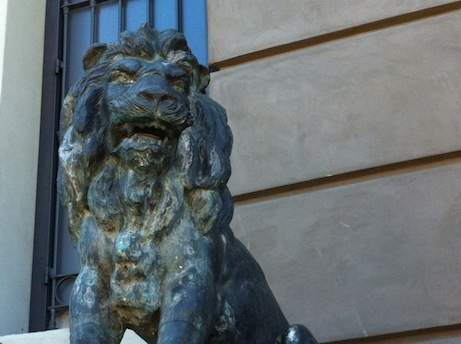 Every startup has its ups and downs; the startup life is a non-stop roller coaster that tests a founders resolve in every possible manner.  I truly believe that the key difference between a successful entrepreneur and an entrepreneur that fails is sheer perseverance, but now here I am announcing that I left my startup after two and a half years.
When To Persevere And When To Fail
Did I leave too soon?  What would have happened if I had stuck it out for another 2-3 years?
In 2007, I left my comfortable corporate job after 3 months to start my own company.  People called me impatient and irresponsible; they thought I was a fool because I chose to live off of savings in a 1-bedroom apartment with 5 other people, coding away to try and build a game-changing company.
People often assume that entrepreneurs from my generation feel entitled, that we need to pay our dues before we can become successful.  But trust me, I've paid my dues:
I've lived off of savings for up to 7 months before we had revenue
I've closed client deals without having a product
My company was 1 month from death back in 2010 before we raised our $200,000 round
I've walked door-to-door to sell our product to local businesses
I've stayed at the cheapest possible hotels and taken red-eye flights to cut costs whenever possible
The company that my team and I built back in 2007 ultimately failed.  We pushed hard for a year and a half, but should have realized early on that the market just wasn't ready for our product and that we weren't the team to build the solution.
How to know when to call it quits
1. The market isn't ready
Our company back in 2007 failed because the market just wasn't ready for a virtual world.  Our goal was to create a virtual world where businesses and professionals could interact online and meet each other in a virtual space.  It would reduce travel costs, food costs, and make it more efficient for professionals to network.  We had to spend a lot of time, energy, and cash on educating the market as opposed to selling the market.
Why it was time to leave my most recent startup: I spent a year selling our product to our target market.  During that year, my potential clients thought it was a great idea, but didn't have the budget for it at the moment, which meant it was not a top priority to them.  I therefore changed my strategy and began educating the market through our blog and other online content.  After 6 months of educating our target market, I realized that this could go on for another 6 months, or perhaps another year.  There was no telling when the market would catch up to the technology, which meant that we could potentially be burning A LOT of cash before we closed the deals in our pipeline.
2. We weren't the team to build the solution
Our company back in 2007 failed because our team did not have the technical expertise nor the network to succeed in a tough industry.  Our lead developer was not experienced in virtual worlds or gaming, and I had no network into big companies looking to sponsor events online.  This meant that at the age of 22, I had to somehow network with 50 – 60 year-old professionals and hopefully get them to trust me and the technology we built.  I had to spend a lot of time building a network instead of leveraging my current network.
Why it was time to leave my most recent startup: When we pivoted to target the franchise restaurant market, I knew I had to tackle an industry where I had no established network.  Nevertheless, I attacked it straight on through networking events, conferences, and sponsorships at trade-shows.  I built my network one connection at a time; though I did extremely well, it takes time to build a network and then even more time to close a deal with the network that was just built.  I realized that it could take many more months until my network would turn into a closed deal.
How to know when to persevere
Though we failed with our first startup in 2008, my team and I were not discouraged.  We were young, motivated, and ready to take on any challenge.  Our next startup was a social media marketing agency.  The agency was actually a first of its kind back in 2008, and we jumped on an emerging industry at the right time, with the right skill-set, and with the right people.  Because we persevered with our agency, we eventually sold it to the largest SEO firm in Southern California.
1. The market is blossoming
I took a look at the biggest US brands at the time and they were all trying to figure out how to use social media effectively for business.  Furthermore, every article online seemed to be about why businesses should use social media marketing to engage with customers.  The market was not only ready, but it was beginning to blossom.  Take a look at the leaders of your target market and analyze if they're ready to use your product or service.  These leaders influence the rest of the industry to use the product or service as well, so it's a great time to jump in and emerge as the go-to solution.  Because we jumped into the market at the right time, we were able to close deals with Levi's, Activision, and LG.
How this applies to my new startup: My network from college and high school are about 26 – 28 years old. They have established their careers, saved money, and are now ready to take a 2-week vacation to extraordinary places around the world.  My market is ready for a product that allows them to easily book a tour online – and that's what I'm providing them with.
2. The right skill-set and people
Our social media marketing team consisted of people that grew up on social media.  Big brands trusted us instead of our older competitors (established SEO and PPC firms) because we had young faces, were confident, and understood how to code in the new Facebook language that came out at the time.  My age for once was not a detriment; it actually helped me close deals.  The more creative and lively that our presentations were, the greater the chance that we would close the deal.  Brands at the time had no idea what to do on social, so they just took our word as experts in the industry.
How this applies to my new startup: Throughout my startup career, I've developed an extremely important and useful skill-set: I'm amazing at driving relevant, targeted traffic to a website.  I know that if I use the phrase tour Peru and link it to the appropriate page on my site, Google will begin to rank my page higher on the SERPs.  Therefore, my new lifestyle business is focused on driving traffic to a website and monetizing the traffic.
The start fast/fail fast philosophy
Though there are a lot of things I do not like about Silicon Valley (now that I've been here for over 2 years), there is a lesson I've learned that will stick with me for the rest of my life:
Start Fast and Fail Fast
The principles behind this startup philosophy:
Don't wait until you have the "perfect" product: get a good enough product out to the market asap
Get feedback from your customers/users and iterate, iterate, iterate!
If things are going horribly wrong, drop what you're doing and either pivot or change products completely
It is extremely tough to know when it's time to persevere and when it's time to leave your startup.  But just like anything else in life, you'll get better as your startup career progresses and you pay your dues 🙂
Questions and Answers
1. What was the startup in 2007
The startup was called FD World (the "FD" stood for "Future Delivery").  FD World was a virtual world that made this world more productive.  Virtual worlds such as Second Life are a way of escapism, a way to escape reality and be someone who you're not.  Our goal was to create a virtual world version of LinkedIn, a virtual world where everyone truly represented themselves and would be able to conduct business in a virtual environment.
2. How much did it cost to launch FD World
No one was paid in the company – we lived off of savings.  Our team consisted of 3 founders and 4 engineers who drove in from Kansas (these engineers went to High School with Yu-kai and wanted a cool summer internship).
We stuffed everyone into a 1-bedroom apartment.  Our costs were basically food and rent.
3. How many hours did you work a week
We never kept track of hours.  But we were working from early in the morning to way late in the evening.
4. What would be the silver bullet that would have made it successful?
We made a lot of mistakes along the way:
Spent too much time writing a 40-page business plan
Spent too much time trying to raise funding when we had no product and no clear vision
Allowed way too much feature-creep to happen
Built a team of 1st-time entrepreneurs that had no experience in the industry
Essentially we were doomed to fail.  We were naive entrepreneurs looking to create a game-changing company.
5. Did you make a profit with your SEO firm sale?
Yes, we made a good profit 🙂
The sale was used to fund another startup we built prior to coming to Silicon Valley.  The startup no longer exists.
6. Please talk about why you didn't stick it out with RewardMe for much longer given it's still alive and kicking with employees.  You mentioned in the beginning of the article that you quit your job after 3 months to do your startup.
The founders and I have different visions for the company:
The founders want to focus on a SMB market and a self-service model
I wanted to focus on an enterprise solution that targets franchise-level clients
Because we have different visions for the company, I felt it was time for me to leave.  I amicably left and the founders and I are still great friends – best friends.
7. How long did you last with the startup?  Doesn't leaving the startup as a co-founder mean that you do not believe in the company anymore?
I was with the company for two and a half years.
I don't believe they chose the right vision; I could be completely wrong though.  Furthermore, I no longer had a passion for the industry – franchise restaurants were just not something that I got excited about.
8. Please walk us through the business model of Tour Woo.  What is Tour Woo's value proposition and how long do you plan to stick with the company?  What will define it as a success?
Value proposition: Tour Woo is the easiest way to book a tour online.
Business model: I receive a commission when my travelers successfully book a tour with one of my partnered tourism agencies.
How long will I stay with Tour Woo: Tour Woo is meant to be a lifestyle business, a business that generates money for me on a consistent basis without me having to work a lot of hours on it.  Therefore, I plan to keep Tour Woo as my lifestyle business for as long as it consistently generates revenue for me.
What will define success: $5,000/month in profits with only 4 hours of work per month
—
Jun Loayza is the founder of Tour Woo, the easiest way to book a tour online.  In his startup career, Jun has sold 2 companies, raised over $1,000,000 in funding, and lead social technology campaigns for Sephora, Whole Foods Market, and Levi's.  Reach out to Jun at jun [at] tourwoo.com