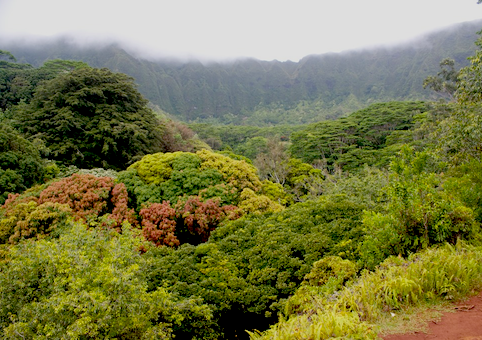 A common interview question is "what inspires you?"  Since interviews are usually not the best time to delve into deep personal issues, most people usually respond with dry, uncreative answers like "my parents," or "being able to learn new things."  Don't worry about how you may have answered that in the past, I want you to think about how you would answer that question right now.
We all find inspiration differently.
Some of us need time alone to find it, looking within.  Others have more success looking outwards, observing and interacting.  There is no golden answer to the question "what inspires you."  And your answer certainly doesn't have to be singular, I find inspiration in more things than I can count.  No one can tell you how or what you should be inspired by; you have to find out for yourself.  What I can tell you is that when you come across these things, people, and/or places you will know.
Looking back at my life, my answers to the question "what inspires you" have changed dramatically over time, and rather frequently too.  When I was a teenager I so desperately wanted to be a famous actor like so many other people, and I watched movies and plays all the time admiring how everyone in the cast "had done it" and that meant there was hope for me too.
Focus on now.  The past doesn't matter.
While I still enjoy the theater and watching blockbuster hits, my interest in acting has long passed, and although I still have mad respect for anyone who's a working actor, that's not a source of inspiration for me anymore and I'm totally fine with that.  My goals and priorities have changed, and the people that inspire me now are bloggers, world travelers, and entrepreneurs.
People are amazing.  I'm constantly amazed at the accomplishments people achieve every day.  But for me, getting inspired by people alone isn't enough.  The majority of my inspirations are actually drawn from nature and travel.
Trails are always changing.
I always feel inspired when I'm hiking because I notice something new everywhere I go, even if I'm wandering down the same trail for the hundredth time.  Nature is always active, finding ways to survive and flourish, and I love that.
Wandering down dirt trails with the feel of the ground beneath my feet, my mind clears and my stresses melt away.  Nature humbles me, and reassures me that all the things have been bothering me really don't matter in the big picture.  Hiking helps me squash my fears and inhibitions and makes me believe that anything is possible.
For those of you who like to hike, here are a few of my favorite trails that have inspired me and I think you'll enjoy too.
Kalalau Trail, Napali Coast, Kauai
Panorama Trail, Yosemite Valley
Sunset Trail, Fort Funston
Solitude Trail, Squaw Valley
Summit Loop Trail, San Bruno Mountain State Park
Maunawili Falls Trail, Oahu
Recommendations For Increasing Your Financial Freedom
* Manage Your Finances In One Place: Get a handle on your finances by signing up with Personal Capital. They are a free online platform which aggregates all your financial accounts in one place so you can see where you can optimize. Before Personal Capital, I had to log into eight different systems to track 25+ difference accounts (brokerage, multiple banks, 401K, etc) to manage my finances. Now, I can just log into Personal Capital to see how my stock accounts are doing and when my CDs are expiring. I can also see how much I'm spending every month. Let Personal Capital track your finances so you can gain more freedom to do your own thing. Personal Capital takes less than one minute to sign up!
* Break free! If you're burnt out of your day job, believe that you have options and can turn your career around for the better. I didn't believe I could escape the grind for the longest time, but fortunately I wised up before stress destroyed my life. I never would have thought I could negotiate a severance package and get paid to leave a job I grew to hate, but I did! Learn how you too could get paid to leave your job like I did and open your eyes to new opportunities.
The following two tabs change content below.
Hi there, I'm Sydney! After ten crazy years, I left a grueling six-figure job in 2015 for a better life. Now I spend my days writing, freelancing in various capacities and finding new ways to stretch my brain. I'm crazy about photography, gadgets, traveling the world and stopping to smell the roses. Untemplater is where I share my insights and adventures with the world. I'm continually motivated to write and evolve in hopes that I can help others improve their lifestyles, careers, wealth and happiness. Every day is a gift! Be sure to check out my
how to start a blog
and
Untemplater recommendations
pages. Thanks for reading!