We spend the vast majority of our lives working. If you're unhappy at work or worried you could get laid off, isn't it time you stop worrying and take action? You've come to the right place! The following How To Engineer Your Layoff review will teach you about the perfect book to help you take your future into your own hands.
What Is How To Engineer Your Layoff About?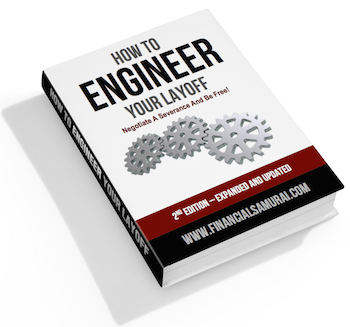 Are you sick and tired of your job and dying to get out? Do you dread getting out of bed in the morning because you don't want to go to work anymore? Is your company downsizing? Are you worried you could get laid off?
This inspiring ebook will teach you How to Engineer Your Layoff with a nice severance package to help you along your way. Sam Dogen has successfully helped many people engineer their layoffs to lead more meaningful lives. Now it's your chance to learn step by step how to engineer your layoff so you will have the knowledge, confidence and prowess to succeed.
Newly updated in 2019 in its third edition, How To Engineer Your Layoff is designed to help you leave your job with money in your pocket. Since publishing the first edition in 2012, thousands of readers have successfully engineered their layoffs to work in a new field, spend more time with their family, retire early, hop to a competing firm, travel, and more.
The book personally enabled me to get paid to leave my job that had me stressed to wits end for years. My experience reading and applying How To Engineer Your Layoff to my career completely changed my life! Now I get to do the work that I love on my own schedule, completely stress-free, and be a stay at home mom. You too have a chance to become a success story!
Who Should Read How To Engineer Your Layoff?
Curious if this book is for you? Here's just a small sampling of reasons why you should read How To Engineer Your Layoff.
You are unhappy at work and want to quit your job.
You are interviewing for a new job or already have one lined up.
Your department and/or employer is showing signs of trouble.
Your company is likely to or actively going through layoffs / reduction in force (RIF).
Your department is downsizing.
You're bored at doing the same thing for years and want to do something new.
You want to retire early.
You want to spend more time with family.
You want to care for a loved one who is sick.
You want to start your own business.
You want to switch industries.
You want to go back to school.
You work in HR and are involved in staffing.
You are a manager or supervisor.
About The Author: Sam Dogen AKA Financial Samurai
Sam started the popular personal finance blog Financial Samurai in 2009 during the depths of the financial crisis as a way to make sense of all the chaos that was happening around us. After 13 years of working in finance, he decided to retire in 2012 and utilize everything he learned in the business to help people achieve financial freedom sooner, rather than later.
Instead of just calling it quits and handing in a resignation, Sam ingeniously negotiated a severance package. He received a generous lump sum severance that provided him with over six years of living expenses! His total severance package was valued at over $550,000. Now that's impressive!
Sam's experience gave him the opportunity to fully pursue his love of writing on Financial Samurai and helping people around the world improve their finances. His voice is one of the most brilliant, unique, and witty styles around. I've been reading his work since 2009 and am amazed at how he continues to produce creative, in-depth and insightful content and advice multiple times a week.
I definitely recommend reading Financial Samurai on a regular basis in addition to the ebook How To Engineer Your Layoff.
What's Included In The Ebook?
This How To Engineer Your Layoff review wouldn't be complete without telling you about all the goodies included in the ebook. Here's a peak at what's included:
Over 180 pages of life-changing advice (increased from 150 in the second edition)
20 detailed chapters with key point summaries
Helpful insights on your employment rights
Reasons why you should engineer your layoff
Reasons why you should not engineer your layoff
Costly mistakes to avoid
A worksheet to help determine if you're ready
A detailed checklist of steps you should take
Separation agreement negotiation tips
Negotiation tips when you have another job lined up
How to guide on contracting a severance before you're hired
Case studies on people who successfully got paid to leave their jobs
A framework on how to develop multiple income streams
Advice on life after separating from your job
Details on how Sam engineered his layoff and why
A bonus chapter written for managers and employers
Employment rights tips
Reference list of featured articles
Resources and recommendations
How To Engineer Your Layoff reviews
Here are just a few testimonials in addition to my own How To Engineer Your Layoff Review.
"How To Engineer Your Layoff", allowed me a blueprint for putting the title theory into practice. With six months of living expenses I would not have received had I resigned, the results speak for themselves. Examples of relationships I would need to cultivate, persuasive arguments I would need to make, and real practical advice are all included and have paid for the book a thousand times over. Thank you for the book." – JayCeezy (read his full review here: Yes, I Got Laid Off! Thank Goodness For Severance Packages!
"Finally, a book that teaches us how to break free from the corporate grind and make money in the process! I've been working at my job for over 15 years and was becoming a zombie. I no longer had the motivation to do anything beyond what I was supposed to do. I've saved up a good amount and How To Engineer Your Layoff was just the right push I needed to finally take a break and not feel guilty!" – Michael
"HTEYL helped me get out of an unbearable work situation.  My company was losing money, moral was very low, and my boss was like Jekyl & Hyde! Not only am I now much happier working at a new startup, I was able to take six months off and not have to worry about anything financially due to my severance package." – Encore Career
"Thank you for making your method available. My wife is happy and astonished thinking that I'm the only person she knows that would find instruction on getting laid off, and then actually following through with it successfully. I can hardly believe it myself!" – Doug (read his full review here: Use The Family And Medical Leave Act (FMLA) To Negotiate A Severance Package
And check this one out too!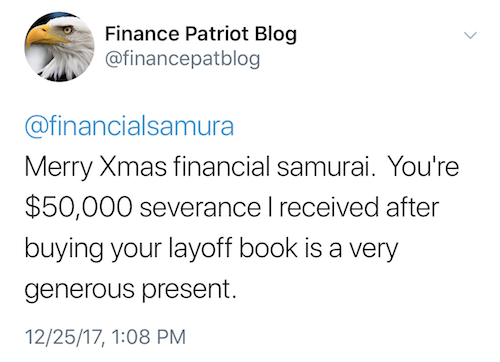 Get started!
Ready to download your own copy of How To Engineer Your Layoff? Access the store page here to learn more and purchase the ebook. You can download it instantly and start reading. I can't believe how much this book changed my life. Check it out for yourself and take control of your future!