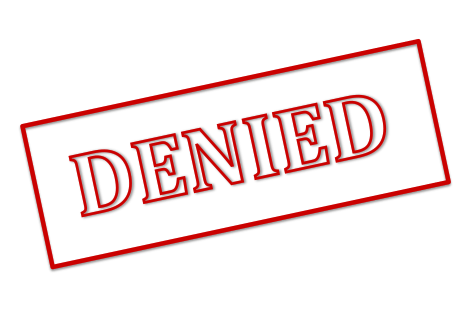 It's always a bit nerve wracking when it comes time to find out who got picked for the latest round of promotions at work and who got shafted. The times when we make the cut, we feel on top of the world! But there inevitably also comes a time, or two or three, when we don't make it and the disappointment is just plain awful to swallow. The promotion we worked so hard to achieve goes to someone else or is pulled from the budget and we're left feeling rejected and taken advantage of. It's happened to me and it completely sucks. But it really isn't the end of the world and I want to help you learn how to handle being denied a promotion so you can rise back up and get remotivated.
I've helped people cope with rejection at work before, but I have a much clearer perspective now because in this last cycle my boss screwed me over and I was rejected from a promotion I really wanted.
I'll be honest with you, I thought I had this promotion in the bag, but I was wrong. A decent amount of time has passed since my last promotion, and I've been busting my a$$ on several big initiatives this year. My performance reviews have been strong, I've been super proactive, and I've followed all the key steps on how to ask for a raise and a promotion. And yet my boss had the nerve to promote someone else and screw me over. Lame.
An Emotional Crescendo
I consider myself to be pretty mellow. For those of you who are regular readers, you know that I'm an easy going, friendly, and lighthearted gal. I rarely vent because it takes a lot to get me angry and emotional. But being denied this promotion put me over the edge for several weeks. I waited to publish this post because I needed time to simmer down and didn't want to write something I'd regret later. I really wasn't expecting to get passed over, and was totally unprepared for the wave of emotions that hit me.
As a woman myself, I have no problem saying that women tend to be more emotional than men, but I generally have nerves of steel when it comes to work. I'm not the type of person who will start crying uncontrollably if I'm given constructive criticism or a challenge. I actually welcome feedback and find constructive criticism to be really beneficial because there are always things that every one of us can improve upon. And unlike some working women, I'm not timid or afraid to voice my opinion or ask for things I deserve. But being denied this promotion made me a complete emotional wreck and my feeling rose rapidly like an intense crescendo.
Refuse To Accept A One Sentence Answer For Rejection
I hit a breaking point once before in my career when I worked an 18 hour shift one Friday and had to come in the next day to complete a huge project. My brain was total mush, I couldn't think straight to meet my deadline, and the stress completely got the better of me. Getting passed over on this year's promotion was my second career breaking point.
When my manager called me into a conference room for my year end meeting, I was expecting good news. But as soon as I walked in the room however, I noticed he seemed really down. After I took a seat, he quickly read me my year end stats, and then went silent waiting for me to say thanks and leave the room. I didn't move. Wait. Did he forget to congratulate me on my year end promotion, or did I just get stiffed? With a puzzled look on my face I asked him, "Soooo, does this mean I didn't get promoted?"
He somberly muttered, "No, I'm sorry." What. Wait a minute. That's it?! I get strong feedback all year and then I'm just supposed to take "No, I'm sorry" and walk out the room? Hell no. I flat out asked him right then to elaborate further because I was not going to accept a one sentence answer and then get right back to work.
My manager started off dancing around the subject, blaming things like the market conditions and our CEO. Typical. He wasn't getting into that many specifics, and I actually started to tune him out at this point because the shock really started to set it…I just got completely rejected for a promotion. Wow. A flood of emotions hit me like a giant blast of cold water.
The Pain And Frustration When Someone Else Gets Picked First
What made it worse is that he informed me that one of my colleagues got promoted for the title I was working so hard to get. I was so naive not to prepare for this possibility and to assume both of us would get promoted at the same time. The last thing I wanted to do was to expose how emotional I was in front of him, but it was really tough to keep my composure. The timing was terrible too since I've been working a lot of overtime the last several months, and then this was the thanks I got. Really?!
I was beyond frustrated! Anyway, I kept asking him questions until I was able to get some dirt on what was really going on. Even though I'm not happy with his responses, I have a better understanding of why I was denied a promotion and some color on what to expect next year. I can't go into the specifics because I keep the details of my work private, but I still think my boss screwed me over.
Even though I have been an emotional train wreck, I'm not going to let this experience destroy me. I already let my boss know how disappointed I am, that I believe I should have been selected, and that I'm reconsidering my future at the firm. This was too big of a disappointment for me to just sit back and be quiet about it. Even though I may not actually end up leaving, he needed to know that I'm upset and that he can't get away with something like this again.
From Sadness Comes Anger And Spite
After recovering from my initial depression, I found my sadness turn into anger and spite. But I didn't let my frustration lead me to do something foolish. As much as I wanted to shout a bunch of obscenities in front of him, I saved the bad language until after I got home. Anger is a powerful emotion that can really consume your spirit and composure in a bad way if you don't move past it quickly enough.
So I decided to channel my anger and turn it into fuel and motivation to kick all my opponents' a$$es. I'm also going to keep on my entrepreneurial untemplate trek, save as much money as I can, and then get the heck out of there! All my feelings of loyalty were blown up in this process and I'm focused on doing what's best for me now. I've flushed the sadness and anger out of my system and I'm now fired up and am back to focusing on the positives and breaking free of my cubicle.
Then Recovery, Planning, And Execution
After the sadness and anger started to leave my system, I changed my focus to my recovery and the next steps I want to take. I already made it clear that I am not happy with the circumstances and if I need to leave in order to get justly rewarded for my efforts, I will. I won't feel guilty anymore about not staying late and declining projects when I have too much work, I will focus more time and energy on building my side businesses, I'm starting to look for other job opportunities, I will maximize the use of all my benefits, and I will take all of my vacation days and not feel a twinge of guilt about it!
At the end of the day I keep reminding myself too that it could have been much, much worse. I am still fortunate to have a job, I like what I do, my salary isn't phenomenal but it's fair, and I still have my health. I'm also not going to let work get me as stressed out anymore because it's not worth it.
10 Key Tips On How To Handle Being Denied A Promotion
I learned a lot from this rejection and I put together some tips to help you if you're ever in the same boat as me. We must never surrender!
1. Keep asking questions until you start to get some answers. My manager wanted to get away with giving me a one sentence answer to why I was denied a promotion. Don't let any manager get away with that! They owe you a real explanation. Be bold and ask them questions straight up. It's the only way you will get answers.
2. Don't get emotional in public. When you get caught by surprise with bad news it can be really hard not to get emotional. The last thing I wanted was to show even a single tear in front of my boss, but I was so upset that my body couldn't help it. I also didn't want to leave the room until he started giving me some answers. After I finally left, I went and balled my eyes out in the bathroom. It was awful. I know it's hard, but if at all possible, try to keep your emotions in check if you're faced with a rejection and don't make a public scene.
3. Find a private place to cry, slam a door, sob some more, and then yell a ton of obscenities. I took some time to myself after meeting with my boss because I was really upset. The last thing I needed was to be at my desk and have to answer a call from a client when I was shaken up. Get yourself some privacy where you can let out all of your emotions. I've probably said more obscenities at home these last few weeks than I have in three years.
4. Talk to a loved one. It helps SO much to talk to someone you're close to when you go through a rough rejection. Go to your number one supporter and let everything out. Listen to their guidance and let them build your confidence back up. It's easy to forget the big picture when you're feeling upset, and your loved ones can help you refocus and channel your emotions into focusing on your next move and something productive.
5. Analyze the last 6-12 months and get the back story. Once your emotions have simmered down, it's time to analyze all the things that have happened over the last 6-12 months. Read through your reviews again, look at your list of accomplishments and failures, and get the back story of what led senior management to their decision.
6. Strategize your next moves. One positive aspect about rejection is that it can be extremely liberating. You have every right to fight for what you deserve, to start applying to new jobs, and find ways to get what you really want. Just make sure to review my list of important questions to ask before quitting your job. Put together an action plan for your next moves, start diversifying your income streams, and get a plan B and plan C in place.
7. Get things in writing and build documentation. Managers know that documentation is key in any type of promotion, lay off, firing, or significant event. Keep track of all the meetings you've had/have with your boss. Log every accomplishment, milestone, and goal, and make sure you also have in writing in your most recent review that you want to get promoted. Don't be your own worst enemy by not making your boss fully aware that you want to get promoted. And remember, if you are a victim of any type of discrimination, you will need as much documentation as possible.
8. Update your resume and start networking. Get your resume updated asap and start brushing up your interview skills. I have a list of helpful interview tips and common interview questions you need to master, so be sure to check them out. Get back in touch with your classmates, old colleagues, and friends who may be able to help you land a better job.
9. Circle back with your boss. I recommend going back to your boss after you've had a chance to vent and cool down in private. Make sure to tell him/her that you're disappointed and why, ask questions, and find out what you need to do in order to make the next round of promotions. You may not like their feedback, but if you don't reach out, they can only assume you don't have any concerns. And you don't want to risk getting screwed over again.
10. Spit out the bad taste in your mouth and move on. It's hard for anyone to be rejected, especially when we believe we're doing everything right. But as we all know, unfortunately life doesn't always work out the way we want. So it's up to us to take action, build ways to live an untemplate lifestyle, and find the positives in glum times. Stand up for yourself and get your confidence back. Remember, even the most successful people out there have been rejected and failed many times too. Be sure to start lining up your next moves and move forward. Life goes on!
Update 10/26/2014
It's been about six months since I wrote this post and my feelings of anger, shock, and disappointment are happily behind me. But I didn't go down without a fight! I had several circle back meetings with my boss and senior management where I voiced my thoughts and concerns in a composed way after I'd had some time to pull myself together. I felt good getting things off my chest and making them sweat a little.
Fortunately they realized they screwed up and gave me a nice pay raise as an incentive for me to say. Supposedly they are also putting my name forward in the next round of promotions with a good chance of me making it, but I've learned to hope for the best and expect nothing. It's certainly been one heck of a learning experience and hey, hopefully soon I'll be saying better late than never!
Update 1/5/2015
It's hard to believe I wrote this post two years ago. Fortunately I came to peace with most of my intense emotions. It took time, a lot of talks inside and outside of work, and healing to calm myself down and recenter. So as it turns out I managed to finally get the promotion I wanted, but I was still disappointed that it took so much pain and difficult conversations to get there. But despite all of that to me it was worth it to get that title because I had a lot of pride, I knew I deserved it, and I wanted to be able to stamp it on my resume.
I was in denial for most of the past two years that there were other things about my job that I should have paid more attention to. I wasn't totally in love with what I was doing, but I was also lazy and scared to leave a job I had for so long. I didn't want to admit that I was scared so I kept trying to convince myself that I should stay. After all I loved my direct colleagues. But my workload skyrocketed, my clients became constantly condescending and rude to my staff and I, and finally things got so bad last year that I hit a breaking point. It took me hitting a wall and breaking down in tears to accept that I needed to commit to finding a new job. It wasn't just about me getting denied a promotion anymore, it was way more.
It's been refreshing and a challenge searching for a new job over the last several months. And I must say the job search process has also made me appreciate all the things my job has given me over the years even despite the nightmares and tears. It's been so long since I've had to search for a job that it's taken some adjusting to the current marketplace. But having hope of fining a better career path is worth it and I'm not going to give up. Neither should you!
Update 9/25/2015
I am thrilled to update this post because earlier this year I finally said good riddance to all the people who denied me of my promotion! Check out all of the fun, juicy details in my post How I Negotiated A Severance Package And Got Paid To Quit My Job.
My life has changed immensely for the better and I no longer dread having to work with people who put me through so much pain and stress. I'm working as a freelancer now and am still looking for full-time work in case something awesome comes up. Freelancing is tough and certainly isn't for everybody, but it's working out pretty well for me so far.
I also want to say a big thank you to all of you who have found my website in your search for support during this tough time. It means a lot to me to read your comments and hear your personal stories. You are not alone! There are better opportunities out there for you if you look hard enough. Believe in yourself and don't give up!! I also highly recommend reading How to Engineer Your Layoff before you call it quits on your employer.
What I'm Doing Now – 2019 And Beyond
Side hustling while I was working my crazy office job was one of the smartest decisions I've ever made. Now I am my own boss and have full control over the work that I do and when. I've taken on freelancing gigs, run my business on my own time, and am also a stay at home mom.
I'm really thankful that the hard work and grueling hours I endured for so many years working in the mainstream corporate world and saving diligently have really paid off. Engineering my layoff truly gave me the confidence and freedom to escape the grind and countless days of stress. Now I wake up smiling every day. The freedom and flexibility with my schedule is priceless.
Recommendations For Increasing Your Financial Freedom
* Manage Your Finances In One Place – Get a handle on your finances by signing up with Personal Capital. They are a free online platform that securely aggregates all your financial accounts in one place so you can see where you can optimize. They also offer other free financial tools to help you monitor your cash flow, stick to a budget, reduce fees in your 401(k) and track your net worth in realtime. Let Personal Capital track your finances so you can gain more freedom to do your own thing. It takes less than one minute to sign up!
* Invest Your Money Efficiently: Betterment, the leading digital wealth advisor, is an excellent choice for those who want the lowest fees and can't be bothered with actively managing their money themselves once they've gone through the discovery process. All you'll be responsible for is methodically contributing to your investment account over time to build wealth. In the long run, it is very hard to outperform any index, therefore, the key is to pay the lowest fees possible while being invested in the market. Let Betterment build a customized portfolio for you based on your risk tolerance.
* Start Your Own Website & Grow Your Brand – Want to make more money? Work on building your brand by creating your own website the easy way with Bluehost for super cheap. You can register your domain for under $20/year and get hosting for only $2.95/month. Whatever your interests are, focus on building your skills and developing your own unique niche! I've been blogging since 2010 and it has allowed me to break free from the corporate grind to travel, work from home, and do so many more things I've always wanted to do but couldn't. There's not a week that goes by where I'm not thankful for starting this site! Read more about how to start a blog.
* Never Quit, Get Laid Off Instead. Learn how to negotiate a great severance for yourself in How to Engineer Your Layoff! By getting laid off from a job you wanted to leave anyway, you can collect a severance, health care insurance, deferred compensation, unused vacation days, and be eligible for unemployment. The book provides helpful case studies and a framework for you to have a strategic conversation with your manager on how to profitably quit your job. Get more details and download the ebook instantly here.
Copyright. Original content and photography authorized only to appear on Untemplater.com. Thank you for reading!

Updated for 2019 and beyond.