A car is one of the biggest purchases you'll ever buy.  A car will also likely be one of the most foolish financial decisions you'll ever make as well.  Everybody knows that cars depreciate in value and cost way more than just the monthly payments or sunk cash.  You've got car insurance, maintenance, parking fees, tickets, and potential accidents to deal with that really start adding up.
Despite all the expenses, there's a love affair with cars.  Perhaps we like the status a car gives?  Or maybe we just like the freedom to drive anywhere we want, whenever we want.  Freedom, after all, is priceless.
I've gone through 8 cars myself during my car addiction phase right out of school.  I just loved the idea of driving something new every year and negotiating a transaction.  I think I enjoyed the thrill of bargaining as much as getting a new/used car itself!
At some point I realized I no longer wanted to spend time haggling over Craigslist and going to DMV hell for a couple hours to get each vehicle registered.  I had better things to do with my life.  Going cold turkey was difficult at first, but I'm proud to say that after 5 years, I've driven the same car!
RESISTING THE URGE TO SPLURGE
There are really only two things you need to do to eradicate your desire to buy a new car, or any other material item that you don't need for that matter.
1) Name your car.  Anthropomorphism is a powerful, powerful thing.  As soon as you name your car, you give it a personality and a soul.  With a personality and a soul, you can no longer just abuse it like a ragged doll.  My truck's name is Moose.  I love Moose.  He's handsome, reliable, and very loyal.  Given he's part of the family now, I've decided to keep him for as long as it makes sense.  At some point, I'll realize I should sell or donate Moose since he is turning 12 years old.  However, at this point, I'm happy to buy him new brakes, rotors, batteries and change his fluids.
2) Go to the dealer and intoxicate yourself.  Moose's private party retail value is about $3,600 from $8,500 five years ago.  When you go to a dealer, you start appreciating what you have.  Just the other day, I stopped by the Mercedes Benz dealer for fun on the way home from golf.  I test drove a well-equipped $47,000 out the door 2012 C250 coupe.  I loved the new car smell and the drive was exhilarating.  This wasn't even the highest end version as the C350 coupe had 100 more horsepower and cost $5,000 more.  When it was time to negotiate, the salesman insulted Moose by giving him a trade in value of only $1,114!  There was no way this C250 coupe was worth 45X more than my beloved Moose!  I declined his pitch and left smiling.
If you aren't convinced how silly it is buying a new car when a used car can do perfectly fine, take a look at this picture carefully.  Analyze it and soak all the data in.  Look at the monthly payments after a $4,000 down payment.  Observe the Trade Allowance of $1,114 for Moose and the Net Sales Price of $46,497.98 after taxes.  Ridiculous!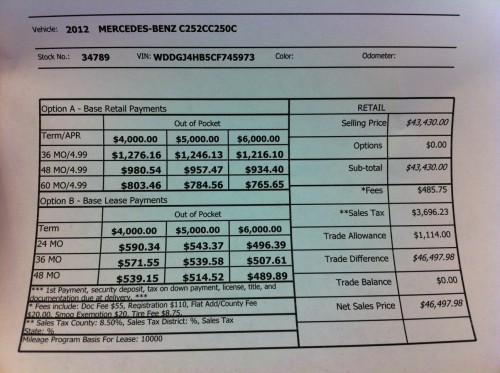 3) Visit a garage sale or throw your own.  One of the most humbling experiences is de-cluttering and minimizing your things through a garage sale.  That golf club you spent $120 on might only get $10 now.  That purse you were dying to have for $350 now is worth only $20 bucks.  The list goes on and on of things you spent way more than you should.  Once you start going to garage sales or to Goodwill, you will find so many bargains that you will seldom ever spend full or sale price ever again!
CONTROL YOURSELF
If you have a spending problem, you may want to challenge yourself to some income earning games to keep your spending in check.  If you are addicted to cars, shoes, handbags, watches and anything that's not necessary, take my above two tips to heart.  It's understandable to have wants, but some of us go overboard.  The tips have saved me tens of thousands of dollars and hours at the DMV.
In fact, you can take the tips and apply them to any material addiction/weakness you have.  I promise you that after a while, you'll be able to slowly reduce your frivolous spending habits and start saving and building a massive nest egg for your future.
RECOMMENDATIONS FOR SAVING MONEY
* Check for lower insurance rates. Auto insurance is the second biggest expense to owning your car. Esurance is the leading online marketplace to help you find the most affordable and reliable auto insurance. They get you comparison quotes to make sure you're getting the best deal. You can easily purchase auto insurance straight from their website if you like what you see. It is very important that everyone gets at least basic liability car insurance. You can total your car and be fine. But if you total someone else's car and injure them, they can go after you for ALL your assets and wipe you out! Check for a better auto insurance quote via Esurance today.
* Manage Your Finances In One Place: Get a handle on your finances by signing up with Personal Capital. They are a free online platform which aggregates all your financial accounts in one place so you can see where you can optimize. Before Personal Capital, I had to log into eight different systems to track 25+ difference accounts (brokerage, multiple banks, 401K, etc) to manage my finances. Now, I can just log into Personal Capital to see how my stock accounts are doing and when my CDs are expiring. I can also see how much I'm spending every month. Let Personal Capital track your finances so you can gain more freedom to do your own thing. Personal Capital takes less than one minute to sign up!
* Never Quit, Get Laid Off Instead. Learn how to negotiate a great severance for yourself in How to Engineer Your Layoff! By getting laid off from a job you wanted to leave anyway, you can collect a severance, health care insurance, deferred compensation, unused vacation days, and be eligible for unemployment. The book provides helpful case studies and a framework for you to have a strategic conversation with your manager on how to profitably quit your job. Can you imagine having a nice financial runway to pursue your dreams without the stress of having to make a lot of money?
Updated for 2018 and beyond.
Regards,
Sam