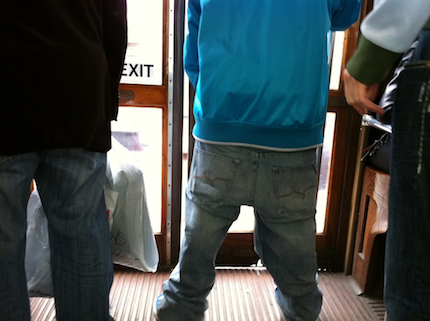 Job Interview Tips: Don't Be A Slob Or A Stink Bomb.  Searching for a job can be one giant time consuming and emotional process. It can feel like a job in itself filling out applications, writing cover letters, and waiting for the phone to ring. When your phone finally does start ringing and you're greeted by the sweet news that someone wants to set up an interview with you, first do the goofiest dance and jump of joy that you can, and then get yourself PREPARED!
I've reviewed countless resumes in my recruiting experience and have interviewed hundreds of people with all types of backgrounds. Most of my time has been focused on hiring entry-level candidates – and you wouldn't believe how many applicants believe their work is done after they've submitted their job applications. WRONG!
I've seen a lot of crazy things over the years, and a lot of repeat goof ups.  Here are a few job interview tips to keep you from stumbling into some of the most common and careless mistakes I've witnessed.
The First Phone Call Is An Interview In Itself
Many people don't realize that the initial phone call or email you get from HR or a hiring manager is a mini interview in itself. If you're actively applying for jobs, you better be watching your email and phone like a hawk!!! NO JOKE guys.  Once every 3-4 days doesn't cut it.  Check at least twice a day.
Why?  I've reached out to several potential candidates with solid looking resumes and turned them down flat because they either took too long to respond or never got back to me at all. Don't make that mistake. It's unprofessional and just plain rude. Response time really counts when managers are trying to fill a spot.
Even if you aren't interested in the position they're calling about anymore, take 2 minutes to respond and politely decline. You never know when you may run into that person later on in your career. It really is a small world.
Don't Lose Track Of Your Applications
Applying for jobs is a crazy process. Believe me I've gone through it myself many times and I know how hard it can be to keep track of all the different positions you've applied for. Do not use that as a reason not to keep track. No Excuses!
The job market is competitive and hiring firms have their pick of the litter so you can't afford to be aloof. When you get a phone call from ABC company for XYZ position – you should know immediately what the job description is and the background of the company. If you ever tell the caller, "what job is this for again?" you can kiss your chances of getting hired goodbye.
You Can't Afford To Be A Slob Or A Stink Bomb
I think it's obvious to show up 5 minutes early to an interview (no, not 15 minutes early or 5 minutes late), dress professionally, comb your hair, nix the cologne/perfume/sports cream, bring copies of your resume on quality paper, and be prepared to fill out paperwork when showing up for a first interview, but SO many people fail at these things ALL the time and then wonder why they don't get a call back.
I have countless stories of candidates making these types of mistakes. Once I interviewed a guy who had on so much menthol sports cream I almost fell over when I walked into the interview room.  I felt sick to my stomach the whole time and all I wanted was to open the door and end the interview early.
Don't Be Creepy, Crazy Hyper, Or A Downer
No matter how good looking the people are that you meet during your interviews, don't give into the temptation to flirt, stare, wink, linger, or flatter them.  You will just come across as creepy!  Being overly hyper isn't good either.  There's a difference between using energy and confidence when speaking your answers, and talking so fast you could chew the legs off the table.
Being a downer is no good either so don't bad mouth your prior bosses, complain about how your internships were boring, or whine that you weren't paid enough at your last position.  No one is going to want to hire you after hearing all that negativity.  Always put a positive spin on things if you must talk about something you didn't like.
Nail The Basics & Outshine The Competition
TONS of people still forget to bring copies of their resumes, others don't iron their shirts, or are so inappropriately dressed their clothes become one big distraction. Ladies you should know to keep your girls to yourself, and guys please don't wear your black clubbing shirt to a business interview. It's important to look at yourself in the mirror before you check in too. One guy I interviewed had so much craziness going on with his comb-over I couldn't concentrate on anything else!
Nail the basics so you can focus on outshining the competition with your personality, experience, talents, knowledge and composure. Bring energy to your interview and avoid speaking in monotone the whole time. Make a video of yourself practicing a mock interview at home.  It is SO beneficial. You may feel silly or stupid doing it, but trust me – reviewing the footage can shock you. I did this exercise in college and was blown away at how much I actually sucked at interviewing even though I felt like I was doing ok in my head.  After watching my recordings I was able to practice and make a lot of improvements until I was happy with the results and ready for my real interviews.
Common Interview Questions
Interviews can be nerve wracking because you never know what they're going to ask. Even though you can't anticipate every question, there are a lot of commonly used interview questions you can prepare for. I'll be publishing a post on exactly that in the coming weeks so please stay tuned!
Untemplaters, what was the worst thing you ever said or did in an interview? Any of you have a good interview story to share?  What are some of your job interview tips?