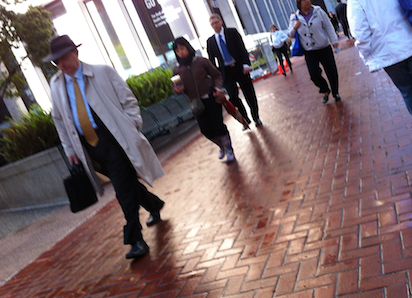 It's that time of year again for writing self appraisals and sitting down for your formal annual review. And I bet a lot of you are feeling rather unsettled thinking about how to ask for a raise. Unlike a lot of people who dread thinking about salaries and the year end process, I actually really enjoy this time of year. It's a time for reflection, a time for looking forward, and a time for getting rewarded for hard work.
Unquestionably, one of the most sought after ways of getting rewarded is higher pay, and in order to get there you need to know how to ask for a raise. But before you flat out go up to your boss and ask for one, you have to be prepared and actually deserve one.
How To Ask For A Raise In 10 Easy Steps
1. Read Your Last Review. Look at the items your manager wanted you to improve and develop since your last review. If you've actively worked on them and completed all of your goals you can move on to step 2. If you're brand new and haven't even had a performance review yet, sorry it's too soon to ask for a raise!
2. Identify What You've Produced. Make a list of your accomplishments this year with actual numbers to back them up. Know how much revenue you've brought in and how many client relationships you've managed. The data will depend on your role, but the key is to gather tangible proof of your performance. Just saying "I've done a good job" doesn't count.
3. Figure Out How You've Grown. Anyone who isn't growing is considered stale, and stale employees don't get raises. Look at the weaknesses identified in your last review and write down all the steps you've taken this year to strengthen them.
4. Compare Yourself To Your Peers. If you're the laziest employee in your team, sorry to bear bad news but you don't deserve a raise. This step is meant for self reflection, not for pointing fingers or bad mouthing your colleagues when you talk to your manager. What you need to figure out is what you do differently than your peers that makes you stand out and adds value.
5. Understand The Market Conditions. Be aware of what's happening in your industry, the economy, and within your firm. If the department down the hall just went through a round of layoffs, it's not the best time to ask for more money. On the other hand, if your firm has been beating earnings and growth has been strong, you're in a sweet spot to ask for a raise.
6. Know Your Worth. If you're a strong employee, you're valuable to your manager. Research what other companies are paying for someone with your experience, and find out what you can about the salaries of your peers. Just don't be a jerk about it. Recognize that a lot of people don't want to openly share how much they make with a colleague, so you'll probably have better luck reaching out to previous employees.
7. Be Nice To Your Manager And Your Peers. This sounds so simple, yet so many people are rude and difficult to work with. Not only do you need to be a stellar performer, you need to be well liked by the people you interact with, especially your manager, if you want to have success in getting a raise. Otherwise it could blow up in your face, and your request for a raise could end up putting you next in line to getting kicked out the door.
8. Gather Your Notes And Schedule A Meeting. Once you've done all the above steps, it's time to organize all your notes and have a meeting with your manager. Be mindful of their schedule and don't pick a time right before their lunch break or on the same day that they have an important client meeting.
9. Break The Ice And Share Your Latest Projects. When you and your manager finally get in a room, don't blurt out "Can I get a raise?" Start with some small talk, and segue into what you've been working on lately. Talk about your strengths and your recent performance. Let your manager know you care about the work you're doing and are proactive.
10. Be Honest And Prove You're Invaluable. Present your list of accomplishments with the numbers and data to back it up. Don't lie because your manager will see through your BS. After you're done presenting, bring up your concerns about pay. You can also discuss promotion opportunities, hours, job offers from other firms, and even benefits. Ask your manager questions, expect some silence, and patiently give them time to answer. If they don't have any answer right away that's okay, just schedule another meeting and be sure to follow up. And always end each conversation on a positive note!
Conquer Your Fear Of Asking For A Raise
It can be scary thinking about how to ask for a raise. Money is a difficult thing to talk about for a lot of people, and approaching your boss for anything can be intimidating. But just like with a lot of things, asking for a raise for the first time is a hard hurdle to overcome because we let our fears get the better of us.
I've been there and can clearly remember how hard it was for me the first time to talk to my manager about my salary. I let my fear hold me back for a long time and I wish I hadn't. I was so consumed with fear that I didn't even want to think about how to ask for a raise. Fortunately I met with a career coach who talked some sense into me and I finally got enough courage to prepare myself and ask for a raise. And you know what? It worked!
If you take the time and follow the 10 steps above you'll be able to get over your fear of how to ask for a raise. It will definitely get easier with practice and more importantly with planning and preparation!
Women Can Break The Gender Wage Gap!
For all of the women out there, I wanted to reach out to you in particular in regards to how to ask for a raise. I think we as women tend to be much more reserved when it comes to asking for salary increases and promotions, and we need to change this! From my own experience and observation, I think fewer women come forward to ask for raises because we aren't as comfortable or used to being direct when it comes to money matters. Plus, many of us aren't in work environments where there are a lot of women in leadership roles.
I strongly believe we can bring change and break the gender wage gap if we take the time to build our confidence, know our worth, and proactively speak up about it. Companies want more women! And believe it or not, a lot of managers are scared of upsetting their female employees because of this perception that women are more emotional. 🙂 Now I do not recommend acting emotional or crying by any means, but my point is companies want to retain their female employees and keep us happy. And when it comes to salary increases, we really have to ASK for them. Men have been doing this for decades and we as women really don't do it often enough!
Untemplaters, how has your career been financially? What steps have you taken on how to ask for a raise? What do you think has held you back the most from making more money – fear of asking, lack of preparation, market conditions, your location, experience, or something else?
Copyright 2012. Original content authorized only to appear on Untemplater.com. Thank you for reading!