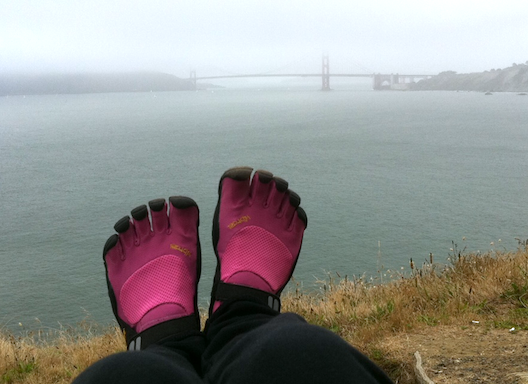 There are a lot of shoes in the world, and Vibrams are some of the strangest. As a result, you may be wondering what it's like to wear them. This Vibram FiveFingers Review goes into detail of my own experience discovering and wearing this funny line of footwear.
Strange Shoe Sightings
The first time I saw Vibram FiveFingers shoes I scrunched up my face and thought "EW what is that lady wearing?!" An athletic woman in yoga pants and a windbreaker walked past me with bright green "shoes" that looked like rubberized toe socks. Did aliens land in her closet and force her to start wearing their weird footwear?
"Who would pay for those?!" I laughed to myself as I watched her walk away.  A few weeks went by and I completely forgot about that strange encounter…
Struggling In The Mud
Then one Saturday about a month ago, I found myself on a super muddy, and extremely slippery hiking trail in the mountains.  I was about 1/3 of the way up and my legs felt like a quivering pair of giant jiggly jello molds.  Man was I struggling to grip the trail with my cross trainers, which normally worked great on hikes.
There I was crawling along the path like a turtle so I wouldn't slip, when 2 couples suddenly blew past me.  What the?  How were they able to speed past me?  Was I really that out of shape, or did they just have no fear of slipping and falling on their butts, or worse on their face?!
Alien Shoe Invasion
As they flew past me, I happened to glance at their feet and noticed 1 guy was hiking completely bare foot (really?!) and the other 3 people were wearing those funny looking alien shoes!  Maybe these folks were on to something.  Hmm, could those rubbery barefoot-like shoes be the perfect solution to the lack of trail grip I was struggling with?  I was suddenly intrigued by this odd looking footwear, which I'd been mocking just a few weeks prior, and decided to go to my local sports shop the next day to check them out for myself.
When I arrived the next day, I was blown away the store had an entire wall of those shoes, which I then discovered are made by Vibram and are called FiveFingers (I guess TenToes would have been too boring a name, lol).
The Right Way To Put On Vibram FiveFingers Shoes
Anyway, I got my feet measured (they don't use standard US sizes) and a few pairs to try on.  Man you should have seen my face squish up as I struggled to put the first pair on!  Haha, I felt like I had 10 toes on each foot as I tried to push and pull my toes to line up with the pockets.  Clearly I was doing it wrong.
I quickly learned the key is to put your heel in last.  Start out with the front half of your foot in the shoe, then slowly wiggle your toes forward to where the toe pockets start.  Line up your toes in the opening of each pocket and then slowly slide your foot forward.  Finish by pulling up the heel of the shoe and securing the strap on top (if there is one).  Phew – SO much easier!
Relief & Excitement
When you finally get both of your feet fully strapped into a pair of FiveFingers for the first time, you'll feel like shouting "Horray!"  It kinda reminds me of trying to open a tricky bag of chips.  You feel like a total idiot struggling to open the bag until you finally find the one magic spot and YES! voila the bag is open.  When all 10 toes make it into all 10 pockets it's easy to find yourself letting out a big "aaah" as a smile spreads across your face.
After I got my Vibram's on, they felt a little bit strange in the toes at first, but after I took a quick lap around the store, I was surprised at how good they felt!  All of my toes felt active and energized like I had an extra spring in my step.  I decided to buy the TrekSport style because I liked the pad on the achilles, the coverage on the metatarsals, and the rugged sole that can hold up on trails.  Cost before tax = $99 (not bad!)
Hiking Rocks In FiveFingers!
I wore them hiking for the first time several weeks ago and now I absolutely LOVE them!  Ok, yes I still think they look like funny alien shoes and it's a little embarrassing wearing them on the street because mine are bright pink (my husband's idea for me to get the loudest ones, lol), but they're so worth all the quizzical looks and questions from strangers because of how they feel and have strengthened my feet.
Hiking is one of my favorite things to do outdoors because I love being immersed in nature.  The great thing about hiking in FiveFingers is the connection you feel with the Earth.  You can feel the ground right beneath your feet and it's so much easier to grip the trails having full mobility in each of your toes.  It feels just as good as walking barefoot without the risk of getting cuts and scrapes.  Running in FiveFingers feels good too and the shoes really help you push off from the balls of your feet instead of your heels.
It's All In The Balls
Yes it sounds weird at first to run on the balls of your feet, but WOW what a difference it makes!  I was taught to walk/run "heel toe, heel toe," always putting my weight in my heels when they strike the ground.  It's painful to walk and run that way for more than a few minutes (especially barefoot) and I'm so glad Vibram's are strengthening all the muscles in my feet and helping me to walk more midfoot and run on the forefoot.
Now don't just take my word for it – even if you're not interested in buying the shoes you gotta try this out.  Take 1 minute to stand up right now, take your shoes off, and run across the room and back.  Did you notice where your weight went?  On the balls of your feet!  It's natural and so much better for our bodies to move this way.  Heavy heel striking hurts and tires you out much faster.
Other Reasons Why Vibrams FiveFingers Rock
+ No need for socks, but you can wear toe socks if you want
+ Entirely machine washable
+ Your lower legs & feet will get stronger
+ Increased range of motion
+ Less risk of injury
+ Balance and agility will improve
+ Posture will improve
+ You'll feel stronger in just a few weeks
+ People will check you out, from toe to head 🙂
+ Many Vibram styles are vegan
If you do go out and buy a pair, just be careful not to overdo it right away.  It takes time for your body and muscles to adjust to this natural method of movement, especially runners, so start slow and build up to your normal mileage gradually.
Where To Buy Vibram FiveFingers
Many sports stores that carry hiking shoes will carry Vibrams.  It helps to be able to try on different styles and sizes while you're there.  But if you can't find a sporting goods shop in your area that carries them, there are tons for sale on Amazon in all sorts of styles like the below:
I am a huge fan of Vibrams. I like to wear mine with toe socks when I go hiking, especially since a lot of the trails where I live can be a bit chilly when it's foggy outside. Vibrams are so easy to take on trips. As a result, I used them on a month long trip backpacking across Asia – it was awesome!
Untemplaters, have you seen people wearing FiveFingers before? Do you already own a pair? Are you a heavy heel striker?
Vibrams FiveFingers Review
Summary
Vibrams FiveFingers footwear is some of the strangest looking around. Appearance aside, these shoes are excellent for hiking trails and travel.