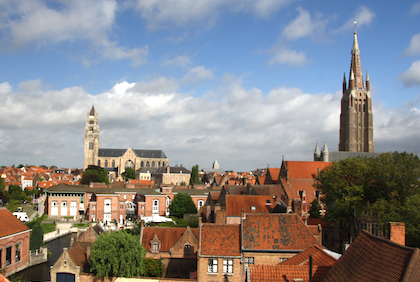 Each year I try to travel to a new country. I love the excitement of experiencing new cultures, tasting local cuisines, and seeing new things everyday. This year I chose to escape the grind in beautiful Bruges, Belgium. It is a charming, quiet city near the Northwestern coast of Belgium. Most people have heard of Brussels or Antwerp, but Bruges is the best of all three in my opinion.
Bruges is sometimes called the Venice of the North because of its many canals and quaint charm. You will also see the city spelled Brugge, as it's spelled by the locals. If you like good eats, beautiful old city charm, and a laid back atmosphere, you will fall in love with Bruges! Here are some pics from my trip and a list of Bruges highlights you should check out if get a chance to visit.
Belgian Beer Tastings & Brewery Tour
I'm not much of a drinker, but I made an exception to enjoy some delicious Belgian beers during my time in Bruges and boy was I glad I did. There's something extra tasty about Belgian brews, and lambics are definitely my favorite. If you have a taste for sweet drinks you must try fruit lambics like raspberry, peach, and strawberry. They have just the right hint of bubbly sweetness.
I recommend grabbing dinner and choosing from the selection of 400 different beers at Cambrinus Bierbrasserie (go early or make a reservation) and going on the De Halve Maan brewery tour (aim for the 11am slot). The guide I had on the brewery tour was hilarious and very knowledgeable. You also get an excellent view of the city from their rooftop.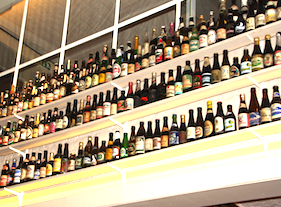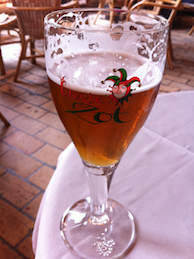 Buckets Of Steaming Hot Mussels & Flaming Hot Mussels

Boy was I in heaven being in Bruges when mussels were in season. You can find them at practically every restaurant in several different bases. My favorite was white wine with shallots, YUM. A tip to eating mussels like the locals is to use an empty shell like a pair of pliers to grab and eat them. You'll also want to hang on to some bread to sop up the extra sauce.
Another must when visiting Bruges or any city in Belgium is tasting their Flemish fries. They are sliced thick and fried twice to make them extra good. My mouth is watering for fries right now just thinking about them. The most common sauce that is paired with fries in Belgium is mayonnaise, and if that sounds strange to you, trust me it's good! Many vendors also offer other flavored toppings made with different spices which are worth trying too. The below pic of the fries had "Brazilian" topping which was extra tasty. Just be aware that a lot of the prices posted for fries are without sauce, which they typically charge separately for, so look carefully if you're short on change.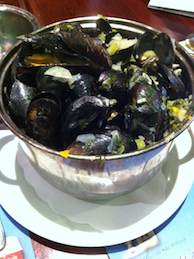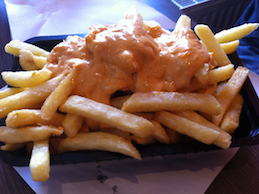 Belgian Waffles, And Chocolates!

Waffles, waffles, everywhere! Just choose carefully. Make sure the place you buy them from will heat them up for you, otherwise they will taste rather stale and dry. The best waffle I had was hot off the press with melted white chocolate on top.
You'll also find lots of chocolate shops, which I think are better value and also much tastier than the waffles. Stick to the ones that are hand made and your mouth will melt in happiness. Get a box to carry the ones you don't eat right away or they'll get completely squashed though, which I learned the hard way.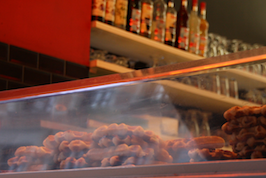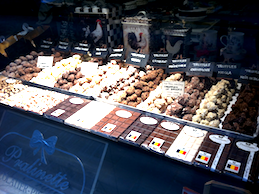 Evening Strolls Along Canals And Cobblestone Streets
Bruges has beautiful cobblestone streets, and a great time to explore the city is in the evening. The day trip tourists have left, and you can easily find yourself wondering down quiet lanes without another tourist in site. Soak in the architecture and stroll along the canals. On my first night walking the city, I was blessed with a surprise greeting by a group of six swans, swimming effortlessly one after the other along the glassy water. The first two were super fast so I only caught four in my picture.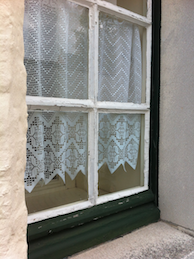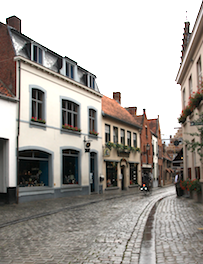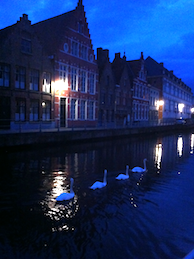 Splurge On A Carriage Or Canal Ride
A common Bruge activity is taking a canal boat ride or horse drawn carriage around the city. I was on a budget, so I just took pictures and did all of my exploring on foot. Just be careful anytime you're walking around Bruge though as the borders of sidewalk vs road don't really exist in a lot of places. And even though there isn't much traffic in the old town, there are cars and buses every so often even on the cobblestones. And I warn you people drive super fast there! Even though the streets are small, they expect you to hear them coming and get the heck out of the way!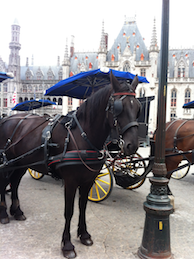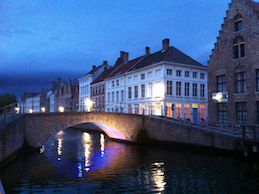 Go For A Picnic In The Countryside
The Belgian countryside is lush and super green. Cows, sheep, horses, and goats dot the fields everywhere you look, and you'll find yourself wondering if you should consider moving to Belgium to become a dairy farmer. You'll see straight rows of trees were roads cut through the fields every so often, with local peddling along on their bikes. You'll get to enjoy the view of a lot of these fields if you arrive to Bruges by train.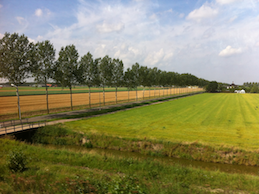 Now It's Your Turn to Escape The Grind In Beautiful Bruges, Belgium
It's easy to get around Bruges and Belgium. Trains come to and from Bruges about every hour, and you can take a bus from the train station right into the heart of Bruges. Most of the locals speak Flemish, French, and English. And Bruges is totally flat and not that big so you can walk around without getting that tired. Belgium uses the Euro which is super convenient and prices were reasonable. I stayed in a canal view room for only $105 a night which included free breakfast. The room was tiny and had shutters instead of a normal door into the bathroom, but it was quiet, clean, and I slept like a rock!
A lot of people come to Bruges just for a day trip from Antwerp or Brussels, but I highly recommend staying at least two nights. You want to enjoy Bruge at a slow pace, and soak in the charm. Especially when there are so many tasty Belgian beers to try with your buckets of mussels and fries, you don't want to feel rushed.
I loved my time in Bruges and really had the chance to unwind, recharge, and relax. The food was so good I'm drooling just thinking about it, the people were all polite and friendly, the beer was spot on, and the charm of the city was much like a fairytale.
Untemplaters, have I convinced you to go escape the grind in beautiful Bruges, Belgium? Do you have a favorite place that you like to go to get some R&R?