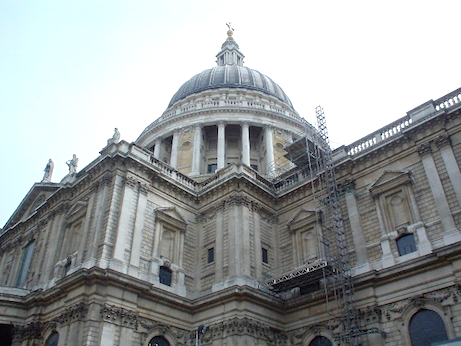 With the London Olympics in full swing, I've had a lot of memories rush back to me from the time I spent traveling around the city a few years ago.  Traveling is one of my favorite hobbies and I always feel happy and excited when I see familiar places I've visited on TV.  I often start shouting out, "I was there!" and start jabbering on about the things I saw, the food I ate, what my favorite places were, and how much I'd love to go back.  Over the past week, I can't stop thinking about London.  Even without the Olympics, it's a popular place to visit for business or vacation, so I've put together a helpful list of what to see in London on your next trip.
Since there are still so many places across the globe that I want to see, I generally don't take repeat visits to places I've already traveled to internationally.  Even though my bucket list is still long, I regularly remind myself to count my blessings and be thankful that I've been fortunate to travel to so many places already.  Traveling and going on adventures make me feel alive, and I wouldn't be the same person I am today otherwise.
What To See In London: Highlights And Travel Tips
London is one expensive city, especially right now with the Olympics in full swing.  But the city has a rich history with a lot to offer, and is a great place to try to visit at least once in your life if you can find the time and money to get there.
Here are some places I visited during my time in London, along with a few tips from my trip.  I've also included a couple other popular London destinations I didn't get a chance to explore that I definitely will check out if I make it back there someday.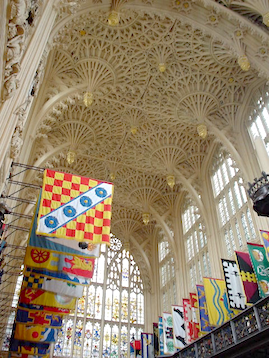 Elizabeth Tower (aka Big Ben): I clearly remember saying to myself, "WOW.  I'm in London!!" as soon as I saw Big Ben.  There's something purely magical about seeing it for the first time and then walking across the Westminster Bridge to get a better view of the clocks.  No trip to London is complete without seeing it firsthand.
Lady Chapel (aka Henry VII Chapel) in Westminster Abbey: Check out that ceiling!  What I remember most about being in Westminster Abbey was the Lady Chapel.  I could have sat there for hours just staring at the ceiling.  It's mind blowing how intricate and perpendicular the Gothic, pendant fan vault ceiling is when you see it in person.
Trafalgar Square and Nelson's Column: This was another one of my favorite London highlights because it came as a total surprise.  I sheepishly admit I didn't know anything about this historic site until I got there.  It was first opened in 1844 as a public space, named after the British naval victory over France in the 1805 Battle of Trafalgar.  It's often used for political demonstrations, but it also a popular meeting place to hang out and people watch.  My favorite part of the square are the four majestic lions, added in 1867, that surround Nelson's column and make for fun photo ops, especially if you can manage to climb up on one.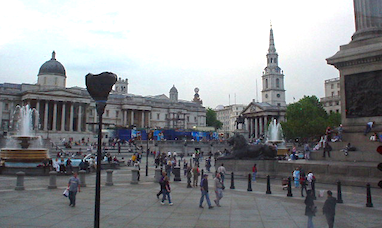 Twinings Tea Room, 216 Strand: The British are known for their tea, and visiting the original Twinings tiny tea shop which has been in the same location since 1706 is a tea lovers dream.  Some of the teas they sell can only be found at that shop, and make for great souvenirs, especially since they are so lightweight.  I'm a tea fanatic and wouldn't miss a chance to visit this shop again if I return to London!
Changing Of The Guard, Buckingham Palace: Another classic, not to miss experience in London is seeing the Queen's Guard in their bright red uniforms and "bearskins" you know those big poofy black hats (which hopefully will all be made of synthetic materials some day instead of real fur!).  I didn't get to go inside the Palace, which I want to do if I go back.  I've become very fond of historical royal residences after visiting the Dolmabahce Palace in Istanbul.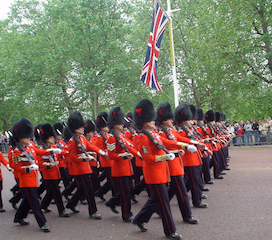 Horse Guards: Another place I enjoyed strolling past was the Horse Guards building, especially since I love horses.  The crowds were also a lot smaller here, making it a lot easier to get some good up close photos.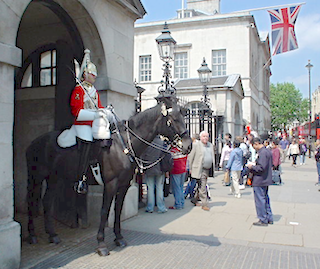 Double Decker Bus Ride: I love taking public transportation when I travel.  It's cheap, convenient, and an easy way to get a real feel for a city.  There are lots of great public bus routes in London, and sitting on top is a lot of fun.  Some of the best routes for getting a taste for the city and some great sights are route 11, 3, 9, 148, RV1, and 390.  Grab an "Oyster Card" at a Tube station to save money on fares if you plan to use the buses or Tube for more than a day.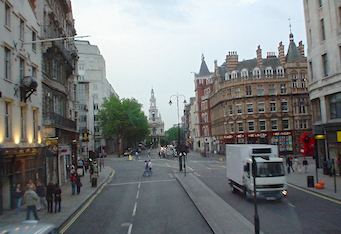 Tower Bridge (often erroneously referred to as London Bridge): The Tower Bridge is beautiful and another must see.  Completed in 1894, this iconic suspension bridge rises over the Thames and is crossed by over 40,000 people each day.  If you're lucky you may be able to see the bascules raise to let a tall ship pass through.  You can also pay to see the Victorian engine rooms and get access to the high level walkways for some nice views.
Tower Of London: Due to a tight schedule, I had to choose between spending time at the Tower Bridge and the Tower of London, so I picked the bridge.  They are actually very close to each other, and are good to do on the same day if you have the time.  I wish I had managed to squeeze in both as the Tower has so much history, and now that I'm a huge fan of Game of Thrones, I am even more fascinated by castles and historical places.  Be on the lookout for the six ravens that are kept at the Tower at all times under the care of the Yeoman Warders.  There's a belief that the kingdom will fall if ever less than six of them are present, so they have 2 "spares" on site just to be safe!
London Eye (you know that giant Ferris wheel): I remember seeing the London Eye when I was standing on Westminster Bridge and feeling too lazy to walk over there.  Now that I am a photography nut, I am kicking myself for not taking the time to go over there to ride it to the top.  The views from 135 meters high must be gorgeous, especially since London covers such a large area.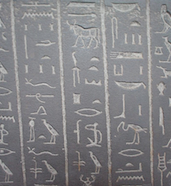 Free Museums: Unlike a lot of big cities, there are many fantastic museums in London that are FREE all year round!  If you're going to be in London for several days, it's fun to explore these amazing galleries.  I enjoyed the British Museum, the National Gallery, and the Tate.
St. Paul's Cathedral: St. Paul's was undergoing a lot of renovations when I was in London, so I didn't get to visit.  It's giant dome has towered over the city for 300 years and is the second largest church in the UK after Liverpool Cathedral.
Chinatown: London isn't known for the best food, but you can still find good eats.  Not being a big fan of pub food, I spent a lot of my time eating meals in Chinatown, which was all really good!  And also quite affordable which came in handy because London is crazy expensive.
Be Careful Crossing The Street!  It's easy to forget to look right before crossing the street in London, so most streets with tourist traffic have signs in the pavement to remind you.
Watch Your Pounds: London is ridiculously expensive!!  I am NOT kidding!  So, save money where you can by getting around by foot or public transportation, and avoiding tourist trap restaurants with marked up prices.  And make sure you know what the exchange rate is for British Pounds at the time you're traveling so you don't overspend by getting confused or forgetting about the currency differences.
Beyond London:  If you are staying for a week or more, there are lots of places to see if you want to get out.  Windsor, Oxford, and Cambridge are about 1 hour away.  Stonehenge is about 1.5 hours away, and Manchester and Stratford-upon-Avon 2 hours.
Untemplaters, for those of you who have traveled across the pond, what advice do you have on what to see in London?  What was your favorite part about London or the UK?  How are you enjoying the London Olympics?!