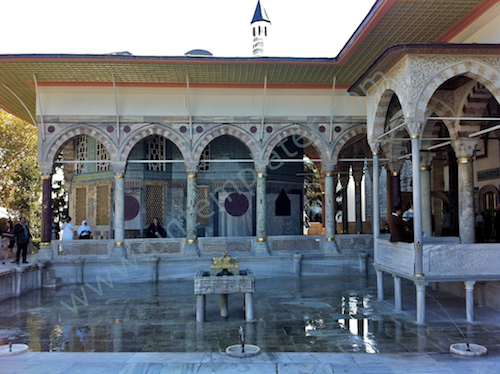 As you know Turkey was recently in the news due to the devastating 7.2 earthquake that struck Van on October 23rd. I was actually in Turkey at the time of the recent earthquake, fortunately in safety miles away from the epicenter in Istanbul. (speaking of earthquakes, check out my tips on how to make your own emergency preparedness kit).
My Istanbul Adventure
This was my first trip to Turkey and I'm so glad I was able to go.  I did a lot of research on Istanbul before I even got my plane tickets, which really helped me find my way around once I was on the ground and figure out what I wanted to see.  I also packed light which was nice and made the airport trips a breeze.  I saw a lot of beautiful places and am really excited to share my Istanbul Top 10 Must See Sights list and pics with you guys.  Turkey is truly an amazing country and Istanbul is a city everyone should see and experience at least once. It's quite easy to navigate on your own and I was able to walk from one sight to the next without any trouble. There's also a convenient and cheap tram line that runs along all the major historic sites too if your feet get tired.
I wore a head scarf (hijab) most of the time while I was there to help myself blend in and also because it kept me warm since it was a little bit chilly.  To my surprise, several people thought I was a Turk, well either that or they just didn't happen to know any English since they were speaking to me only in Turkish.  🙂  A school teacher and her class came up to me and wanted me to help change a setting on her camera but I didn't realize that's what they were trying to say at the time.  Turkish sounds nothing like English btw and I found myself laughing along with the 10 children who swarmed around me smiling, giggling, and speaking phrases that I couldn't understand.  On another occasion a sweet grandma also approached me and started speaking Turkish, leading me into the Yeni Cami (number 9 on my list) for the call to prayer.
Istanbul Top 10 Must See Sights
Did you know Istanbul is the only city in the world that's situated on 2 continents (Europe and Asia) and is home to around 17 million residents? Yep that's right, 17 meeeellion people! Even with that impressive population, there are still many delightful places where you can find peaceful quiet and awe-inspiring views. I had such a fabulous time experiencing the culture, history, religion, and food – and already can't wait to go back!
If you're unfamiliar with what Istanbul has to offer you're in for a treat.  I hope you like my list of Istanbul Top 10 must see sights and the pics that go with it.  I took all of the photos myself (I used both my iPhone and my new Sigma travel lens) and think they turned out fairly well.  Some of the pics were taken around dusk so the lighting is a little dim.
Starting with my highest recommendations at the top:
1. Topkapi Palace
Housing as many as 4,000 people at it's peak, this is where the Ottoman Sultans lived for around 400 years and is indescribably beautiful. Make sure to buy a separate ticket to see the Harem once you are inside, it's worth it! There are many exhibits displaying incredibly ornate swords, weapons, armor, clothes, and jewels. And the tiles – wow – I could easily spend hours in one spot just staring at the colorful, detailed tiled walls. The tiles are truly mesmerizing and the colors are so vivid.  Plan to spend at least 2-3 hours here because there is so much to see and take in. It's unbelievable!!  (The pic at the top of this post is also from Topkapi)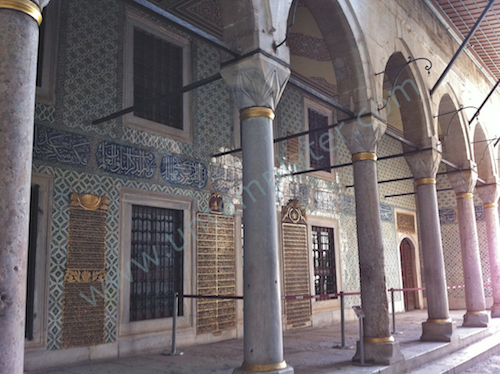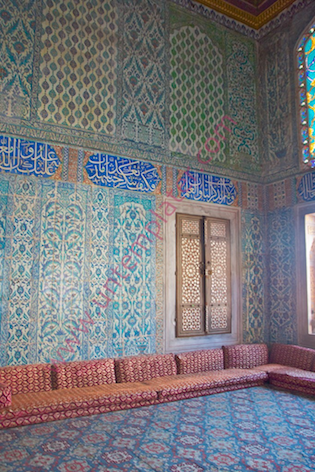 2. Hagia Sophia
Now a museum, this former church and mosque is simply massive. You can't appreciate how large and amazing the Hagia Sophia is until you walk in and your jaw drops to the floor. You'll see gorgeous Christian mosaics, enormous Islamic calligraphy roundels hovering above and ceilings you just want to stare up at for hours. Make sure to take the steep ramp up to the second floor to see the famous Deësis mosaic (3rd pic below) and a closer view of the main dome.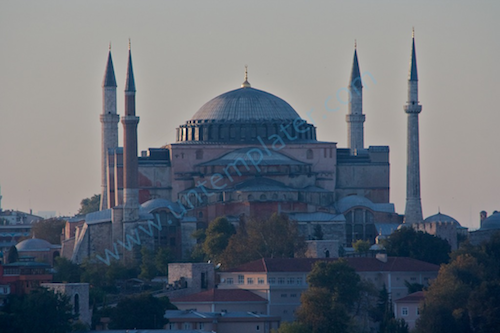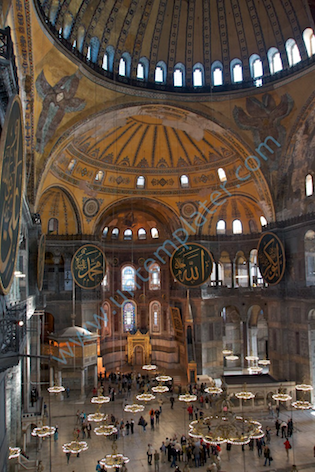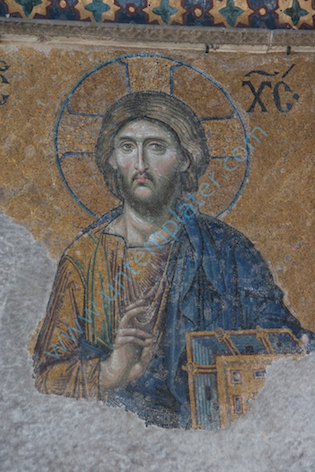 3. Blue Mosque (Sultan Ahmed Mosque)
This magnificent and massive mosque was completed in 1616 and is the only mosque in the world that has six minarets. It contains over 20,000 handmade Iznik ceramic tiles and more than 200 stained glass windows. It is an active mosque and closes 5 times a day for prayer (about 20-30 minutes each time). Spend some time in the vast courtyard to rest, gaze up at the domes, and watch people come and go while children play around the old ablution fountain.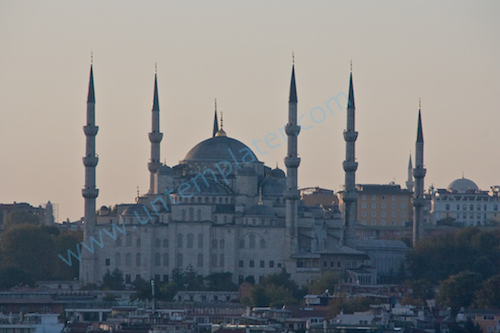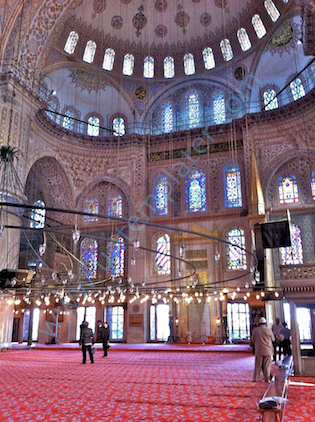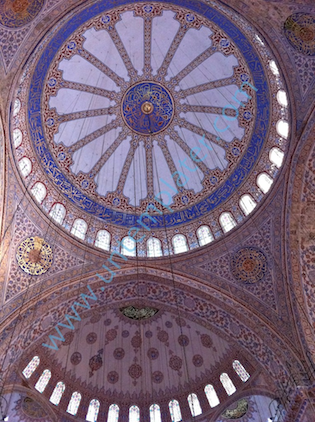 4. Baklava shops
Oh wow oh wow oh wow. You haven't had real baklava until you've had some freshly made Turkish baklava, and no trip to Istanbul is fully complete without stopping to savor some of their scrumdiddlyumptious sweets. I didn't even think I liked baklava before this trip because the only kind I'd had before was in the States, and was always a little bit stale and rather blah. But after walking by a few shops in Istanbul filled with trays of dozens and dozens of these tiny delectable treats I knew I had to try some and boy am I glad I did! Many shops also sell Turkish delight which is good too, but nowhere near as yummy as baklava. Order some apple tea to go with your treats and you'll be in heaven.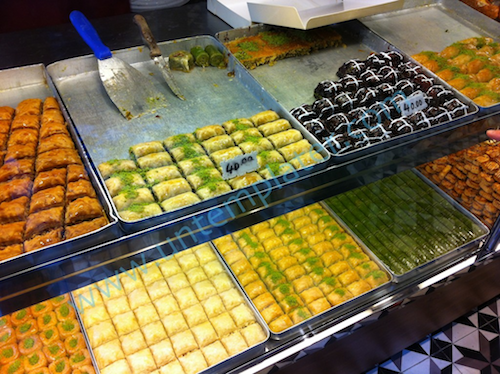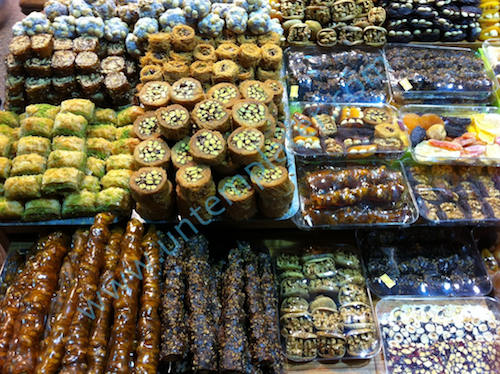 5. Dolmabahce Palace
There's more than one reason why this Istanbul top 10 must see is called a palace, and pictures don't do it justice. Built between 1843-1856, Dolmabahce Palace was built for Sultan Abdülmecid and his family as a home and administrative center. The 45,000 square feet of indoor space contains 285 rooms and 43 halls in 3 stories. You'll quickly understand why the palace bankrupted the empire because everything inside is heavily decorated and dripping with details and color.
Everything you see inside the palace is also original, thus no pictures or video are allowed indoors and guided tours are required. Anticipate long lines for tickets and your tour time slot, but the wait is well worth it. Pay a little extra for the separate Harem tour if you have time. I clearly remember that the longer our tour went, the more I found myself saying "WOW" and I was speechless when we reached the Grand Ceremonial Hall. I gotta say if I was super rich I'd happily pay a fortune to rent the place out for a few days just to get lost wandering around the rooms and to soak in all the details and grandeur.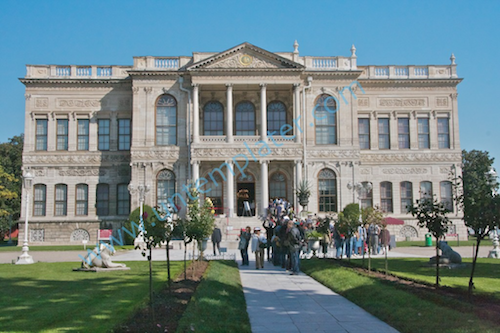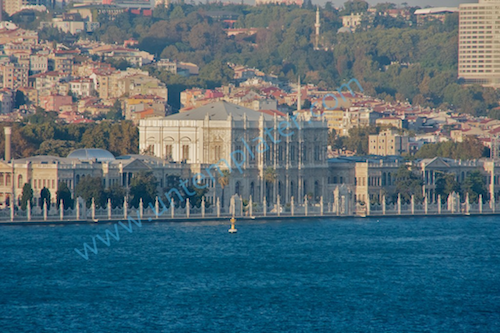 6. Spice Market (Egyptian Bazaar)
Even though it was smaller than I expected, I loved every inch of the spice market. I found the vendors to be more friendly and relaxed here, often sipping little glasses of apple tea, and everywhere you look there's a rainbow of colors. I also ate the best 2.5 Lira (~ $1.40 USD) chicken doner kebab sandwich here from a tiny stand, and the guys were so friendly they even threw in a free yogurt drink. (The drink ended up tasting awful lol, which I luckily tried later on so it didn't wreck my enjoyment of the doner).  In addition to spices, you'll also find tea, sweets, and other souvenirs here.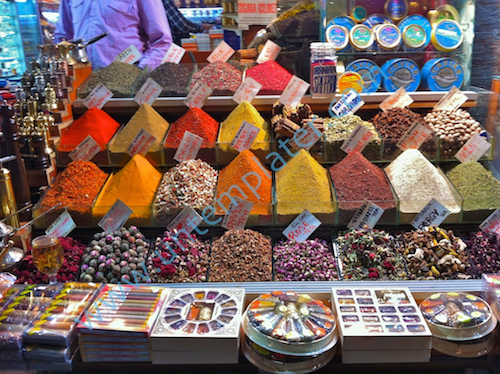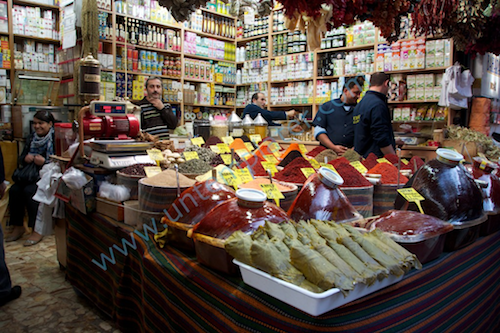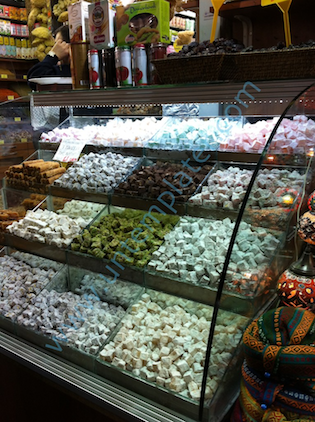 7. Basilica Cistern
This is the largest underground reservoir in the city, constructed in the 6th century to supply water to the Great Palace of Constantinople, Topkapi Palace and others. The two Medusa head pillars at the back of the cistern are not to miss. Walk slowly at this sight because the pathways are wet and very slippery! Peek down at the large goldfish swimming around and enjoy the cool and refreshing air as you marvel at the monstrous 336 marble columns in the calming, dim orange lights.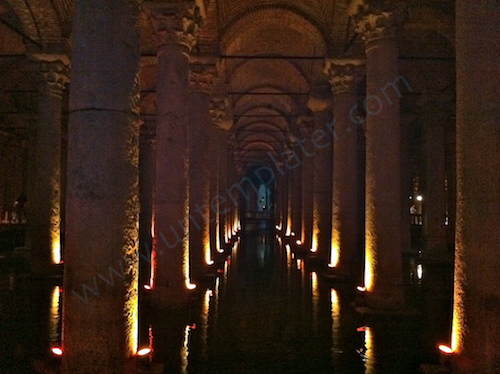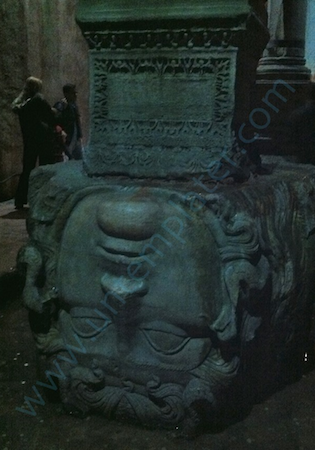 8. Galata Bridge
This bridge is built over the Golden Horn on the European side of Istanbul. It's a short walk from the spice market and is quite easy to walk across. The main tram line that runs along the main sites in the historic area also goes over this bridge and on to Dolmabahce Palace. Here you'll see dozens and dozens of local men fishing at all hours of the day, with many proudly displaying their shiny, silvery catch. Make sure to stop and peek over the bridge where you're likely to see some jellyfish floating by with royal blue rings on their hoods.  After you walk across, check out all the restaurants and cafes underneath the bridge and try a scrumptious fish bun.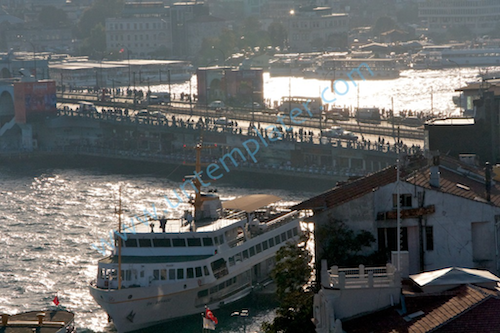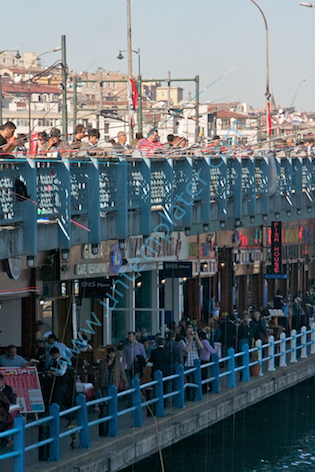 9. New Mosque (Yeni Cami)
This mosque is also near the spice market and is a quiet and peaceful place to stop and visit or say a prayer. I stopped here on more than one occasion and neither time were there any tourists here which was a nice treat. This is also where the grandma was speaking to me in Turkish.  I felt I got an inside glimpse of local life as people came to pray on their way home or during their busy days at work. I got to witness men rushing to the ablution area before they entered the mosque and women of all ages quietly shuffling inside.
If you chose to visit the mosque please be respectful and follow the customs to remove your shoes before entering and dress appropriately, ie no shorts, tank tops, or revealing clothing. Women should also have their heads covered with a scarf or hijab, and be aware that the screened area along the left wall when you walk in is where you will find the women praying, which can get quite full. This may seem strange or discriminating to visitors for women to be in a separate area, but it's quite common at mosques and many women actually prefer it this way for their privacy.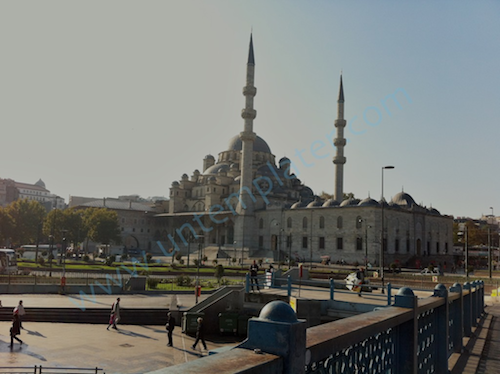 10. Grand Bazaar
I wasn't the biggest fan of the Grand Bazaar but had to put it on my top 10 list because it's so famous you just have to see it, and it's easy to get to. It's one of the most popular drop off places for tour groups though so be prepared for large crowds of both tourist and locals. I didn't get any good pictures of the crowds because I was too focused on not getting run over.  It's super super easy to get lost in the 4,000+ shops that span over 58 covered streets, so I don't recommend going in too deep or separating from your friends unless you have a lot of time on your hands or cellphone service. For those of you who like cheap clothes, especially jeans and fake labels, you'll love it here. I don't think I've ever seen so many jeans for sale in my life lol.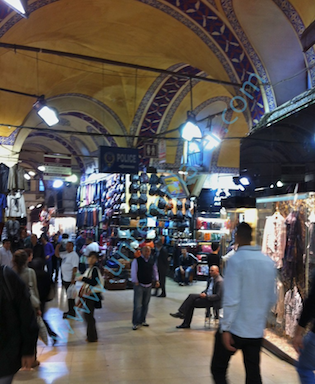 You can see all of these top 10 places in about 2 days if you keep a good pace.  If you stay in Istanbul for more than a couple of days you'll be able to take your time, plus there's still tons of more things to see and do that I didn't get to. You can gawk at the Valens Aqueduct, stop at the Hippodrome, explore the Asia side of Istanbul, take a Bosphorus cruise, relax in a Hamam (Turkish bath), check out the fast pace of the Maslak financial district, or even watch some whirling dervishes in amazement. Istanbul is truly an amazing city!
Can't Make It All The Way To Istanbul But Still Want An Amazing Vacation?
Rent my friend's place in Lake Tahoe! He's got a fantastic five diamond rated two bedroom, two bathroom condominium at The Resort At Squaw Creek in Lake Tahoe. There's ski-in/ski-out, three outdoor hot tubs, three heated pools, a spa, a gym, several gourmet restaurants, fantastic children and family activities, a golf course on site, amazing hiking, kayaking, rafting, fishing, biking, and more! Lake Tahoe is one of the best places to vacation. You can rent book a reservation as a studio (two queens), one bedroom (one king, a pullout queen, fireplace, two TVs, kitchenette, dining table, two rooms), or entire two bedroom unit (studio and one bedroom combined). Click the links for availability and click this post to see pictures and information about it. Prices are ~15% lower than anywhere you'll find online!
Untemplaters, have any of you been to Istanbul or other parts of Turkey? What do you think of my top 10 list?