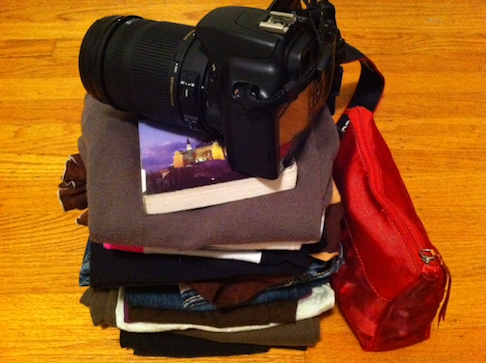 Have you ever traveled with someone lugging a giant suitcase, an overstuffed shoulder bag, laptop, backpack, and 3 duty free bags full of booze and chocolate? I sure hope not! I see people like this all the time at the airport, ready to topple over from the weight of their luggage, and I shake my head every time.
I can't even remember the last time I actually had to check a suitcase. It was probably the year I bought a one-way ticket and moved cross-country to San Francisco. Although there's plenty of fancy suitcases out there nowadays that are built tough, are super lightweight, and easy to roll, I have no plans to buy one.  Why bother?!
Lighten Your Load
I'm all about packing smart and that means traveling light. After all, the less we travel with, the less we have to lose, and the less we have to lug around. Even though I don't bring much with me when I travel, I have everything I need, and always make a pack list in advance so I don't get to the airport and smack myself in the head when I realize I forgot to bring something.
Whether I'm traveling for a weekend, 7 days, or 3 weeks, I bring the same carry on bag and keep things simple. My bag is about the size of a small gym tote and has a shoulder strap, wheels, and a collapsible handle. I've never had a problem fitting it in the overhead compartment, and not to jinx myself, I've never lost it yet.  Once it wears out, I'm going to go even smaller and switch to using a multi compartment backpack.
When I travel I bring lightweight clothing that's easy to hand wash and fast to air dry, and wear my bulkiest clothes on the days I fly.  The heaviest item I travel with is my DSLR camera because I love photography and I never go on a travel adventure without it.
Skip The Souvenirs
I always leave extra space in my bag so it's easy to open and close, plus if my bag is selected to be searched at security, there's no stress or struggle getting everything back inside.  For the most part I have no interest in bringing back souvenirs.  They're usually machine made items that are overpriced, bulky, and just end up in the junk drawer or donation pile, and I'm so over that.  The only type of souvenirs I buy on occasion are unique magnets from each major city I visit because they're cheap, tiny, and I smile every time I see them on the fridge because they remind me of my travels.
Pack Smart Checklist
Now here's a sample of one of my pack lists to help you get ready for your next trip!
Clothing
Vibram FiveFingers (or good walking shoes)
1 pair of sandals
1 fleece jacket

3 t-shirts

1 long sleeve shirt
1 sweater (or sweatshirt)
1 pair of jeans
1 pair of capris
1 semi formal outfit
1 swimsuit
1-2 PJs
Underwear and socks
1 hat/visor
 Electronics
Cell phone + charger
Camera + battery + charger + extra memory card
Earphones
Universal adaptor
Toiletries & Accessories

Contacts + case + eyeglasses + solution
Toothbrush + toothpaste + floss
Face wash
Sunscreen
Comb
Razor
Tweezers + fingernail clipper
Aspirin + allergy medicine + antacid
Deodorant
Earplugs
Antibac + tissues
Laundry soap
Sunglasses
1 day bag
Everything Else
Itinerary + Emergency contact numbers
Passport/ID
Wallet + Keys
1-2 travel guidebooks
1 novel for fun (or ebook)
Looking For A Great Place To Vacation?
Rent my friend's place in Lake Tahoe! He's got a fantastic five diamond rated two bedroom, two bathroom condominium at The Resort At Squaw Creek in Lake Tahoe. There's ski-in/ski-out, three outdoor hot tubs, three heated pools, a spa, a gym, several gourmet restaurants, fantastic children and family activities, a golf course on site, amazing hiking, kayaking, rafting, fishing, biking, and more! Lake Tahoe is one of the best places to vacation. You can rent book a reservation as a studio (two queens), one bedroom (one king, a pullout queen, fireplace, two TVs, kitchenette, dining table, two rooms), or entire two bedroom unit (studio and one bedroom combined). Click the links for availability and click this post to see pictures and information about it. Prices are ~15% lower than anywhere you'll find online!
Untemplaters, what are your travel packing habits like?  What's the worst thing you forgot to pack?  How many bags do you travel with?