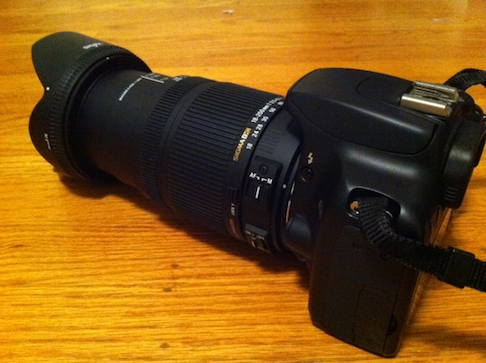 Whenever I pack for a trip, the first thing I grab is my camera gear. I'm not a professional photographer, but I'd categorize myself as an intermediate amateur slowly making my way to advanced. It wasn't until just a couple years ago that I decided I'd outgrown the point and shoot realm and ventured into the world of dslr photography.
I spent about two weeks researching which camera body I wanted to buy, and ultimately decided on the Canon EOS Rebel XS. I have always liked Canon products and chose this model because it had all the key components of a dslr, wouldn't cost me 2 round trip flights to Europe, and I'd have a huge selection of lenses to choose from down the road.
I fell in love with the camera and used the kit lens (EF-S 18-55mm 1:3.5-5.6 IS) for about two years. In which time I learned how to shoot in manual mode and what all those fancy and funny photography terms mean like aperture, exposure, ISO, chimping, and bokeh.  The only thing that has bugged me from time to time is how loud it is compared to some of the more expensive camera bodies, but
As my skills improved and I started taking my camera on more trips, I realized I'd outgrown the 18-55 mm kit lens and began to dream about buying an upgrade. It was intimidating looking at the hundreds of lenses on the market, especially with their big price tags, so I put the purchase off for a long time.
It wasn't until earlier this month that I decided I'd waited long enough, so I did my research and bought my first real lens. I knew I wanted a good travel lens and didn't want to spend a fortune.  My budget was $500-700.  There are a lot of things to consider when you're looking to buy the best travel lens for your DSLR camera and it doesn't have to be an intimidating process.  Here are some helpful tips from my research.
Features to look when shopping for the best travel lens
Lightweight – High-quality glass can get really heavy, and lugging around a lot of extra weight isn't good for traveling.  I recommend getting a lens under 1.5 pounds.
All purpose zoom – You never know what you'll come across on a trip, so having a versatile zoom lens is convenient and practical. The image quality won't be as sharp as a prime lens, but you'll have a lot more flexibility.
Durability – Get a lens that's built well so you won't have to worry about it breaking or having to find a repair shop while you're on vacation! UV filters are a great way to help protect your lens too.
Lens speed – if you're planning on shooting a lot of pictures in dim lighting make sure you get a lens that's fast enough to get the shots you want, but be prepared to spend more money for a fast lens.
Reasonable cost – Locals can always spot a tourist and unfortunately that can make you a target for thieves.  Don't spend your life savings on a lens that could end up getting stolen.  Stick to your budget and also consider getting insurance for your lens.
I read dozens of reviews on the web, reached out to my local photography buddies and Flexo from Consumerism Commentary, tried the lenses out in the store, and ultimately went with the Sigma 18-250mm f/3.5-6.3 DC OS HSM.  It came with a lens hood, unlike the Canon EF-S 18-200 mm which was my second choice, and I was able to get a coated UV filter and a Circular Polarizing Filter all for less than $600.  That's still not cheap, but is good value in the photography world.  I've had the Sigma for about a week so far and I love it!
I'll be taking it with me on my first trip to Turkey soon and can't wait!  I'll post some pics when I get back.  Here are 2 of my best shots taken a few days after my lens arrived when the Blue Angels were in town for Fleet Week.  Not too shabby eh? 🙂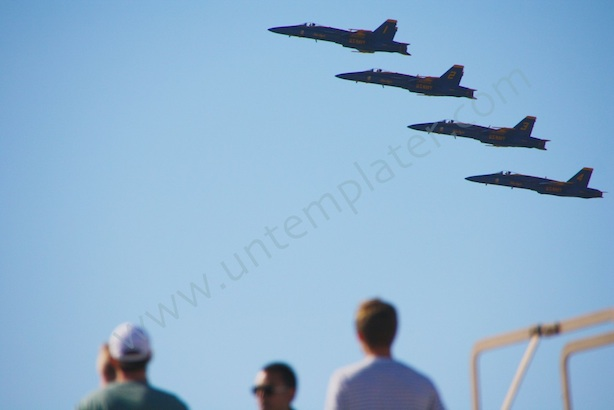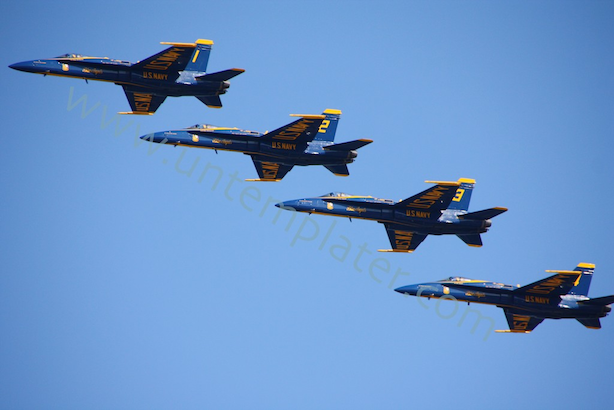 You may also enjoy looking at some pics I took over the summer and on my incredible trip to Istanbul. I think I took a couple thousand pics on that trip. There were so many beautiful and delicious things to photograph. And if you're looking for more tips, tutorials, and inspiration, here are 3 of my favorite photography books that have taught me so much and really made me appreciate how easy the pros make things look:
Understanding Exposure, 3rd Edition: How to Shoot Great Photographs with Any Camera
Focus On Apple Aperture: Focus on the Fundamentals
Scott Kelby's Digital Photography Boxed Set
Untemplaters, what type of camera and lens do you take when you travel?  What do you like the most and least about it?