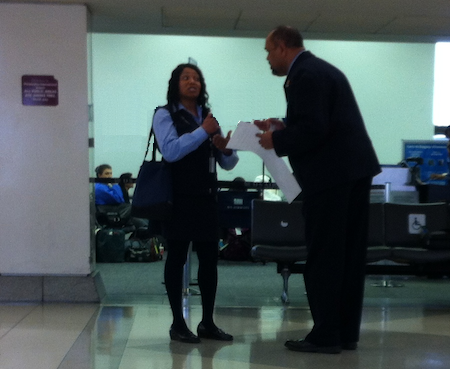 Communication is the foundation to any successful relationship. Yet so often we fail. So why is it so hard for humans to communicate effectively? Is it because we are too complex for our own good? There are many dimensions to this fundamental aspect of our lives, and I want to examine a few of them today. I hope after reading this post you'll a refreshed perspective on how we interact with one another and how to improve communication at work and in your personal life.
The Blame Game Is Lame
Things go wrong all the time at the office, among families, and between customers and businesses. We love to put the blame on someone else or the circumstances of situations when things don't happen as we expected or in an productive manner.
Rarely do we admit that the cause of failures were due to ineffective communication. Why? Because we all tend to think we communicate better than we actually do, and blaming something else is easier than looking at the flaws in how we relayed information to one another. So next time things don't go the way you anticipated, don't jump to conclusions without analyzing if your communication was effective.
Ineffectiveness Not Nervousness
The National Communications Associate presented a lot of intriguing information in their study How Americans Communicate.
62% of Americans felt they were very comfortable communicating with people (talking with relative ease)
However, only 42% said they were effective when communicating
It's important to understand the difference between nervousness and ineffectiveness. They aren't the same thing, and when communication breaks down, it's stemming from problems with effectiveness most of the time, not feelings of anxiety or the jitters.
Verbal And Non Verbal Communication
We all know that there are many different ways we communicate, in writing, speech, and through physical observation. However, we live in a world that is built around a talk centered model of communication. We can't go through life without talking to our loved ones, friends, and colleagues.
On average, we use 16,000 words in a 17 hour day, ranging all the way up to 47,000 words a day
That's a LOT of talking folks. Not only that, there's a huge span in the amount of words that we use on a daily basis. 47,000 words is almost three times that of 16k, and I'm sure there are many people who fall below this average too depending on the type of work and lifestyle they lead. Where do you think you fall in this spectrum? Think how hard it would be to actually calculate that data!
How To Improve Communication At Work And In Your Personal Life
I listened to a fascinating lecture by Professor Dalton Kehoe at York University about communication and he talks about several easy steps we can all take to improve how we communicate.
1) We need to need to discover ourselves.
2) We should focus on building relationships with other people.
3) We need to influence others
4) We need to be aware of what's going on.
5) We need to never stop listening!
It's important to be multidimensional to be effective communicators. Before you can better you have to identify your weaknesses. We all have them! Perhaps its a lack of eye contact, low confidence causing shortfalls in assertiveness, being out of the loop, interrupting others, or not sharing your opinions.
We also need to work on building relationships with those we interact with in order to communicate effectively and to be able to influence others. And if we want to be able to predict, survive, and thrive, we absolutely need to understand and be aware of what's going on around us, what's happening next, and look at how we're being treated in each situation.
The Multiple Layers Of Face To Face Communication
We all communicate over emails, texts, and phone calls now that we're in a world that can't function without technology. And while it's essential to know how to communicate effectively when we can't actually see the people we're relaying information to, we can not discount the significance of face to face communication.
Even if we don't exchange words, we are communicating when we are face to face. It's inevitable! Our body language and facial expressions communicate how we're feeling. So we can't just think about what we say in words to each other, we must also work on what we're communicating through our bodies.
Face to face communication is made up of mutual exchanges and adjustments because we can't help but react to one another. Think about the last argument or disagreement you had and try to remember the beginning and how the communication started. What triggered the reactions that each of you had? How did your physicality and words affect those around you? Don't stay in your comfort zone and just blame someone or something else. Identify what parts of your communication were symmetrical or complimentary and how you used power to influence each other.
Never Stop Improving How You Communicate
We've all been in situations when we've said things we later regret. The valuable takeaway is that we learn from those experiences and remind ourselves regularly that we can't take words back once they've been said. Even if we apologize, that doesn't erase what came out.
We're also complex beings, and we often need to adjust our communication style based on who we're interacting with. Keep an open mind about your weaknesses and never stop improving how you communicate. We can't be happy if we aren't able to communicate effectively!
Untemplaters, how would you rate your communication skills and style? What are the most common causes you've identified when communication breaks down? Do you have any tips on how to improve communication at work and in your personal life?