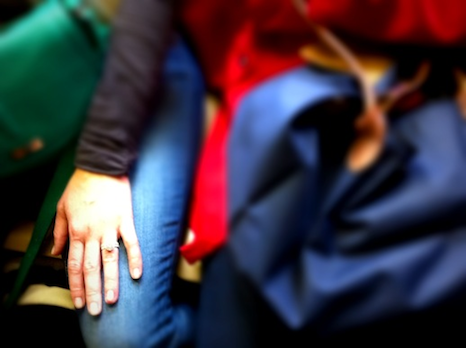 The holidays are upon us and time is speeding up like crazy. It's a time of year though when we should stop, reflect, and be thankful for the things we have. This Thanksgiving I am thankful for a lot of things including surviving my health scare, getting to explore Belgium, feeling happy and prosperous in my life/finances/career (our 30's are better than 20's), and being able to write my thoughts down regularly and share them with you!
There's one more thing in particular I am so thankful to have this year which you'll find out by the end of this the true story I'm about to share with you today…
Being Thankful For The Things We Have: My Heart-stopping Experience
I consider myself to be organized, perhaps even a bit obsessive at times, and I'm pretty careful about where I put things. I actually can't even remember the last time I misplaced my keys, lost an important document, or when one of my socks went missing. I'm also generally pretty paranoid about not losing my wallet because it happened to me once before and I swore I'd never put myself through that again.
But I know I'm far from perfect, and my memory and awareness admittedly aren't as sharp as they were ten years ago. I wouldn't say I feel old yet, but I'm no spring chicken either. Although I think I still look younger than my actual age (phew!), my focus has a growing tendency to wander off as my processing speed isn't as expeditious as it once was. But I'm still far from over the hill, and sometimes it just takes a good kick in the gut to snap out of the fog I can wander into, and get back to better habits. I unexpectedly had one of those heart stopping, startling wake up calls recently and it freaked me out.
The More We Have, The More We Can Lose
So here's what went down. On the weekends, I like to take strolls around my neighborhood to run errands and pick up groceries for the upcoming week from local produce stands. When I woke up last Sunday morning, it felt kind of cold so I put on pants and a sweater to warm up before I headed out. I didn't realize that it was actually a hot, gorgeous day outside until I was several blocks away from home, and at that point I didn't want to bother turning around to go back and change.
So I kept walking and went about my business, but by the time I got all my errands done and was heading back home with bags in both hands, I was burning up! I felt like an idiot with a winter jacket and a sweater on when I could have been comfortable wearing a t-shirt and shorts. My fingers had also started to swell with my rise in body temperature. I took off my coat and stuffed it in one of my bags, but I felt my ring finger getting squeezed tight by the rings I had on because I was still hot. It's pretty crazy how our fingers can swell and shrink with our body heat and that can make a big difference on how how rings feel and fit!
Hot And Bothered
Melting in my sweater, all I could think about were the rings squeezing my finger tighter and tighter. It wasn't like they were cutting off my circulation, but I decided to take them off my swollen ring finger and put them on my pinkie instead. Aaah, suddenly that felt so much better and I didn't feel any more pinching. I consciously curled my pinkie finger closed to keep the rings from falling off just in case, and continued on my way.
After I got home, I went straight to the kitchen to drop off my stuff and put the veggies and perishables I bought into the fridge. I refilled my water pitcher and then wandered into the living room. There was an interesting show on about racoons that immediately grabbed my attention. Did you know that racoons adaptation to city environments is affecting their brain development, and evolving them into smarter animals? Fascinating! I also learned that Toronto, which I've visited a few times, has one of the biggest urban populations of racoons. Ha, who knew!
From Cute Cuddly Racoons To Total Panic
I was sitting back in my chair, happy and totally enthralled with this raccoon program until I glanced at my hand and noticed that I was wearing a ring on my pinkie. I looked down at my wedding band, sitting so comfortably on my littlest finger. But that's weird I thought to myself, why was I wearing one ring and not two? And then I FROZE.
Within a second, PANIC set in. Where was my engagement ring?! I jumped out of my seat and started checking around me. Nothing. I ran to the kitchen and looked on the counters. Nothing. I started digging around in my bag of grapes, padding everything down, looking under papers, checking the sink, peering in the trash. Nothing. OMG, what if I dropped my engagement ring on the street, and worse what if somebody walked away with it?!
I immediately grabbed my keys and ran outside to retrace my steps. All I could think about was someone seeing my diamond ring on the ground and pocketing it in two seconds. I walked as fast as I could, scanning the ground with every step. I felt a lump growing in my throat, but I couldn't succumb to my emotions yet. Even though I couldn't bear the thought of someone else finding my ring first, I needed to have hope. I remembered the exact path I had taken that morning, and I let my eyes scan the street like a hawk. …But there was nothing.
How Could I Be So STUPID?!
After going several blocks past the place where I remembered putting both my rings on my pinkie finger, I turned around and started walking back. My ring was nowhere to be found. My heart started to sink, and tears began to puddle up in my eyes. How could I be so stupid?! Why couldn't I have just waited a few more minutes and taken my rings off after I got home?!
Even though I knew I had insurance that would cover most of the cost for a replacement, it wasn't helping me cope. I was so mad at myself for being so careless with something so meaningful, so personal, and also so valuable. How could I feel worthy of getting a replacement ring after losing something so precious?
As I walked the last few blocks home, there was still a chance my ring was at home somewhere, but I didn't think my chances were good at all. Once I got back home, I did another full sweep inside, hoping and praying it could still turn up. I checked the bathroom, the trash can, in the couch, on my chair, under the coffee table, in the fruit bowl, on the counters, in the recycling bin, …and still nothing.
A Cold And Frigid Chill
There was only one other place I remembered using when I got back the first time, and that was the fridge. There really wasn't a point, but I figured I might as well look there too, so I opened the door and looked around on the shelves. Didn't see my ring there. Figures. But then I remembered putting some veggies in the crisper drawer, so I yanked it open and THERE laying on top of my bag of white button mushrooms was my shiny, beautiful ring!!!
I started bawling from relief and happiness of finding it, and couldn't stop saying thank you through my tears that I hadn't lost it for good. Now that I've calmed down and am writing this post, I actually find it a bit funny that my ring was nice and cold when I found it since I had been so hot and bothered just 30 minutes earlier, lol. Perhaps my subconscience triggered my pinkie to drop it there on purpose, who knows.
The Moral of This True Story Is:
1) Do NOT take your rings off when you're out walking. Either leave them at home in the same safe place before going out, suck up the discomfort of finger swelling when it's hot, or get your rings resized if they simply don't fit well anymore.
2) Be extra cautious of what you're doing anytime you are handling something valuable. Fortunately I didn't drop my ring outside, but I was still careless and forgot I had it on my pinkie once I got home, and it fell off without me realizing it.
3) The more we have, the more we can lose. Get insurance for the things most important to you, that's what it's for. Understand too that the more things you have, the more willing you need to be to accept loss. We're human after all and unexpected things happen all the time. This goes for business continuity and valuables too. If you can't remember the last time you backed up your critical files, go do it right now!
4) Be thankful for the things we have. Even though I would have been devastated if I had lost my ring, I would still be fortunate to have my incredible husband in my life, which is worth more than anything else! We all go through times when we lose important things, which we can't always get back. And even though it's hard not to get upset when we do lose something, we must be thankful for all the things we have left. After all we all have more than we think and we need to make the most of what we have in the moment!
Untemplaters, have you ever lost something very valuable or meaningful before and did you ever get it back? How are you spending Thanksgiving this year? What are you thankful for?