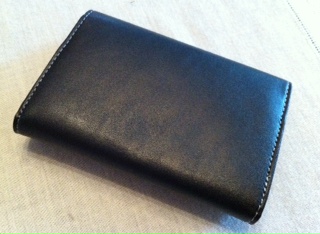 One of the WORST feelings is the realization you've lost your wallet. Whether it fell out of your pocket on the bus never to be seen again, you got robbed, or have no recollection of where or when you had it last, they are all equally awful. I've misplaced my wallet dozens of times, and always get a panicky feeling in my stomach when it's not where I thought I put it last.
While not being able to find it right away is annoying in those cases, it's nothing compared to the time I actually had my wallet stolen. The whole experience gave me a huge headache, I lost hours of time searching for it, and it left me with a really unsettling feeling.  I learned a lot from that experience and want to help you minimize the pains and frustrations I went through.
Here are my suggestions for you to follow now so you'll be be prepared and know what to do when you've lost your wallet:
Minimize contents. Sit down at a table and empty everything out of your wallet, and ladies you'll probably want to grab your entire purse(s).   Once everything's dumped out, separate the contents into two piles.  One for your bare essentials and the other for the things you really don't need to carry around that can just be kept at home in a safe place instead.  Declutter and simplify! The less you carry around, the less you'll need to replace, and the easier it'll be to fit your wallet in your pocket too.
Create a card log. Trying to remember all the various cards you were carrying around when they're suddenly gone can be difficult and stressful, especially when you start worrying about someone racking up charges and stealing your identity.  Take a few minutes now and write down all the different cards you typically carry around.  Or if you're too lazy to write it all down, take a picture or make a photocopy of all the cards together – super easy.  It's also really helpful to have the account IDs and phone numbers of each customer service department you'll need to alert all in one place.   You'll be able to react quickly if needed and will feel more at ease knowing that you contacted ALL the necessary vendors.
Plastic > Cash money. Minimize the amount of cash you carry around and avoid depositing large amounts of money at ATMs at night or in sketchy areas. Same goes for making large withdrawals. Be street smart and trust your sixth sense.  Only carry enough cash for what you actually plan to spend (bus fares, cash only restaurants, tips, parking) and use a credit card for the rest.  Also consider keeping an emergency use only credit card and stash of cash in a secret place at home so you'll have enough to get food and the basics while you wait for your new cards to arrive.  Just don't hide them under your mattress because that's one of the first places burglars like to look!
Make Copies of your IDs. Keep a copy of your current drivers license and passport in a safety deposit box or a wall safe. Copies can't legally be used as replacements but they can assist in verifying your identity when you go to get official replacements and you'll also have your identification numbers handy to help expedite the location of your records.
Contact me card. Consider keeping a "Please contact xyz if found" note in an easy to find place within your wallet. There are good people in the world who will try to return lost items to their rightful owners, and having a contact me card will make it easy for them to reach you. I suggest using a phone number and email different from what you have on file with your bank and credit card companies for your own protection just in case a malicious person gets a hold of it.
Fraud alerts. All three major credit agencies allow you to place free fraud alerts on your credit report if you suspect you could be a victim of identity theft or if your credit card information was stolen or compromised. You only need to notify one agency because they will automatically alert the other two.  Creating a fraud alert makes it much more difficult for someone to open a new line of credit using your stolen information.  Note that initial security alerts last for only 90 days, so you may need to call and extend the period if you suspect someone is actively using your identity.
File a police report.  If you know your wallet was stolen, make the effort to report it so the police can help track down the thief.  Sadly it's unlikely to increase your chances of getting your wallet back by much, but you never know – a good samaritan may have found it and dropped it off at the station, or the police may have a lead on a repeat offender and your description could help them catch the thief.
Already lost your wallet and can't think of what you had in it?  Here's a list of common things we carry around:
Memory cards (ex. SD, Compact Flash)
Password lists (not a good idea btw!)
Parking tags and access cards
Point cards (ex. Get 10 stamps, get XYZ free)
As you can see, the list can get quite big!  That's why it really helps to follow the steps above so you have less to lose, logs of what you do carry around, copies, and contact lists handy.  Hopefully you will never have to go through what I did but if you worst happens you'll know what to do when you've lost your wallet and can make a quick recovery and get back to fun, untemplate living!