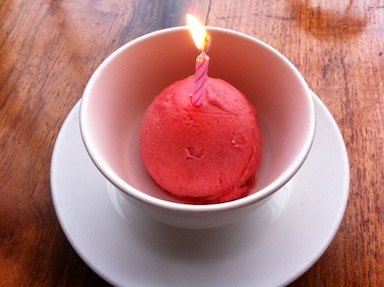 I went to a friend's 30th birthday a few weeks ago and it got me reminiscing about when I crossed that milestone in my life.  Turning 30 is a big event, and we all remember different things about when it happened to us.  For those of you who haven't reached that point in your life yet, you're probably already dreading it.  And when you think about the age of 30 and (gasp) mid to late 30's, it sounds so old, right?!
Admittedly, that's exactly how I used to think until my 30th birthday came and went. And now that I can look back, I'm happy to say that my 30's are actually even BETTER than my 20's!!  The world didn't end when I started a new decade, I didn't sprout any gray hairs overnight, and I really didn't feel that much different.  So don't fear that once you hit your 30's you're going to start feeling old and depressed!  I can tell you from my experience that being in your 30's is still plenty young, and it really rocks!  Here's a glimpse into what my 20's were like and how it compares to how my 30's are unraveling.
What I Loved About My 20's
Looking back, when I think about my 20's, I typically think back to my first few years out of college.  I loved staying up late until 3am watching TV or hanging out with friends on the weekends, and then sleeping in late.  I didn't have as many responsibilities, so I also had a lot less stress.  My body was in great shape and I had a lot of energy.  I remember feeling hyper without even eating sugar or drinking caffeine.  Oh how I miss not having any caffeine dependencies!
Another thing I loved about my 20s was learning what it's like to be fully independent.  I absolutely loved feeling free, earning my own money and setting my own schedule.  It was during this time in my life that I moved across the country to San Francisco, worked my tail off, and launched my career.
My 20's were also the years when I learned what it's like to be in a happy long-term relationship.  I also got married!  It was definitely one of the highlights, especially because we had a small and simply fabulous stress-free wedding.  I'm a low-key gal and had no desire to spend a fortune to get married.
The Not So Great Things About My 20's
The things that weren't so great about my 20's were loosing all my grandparents and witnessing how hard that was for my parents.  When my mom lost her mother, I remember being worried that she would never feel whole again.  But I learned that grieving is a natural part of life that we all have to experience, and that time does heal wounds.
Even though I was independent in my 20's, I wasn't very smart with my money in the first few years I worked full-time.  Personal finance hadn't peaked my curiosity, and I wish I had taken more time to learn and invest.  I was also making less money since my career was still blossoming, so I wasn't able to travel as much as I wanted, and there were also many times when I was living paycheck to paycheck.
I also wasn't that confident in my 20's and as a result I rarely took risks.  I played it safe and didn't think outside of the box, especially in regards to meeting new friends and my overall lifestyle.  I hadn't discovered the thrills and challenges of an untemplate life yet, and my personality was rather bland because of that.  My 20's also seemed to be filled with way more questions than answers, and I wasn't persistent enough with uncovering my passions.  And I was also immature about a lot of things.
The Perks Of My 30's
Even though I don't have the same amount of energy that I did in my 20's, I often find myself thinking how I feel much more alive and present now that I'm in my 30's. Why is that you may ask?  Well I think a lot of it comes from having more life experiences under my belt and the fact that I'm spending a lot more time doing the things I truly love.
Other things that have made my 30's much more exciting than my 20's are starting my own business, having a more established career, doing work that I actually enjoy and find rewarding, and being able to interact with you!  I've also made a lot of new and closer friends, many of who are also entrepreneurs and are living active untemplate lifestyles.
I also have a lot more confidence and mental resilience than I did in my 20's. Things don't upset me like they used to, and I am way more comfortable in my own skin.  I've also learned to let go of relationships and friendships that have fizzled out so I can really focus on the ones that mean the most to me.
And since I have more years of work experience, I'm also making more money, which helps a lot with being able to consistently save for my retirement.  Being more knowledgeable of personal finance has also been a great benefit in my 30's and I love keeping budgets and monitoring my investments.
The Tough Things About My 30's
What I don't like about my 30's though as a woman is the countdown on my body's ability to safely have kids.  I had a fertility test taken a few months ago to see where my body is at, and the results were a bit depressing.  Age really does play a factor when it comes to bearing children.  I'm also not even 100% sure I want to be a parent and even though I'm getting more and more comfortable with the idea, I wonder how much of that is my brain telling me I need to be ready, because my time is limited if I want to get pregnant without IVF.  It's an emotional stage in life for women, and I've bonded with my friends who are in the same boat.
I've been fortunate that my overall health is still in good shape though, and I've been able to stay fit into my 30's.  But I definitely notice that my knees aren't as strong as they used to be, and I have trouble getting up if I've been in one position too long.  I have to shift positions every few minutes when I sit on the floor or I feel like my joints get stuck!
The other growing challenge in my 30's is the fading health of my parents and having to take on more and more responsibility of their financial, physical, and mental well being.  It takes a ton of patience, planning, and many difficult conversations.  It feels good to help them out, but I can't lie and say it's always happy and fun.  I've definitely learned how precious it is to have supportive siblings to lean on and help out.  So take it from me, be nice to your brothers and sisters!!
Stop Obsessing And Try To Master Time Instead
What I've also learned since passing the 30 mark is not to obsess about our age too much.  If we get too hung up with thinking things like "30 isn't young," "40 is old," or "50 is so depressing," we could all too easily actually end up feeling that way, and oh how sad that would be.
Live in the moment and do your best not to have any regrets in life.  Learn from your mistakes, discover new things, and never stop learning.  Stay active and learn how to maximize your time, because the older we get, the faster it goes by!
Untemplaters, have you crossed the 30 mark yet?  Did you have a big celebration or were you hiding out in despair?  What do you think – are our 30's better than 20's?  Does aging scare you at all?