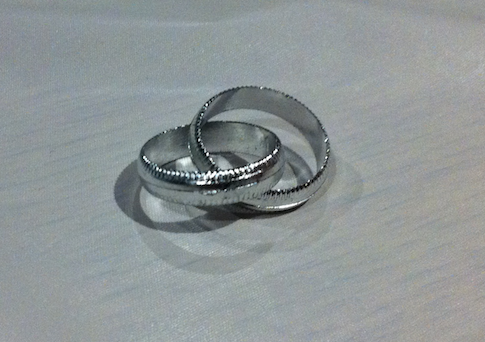 I am constantly amazed at how much money people spend on weddings.  I was in the elevator on my way to a business meeting a few weeks ago when I heard a woman talking about how she had 1,000 people at her wedding a few months earlier.  I seriously had to bite my tongue to keep from turning around and blurting out, "WHAT?!  Are you CRAZY lady?!"  My floor came and I had to exit the elevator before I heard any more details of this lavish celebration, but I found myself trying to justify her bizarre behavior by concluding she must have gotten hitched to a Hollywood celebrity or perhaps a British royal!
The Average Wedding Cost Makes Me Shake My Head
Did you know that the average wedding cost is now close to $28,000?  Sheesh!  While this rising average could make me feel bullish about our economy, it doesn't.  Why?  Because too many people use getting married as an excuse to spend tens of thousands of dollars that they do not have.  I completely understand and agree that getting married is a once in a lifetime event (hopefully) and that everyone wants their wedding to be special, but I think it is foolish and irresponsible for couples to go into debt in order to pay for their wedding.
A lot of couples get financial help from their parents and families, but that has always felt weird to me.  I realize for some it's a cultural thing, and I've even been to several weddings where it's customary for guests to offer gifts of money to the bride and groom, but my husband and I didn't want anything to do with that for our wedding.  I think this stems from our untemplate, minimalist, and independent nature.  The way I see it is our parents already gave us so much growing up that it just doesn't feel right to ask them, or any relatives or friends for that matter, to help pay for anything once we become self-sufficient adults with our own income.  I've also learned a lot about how to handle family money problems which is another reason why I don't recommend expecting or asking family for money.
How Many Wedding Guests Do You Really Need Anyway?
I really wouldn't be too surprised if that crazy lady I overheard in the elevator married an unknown, wealthy Joe Schmoe and not a mysterious royal or movie star.  She sure seems narcissistic for inviting that many people don't you think?  I'd be surprised and impressed if they even knew the names and faces of all of their guests!  Plus there's no way she and her husband would even have had time for a meaningful conversation with every one of their guests unless they had a week long wedding!
While I think a 1,000 person wedding is quite the extreme, almost all the couples I know had/will have 150-200 people on their guest list.  A few outliers I know of were 3 couples at 250+, 2 at 50-100, and 1 at less than 50.  Even though it's fun being a guest at a large wedding, I'm a huge fan of small, intimate weddings.  We had less than 30 people at our wedding and it rocked.  It was super easy to plan, there was plenty of time to talk to everyone so we didn't feel rushed or exhausted, we knew all the guests really well which made it lots of fun, plus it was cheap!
I'm constantly surprised more people don't go for small weddings.  You save SO much money and there's nothing to stress about!  If you're trying to decide who to put on your guest list, my advice is stick to inviting the people you care about the most because they're the ones who want to be there the most too!
Don't Start Your Marriage In Debt Up To Your Ears
I have one pair of friends who spent just shy of $100,000 on their wedding about two years ago.  I almost spit my juice out of my mouth when they told me that lol!  The ceremony and reception were held at a beautiful estate tucked into the hills, and the food was delicious, but 100 grand, really?!?!  Even though they are well off, they still had to borrow money from the bank and get help from their parents to pay for everything.  That just does not make sense to me!
And just last year one of my close friends from college held a beautiful wedding at a five star resort that probably cost them about $80,000!  It was exquisitely executed with a large wedding party, gourmet food, a live band, a 6 person team of photographers and videographers, plus programmed lighting during the dinner and reception.  Yes folks, couples are hiring professional wedding lighting designers now!
When my friend first told me she was having lighting at her wedding my thoughts were, "well duh, we don't want to eat in the dark."  Little did I know she was talking about the professional team she hired to put up a rig of multicolored LED lighting cans, monogrammed gels and strobes for the dance floor, and a spotlight for giving speeches!
The wedding was stunning but I felt sick to my stomach when I kept hearing her say, "gosh we're so broke."  Umm, so what the heck was she and her fiance thinking spending so much money for one day if they didn't have the money to afford it?  If you have tons of money to burn then sure why not throw an all out wedding, but if you're already on a budget (which she was) and don't have a lot of savings in the bank, going into tens of thousands of debt for 1 day of fun is asking for serious trouble.  One of the most common thing couples fight about is money too, so do yourselves a major favor and don't start your marriage off in debt up to your ears.  It IS possible to have an awesome wedding without getting anywhere close to the average wedding cost of $28,000.

To Decline Or Not To Decline Invitations
Weddings are fun to attend, but I've done my fair share of declining invitations.  Usually it's because I don't know the couple very well, the location is far away and expensive to get to, or the timing interferes with existing plans that I don't want to reschedule.  I have an open invitation right now to a wedding in LA on Labor Day Weekend and am debating if I should decline it or not.
LA is not that far, but the venue for the wedding is a super expensive beach resort that has a 3 night minimum stay because of the holiday weekend!  Even though I used to hang out with the bride during my college days, we didn't really keep in touch after that and I'm not that close to her or her fiance now.  However, they are moving to the Bay Area this summer so there's a chance we may hang out more since they'll be close by.
I'm leaning towards declining the invitation though.  I just don't feel like spending $1800-2000 (for 1 person) to fly and stay at this 5 star resort to see people I'm not that close with anymore.  If it was for my best friend's wedding then yeah I'd probably find a way to make it work, but for a distant friend it's just too expensive!  Plus they have a 16 person wedding party which leads me to believe the guest list is huge so I highly doubt I will be missed!  But because they are relocating here I feel somewhat obligated to go.  It'd be so much easier if they just hadn't invited me lol!
Recommendation For Couples To Get Your Finances Off To A Great Start
* Manage Your Finances In One Place – Get a handle on your finances by signing up with Personal Capital. They are a free online platform that securely aggregates all your financial accounts in one place so you can see where you can optimize. They also offer other free financial tools to help you monitor your cash flow, stick to a budget, reduce fees in your 401(k) and track your net worth in realtime. Let Personal Capital track your finances so you can gain more freedom to do your own thing. It takes less than one minute to sign up!
* Get A Free Personalized Investment Plan – Wealthfront is an excellent choice for personal wealth management for those who want the lowest fees and can't be bothered with actively managing their money themselves. It's free to open an account and get a personalized investment plan. Wealthfront charges $0 in fees for the first $10,000 you invest with them, just 0.25% for any money over $10,000, and only have a $500 minimum to get started. Invest your idle money cheaply, instead of letting it lose purchasing power due to inflation.
* Start Your Own Website & Grow Your Brand – Want to make more money? Work on building your brand by creating your own website the easy way with Bluehost for super cheap. You can register your domain for under $20/year and get hosting for only $2.95/month. Whatever your interests are, focus on building your skills and developing your own unique niche! I've been blogging since 2010 and it has allowed me to break free from the corporate grind to travel, work from home, and do so many more things I've always wanted to do but couldn't. There's not a week that goes by where I'm not thankful for starting this site! Read more about how to start a blog.
* Break Free!
Learn how to negotiate a great severance for yourself in 
How to Engineer Your Layoff
! By getting laid off from a job you wanted to leave anyway, you can collect a severance, health care insurance, deferred compensation, unused vacation days, and be eligible for unemployment. The book provides helpful case studies and a framework for you to have a strategic conversation with your manager on how to profitably quit your job. 
Get more details and download the ebook instantly here
.