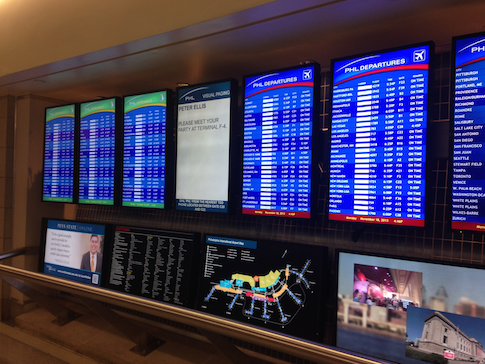 It's been a while since I've written about travel, and I've got major trip planning on my brain. One task I have each year is to look ahead and decide where I want to go, which isn't a bad problem to have. There are so many possibilities, and it usually takes me a good chunk of time, debating back and forth before I narrow down my choices. I've been on the road for so many years now that I've learned a lot of efficient travel tips, but I'm also a bit burnt out!
Where To?
Until a few weeks ago I was actually close to booking flights and hotels to Malaysia, Cambodia, and China, but got too frustrated with the cost and amount of travel time it would take me getting around. And then the Malaysia Airlines MH370 plane went missing, which solidified my decision not to go to Asia for a while.
This year I'll probably do smaller trips to LA, Hawaii, Mexico, NYC, and London instead which are all conveniently direct flights. In any case, I'm fortunate that I have a fairly flexible job situation that lets me travel six to eight weeks a year. Some of that time is for work stuff and not just vacation, but I always find a way to have fun even if I'm on the road for business.
Having an active mobile lifestyle is a luxury that a lot of people don't have, so I'm grateful that I've been able to see so many places over the years. But I gotta admit that the travel bug in me is starting to run out of steam. I used to get super excited about fourteen hour international plane rides, figuring out what I need to pack, organizing travel arrangements, and doing hours of research on each of my destinations and compiling awesome itineraries. Now, not so much even though I can utilize my own experience and efficient travel tips.
After a while, when you're on the road as much as me, traveling and trip planning starts to feel more and more like work itself. And it can get tiring physically and mentally sometimes being on the go a lot and frequently having to get ready for another trip. If I had a travel agent do all the prep work for me that'd certainly help, but I don't like paying people for things I can do myself.
Burned Out
When I was back in school and in my 20's, I never thought I would ever get tired of traveling. I had a less money and fewer vacation days back then, but I had a lot more energy and a constant hunger to explore. When everything is new, everything is exciting. And the harder it is to get time off from work, the more precious that time off tends to feel because of its rarity. We humans tend to lust after things that are hard to get.
I remember the days in my 20's when I could walk and run my feet off for endless days and nights without wanting or needing to sit down to rest. Although I'm not that much older now, I can't go at a blistering pace anymore. I don't get upset anymore if I skip things on my itinerary, and I like and need to take a lot more breaks. Perhaps it's also because I'm working a lot more than I did in the past, so it's harder to fully unplug. Plus it takes me longer to refuel.
When you travel constantly, it can definitely lead to burn out. I remember I used to think staycations were a waste of precious vacation days, but not anymore. I actually quite enjoy taking some extra time to myself now on occasion just to veg out at home and not have to go anywhere at all. 🙂
Walk, Run, Go!
So I'm glad I was able to see a lot of the world and go on a lot of adventures when I was younger. It takes high energy to sightsee in a short amount of time, and I definitely crammed in as much as possible on a lot of my travels. Not knowing if or when I'd ever get back to Venice, Paris, Tokyo, Bruges, Rome, Istanbul, etc. motivated me to see everything on my wish list on each of those trips. And thankfully I did when I had the chance!
So now that I've started to burn out, my advice is if you have the chance to travel, walk, run, and go while you can. See as much as possible in your youth if you have the means – travel is much more efficient when you are single and things like red-eyes don't phase you. I'm a wreck for days if I take red-eyes now, but they were a cinch when I was 22. Jet lag is also a lot easier to get over when you're younger too.
Another one of my easy efficient travel tips is to taper off your itineraries towards the end of your trips. Utilize the first few days to see the most places while your legs are fresh and you have the most excitement and adrenaline in your system. Once you have your bearings, a camera full of pics, and a workout of sight seeing under your belt it's awesome being able to lounge at the pool for hours.
Plan Out The Highlights
I'm a planner by nature, which is both good and bad, but mostly good. The pros are that I do a lot of research of my travel destinations beforehand so I usually have a list of everything I want to see and a rough idea of which days I'll go to each place or activity. The downside is that doing a lot of research can be really time consuming and exhausting. But it does get me pumped about all the fun things I'll be able to do on my trips.
Having at least a rough outline of your trip in advance will make your time on the road a lot more efficient. You don't want to spend a lot of time on the ground doing research when you could be snorkeling, hiking to a waterfall, or photographing ancient ruins. Pick up a few travel guides from the library a couple weeks before your trip and take them with you. I never buy a travel book if I can just borrow one from the library. Guidebooks also make great reading on the plane. Utilizing your travel time itself on the plane/bus/train is another one of my efficient travel tips to cram together an itinerary on the go if you're tight on time before your departure.
Just don't try to plan every single block of time in your schedule. There will always be unexpected gems and opportunities that will pop up when you're traveling and you'll need flexibility to be able to take advantage of them.
Seriously Go As Light As Possible
I used to have a really bad problem with overpacking. Ladies, we all know this is commonly a female weakness, although I have seen a decent amount of men bring way too much stuff too. Fortunately for me, after one too many experiences trying to lug my own heavy bags around (do NOT bring heavy bags to Venice folks!) I have completely ditched overpacking. Even as severely attached as I am to my laptop as a writer, I've stopped brining it on most of my trips now too and just use my iPhone.
I know there are so many outfits and things you want to have on hand when you travel, but trust me, it is extremely liberating to travel light! It's a lot easier getting from point A to B to C, and you don't have to worry about losing stuff either. Nowadays I usually just bring 1 backpack even if I'm traveling internationally. Efficient travel is all about being practical. Bring just a few clothes that are easy to mix & match, can be hand washed, and dry quickly. I shake my head every time I see people with giant suitcases and duffle bags. Check out my post How To Pack Smart For Your Next Trip for more tips.
Get There Easier And Faster
Although direct flights cost more, they are worth the premium in my opinion. Not having to worry about delays and missing connections makes up for the extra money. Although I never recommend checking bags, if you absolutely must check bags you also will save yourself the all too common problem of delayed or lost luggage by flying direct. But if you show up to the airport really late, you will still run the risk of delayed checked luggage even if you do fly nonstop – so don't be late!
I was so happy when I discovered an awesome Kayak feature that lets you search for nonstop flights out of your closest airport, which I use constantly. All you need to know is your airport code, which you swap out at the end of this URL: http://kayak.com/direct/SFO  Be sure to modify the departure window at the top of the page, since airlines often cut/add routes depending on the season. Now everytime I'm planning a vacation, I always start by looking for direct flight destinations. SFO has a decent list of choices, but you're really lucky if you live near large international hubs like LAX, IAD, or JFK.
Take A Vacation From Your Vacation
My last little piece of efficient travel advice for today is to take a vacation from your vacation. All that really means is to try and give yourself one or two days at home after returning from a trip. The worst is getting home at 11pm or later from a long trip and then having to turn around and go into work the next morning. I've done that way too many times and it's a major buzz kill at the end of an amazing trip.
So try and give yourself at least half a day to unpack, do some laundry, check your email, go to the grocery store, etc. when you return home. It makes transitioning back to the office a lot easier. And you'll also be a lot less grouchy when you return to work!
Escape To Nature
Need to escape from it all? Rent my friend's place in Lake Tahoe! He's got a fantastic five diamond rated two bedroom, two bathroom condominium at The Resort At Squaw Creek in Lake Tahoe. There's ski-in/ski-out, three outdoor hot tubs, three heated pools, a spa, a gym, several gourmet restaurants, fantastic children and family activities, a golf course on site, amazing hiking, kayaking, rafting, fishing, biking, and more! Lake Tahoe is one of the best places to vacation.
You can rent book a reservation as a studio (two queens), one bedroom (one king, a pullout queen, fireplace, two TVs, kitchenette, dining table, two rooms), or entire two bedroom unit (studio and one bedroom combined). Click the links for availability and read his Lake Tahoe post to see pictures and information about it. Prices are ~15% lower than anywhere you'll find online!
Untemplaters, have you ever had travel or mobile lifestyle burn out? How many weeks a year are you on the road? Do you have any efficient travel tips? Where do you want to go on your next trip?