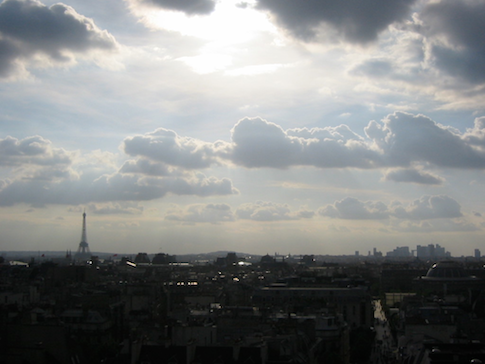 It's summertime and what better place to explore, people watch, and get a taste of French culture than Paris, France?! Although I'm stuck working this summer and can't get away to Europe right now, I can't stop thinking about my trip to Paris several years ago and how much I loved it. I hope you get a chance to travel to this beautiful city that's so full of art, history, charm, and yummy eats. Here are my top Paris sights to see: J'adore Paris!
The Eiffel Tower
The first image that pops into your mind when you think of Paris is probably the Eiffel Tower. I remember my heart skipping a beat the first time I saw it in person. I arrived in Paris at night and had my eyes glued out the window of my taxi looking out at all the lights and remember my jaw dropping when I saw the Tower rising to the sky just a few yards away.
Musée du Louvre aka The Louvre
You must, must, must spend at least half a day if not a full day just to explore the Louvre alone. I was fortunate enough to spend an entire day in the galleries and was still wanting more when I left. The most famous piece is the Mona Lisa (much smaller than you'd think!) and expect to wait in line to get your peak up close.
Montmartre & Sacré-Cœur
The Montmartre district was one of the most unexpected charms during my trip to Paris. I loved the vibe here and wandering around the quiet little streets. There are a lot of artists and musicians in this area and it's a wonderful place to be inspired. The famous Sacré Cœur sits atop the hill which you can see in the distance of this picture I took from the modern art museum in the Pompidou Centre. I'm not a big modernism fan so if I did my trip again I'd happily trade time in the Pompidou for more time in Montmartre.
Musée d'Orsay
Didn't I say Paris is fabulous for art?! This famous museum is built inside an old train station and has a large impressionist and post impressionist collection. You'll get to see iconic pieces by Monet, Degas, Renoir, Van Gogh, Gauguin, and more.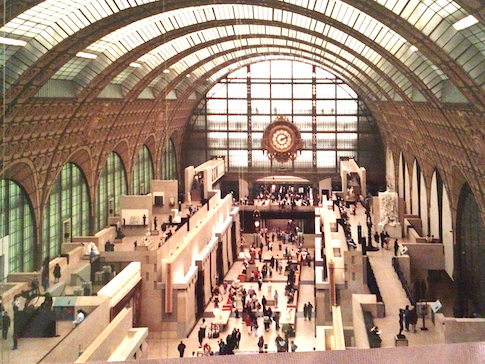 Musée Picasso
The Picasso Museum is currently closed for renovations for the rest of 2013, but if you go to Paris after it reopens definitely put it on your list. You learn a lot about Picasso's life and how his style changed over the course of his lifetime. It's surreal being able to see so many Picasso pieces in one place!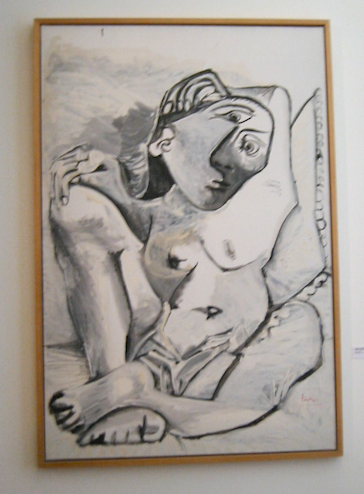 Notre-Dame de Paris
This cathedral is another one of Paris's icons that has beautiful stained glass and many important Catholic relics like one of the Holy Nails. Gaze up at the flying buttresses and then climb the 387 spiral steps up one of the bell towers and get a close up view of the gargoyles.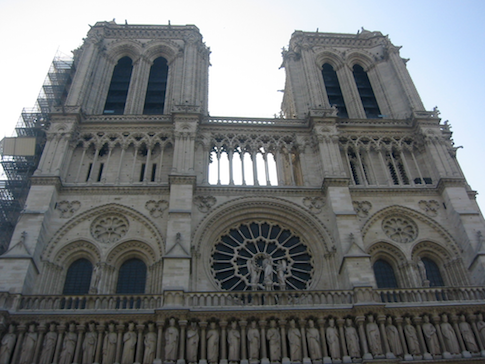 Arc de Triomphe & The Champs-Élysées
This picture is a view from atop the Arc de Triomphe looking towards the Grande Arche de la Défense, a modern day version of the Arc de Triomphe. If you love to shop you'll love walking along the Champs-Elysees. It's also a great place to people watch and stop for tea and sweets at the famous Ladurée Tea Room.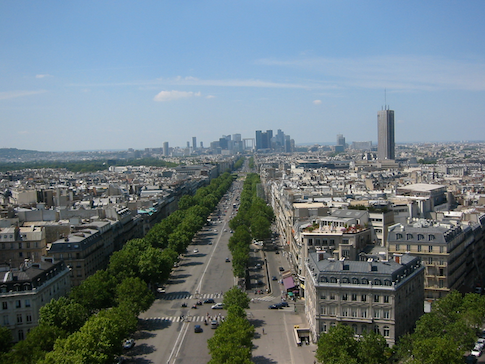 La Défense & The Grande Arche
This bustling business district houses the Grande Arche that you can see in the distance of my picture above. The picture below is taken right in front of the Grande Arche looking toward the classic Arc de Triomphe. This area has a totally different flavor of Paris with office buildings and modern architecture. There's a large shopping center here, The La Defense Quatre Temps, as well as movie theaters. If you're short on time, I'd skip it.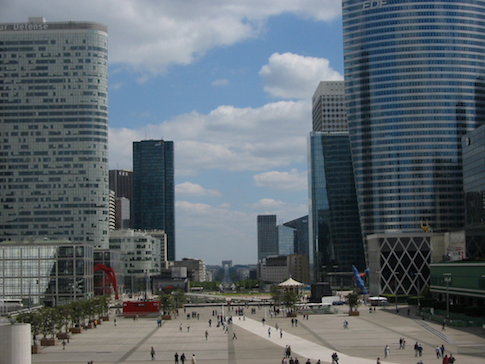 Sainte-Chapelle
This breathtaking medieval chapel is known for it's Gothic style and bright, colorful stained glass windows. It's not to miss! The name Sainte-Chapelle means The Holy Chapel.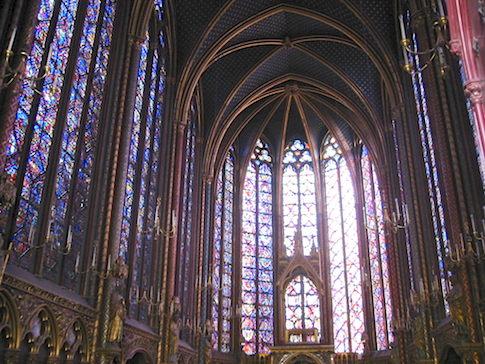 The River Seine
If you have several days in Paris, take a boat ride along the Seine river. It runs through the heart of Paris and many landmarks are along the banks. Pictured below is the beautiful Musée d'Orsay, right along the Seine. You can also take a leisurely stroll by foot and walk across the many bridges which are great for taking pictures.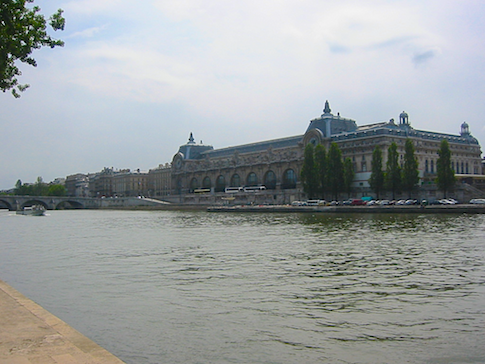 The French Open aka Roland Garros
If you time your trip right, you can catch some exciting tennis matches at The French Open. Tickets for the outer courts are generally inexpensive and gets you a seat right up close to watch some great matches. If you walk through the nearby park at night be aware that a certain girly men are known to loiter in this area looking for customers if you get what I'm sayin'. It's easy to get to the stadium by metro or taxi though and most matches are during daylight hours so chances are you won't actually encounter any of that funny stuff.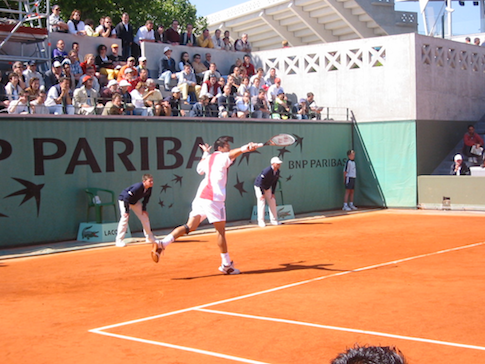 How Long Should You Stay In Paris?
So there you have it, my top Paris sights to see for your next trip. There are a lot more Paris attractions that I didn't include to keep this post from getting too long, but these were my trip highlights. Not sure how many days to spend in Paris? It's easy to spend several weeks in Paris and do something different every day. My advice is the longer you can stay the better. 🙂
Paris is vast and full of so many sights that I highly recommend you spend at least four days there if possible. I stayed for ten days and got to see so many things at a comfortable pace. I didn't even get to talk about the food in Paris, mmmmwa si délicieux! 
Are People Nice In Paris?
Although the large majority of Parisians speak English, do try and speak some French if you can. I probably butchered my pronunciation, but nobody laughed at me, and I enjoyed speaking basic phrases and ordering food in French. Most of the time the person you're speaking with will answer in English if they see you're struggling and they do appreciate you making an attempt to use their language. French is a beautiful language and I wish I could speak it better!
Everyone I encountered in Paris was also very polite and friendly. The key is just to show respect like you would with anyone at home. If you're nice to them, they will be nice back. Now if you need to use the restroom at a place like a bakery, make sure to purchase something first. Otherwise you are bound to experience some not so nice looks and remarks from the staff. Don't get mad at them for asking you to purchase something, it's common courtesy. Plus there are so many incredible things to buy and eat.
Crepes, Pastries, Baguettes, And More
Ha I went to a bakery at least once a day to eat my fill of am-A-zing pastries, fresh breads, and crepes. And man oh man if you're hungry and you see a food stand selling hotdogs in baguettes with melted crispy cheese on top – you gotta get one! They are the bomb. There are also fabulous famers markets in Paris with super fresh produce and cuisines of all sorts. Take your time and wander around.
Lastly, when I go back to Paris someday I'm definitely going to take a side trip to Versailles which I didn't get a chance to see. It looks incredible and I've heard so many great things. If you get the chance to go, just do it.
I hope you've enjoyed this post and looking at some of the pictures from my trip. Now you know why j'adore Paris. If you have any questions about my top Paris sights please ask away in the comments below!
Untemplaters, have you traveled to Paris? What were your favorite top sights? Do you have any plans to return or to visit Paris for the first time?
Copyright. Updated 2017. Original content and photography authorized only to appear on Untemplater.com. Thank you for reading!