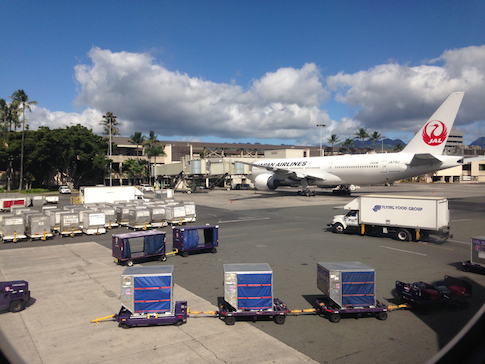 Even after visiting 25 countries and counting, I still look forward to my next trip abroad. I've been fortunate to see a lot of different places over the years, and the memories will stick with me forever. We all get busy and money can get tight, but I hope you don't forget to travel whenever you have the chance. Both of my parents traveled a lot when they were young through the military and work, and that rubbed off on me a lot.
Bit By The Travel Bug
I first got the travel bug when I in elementary school and my parents took me to overseas to visit some family and friends on a trip to Japan. The culture was so different and foreign, and the sights and food were incredibly fascinating to me. The plane ride was even extremely exciting at 14+ hours because 1) I'd never been on a plane before 3) I got a window seat and 3) it was an enormous jumbo jet. On that trip I discovered stores full of Hello Kitty and every kind of pen or mechanical pencil you could imagine, bullet trains, and slurping endless chewy and delicious noodles called udon.
Besides the incredible shopping and sights, I was awe struck by how people communicated so fluidly in such a vastly different language than English, both in speaking and writing. This fascination and my eagerness to pick up a few Japanese words along the way was how I fell in love with foreign languages. I was so impressed with how polite everyone was to each other when they interacted too.
I desperately wanted to know what people were saying around me and I felt stupid for not being able to understand them. It is quite humbling not being able to communicate with anyone around you. Even though I wasn't very good at remembering foreign words and phrases when I needed them, the more I traveled, the more I wanted to continue learning at least a little bit of language from each country I visited. Communication opens so many doors and even just knowing how to say thank you in the local language can make such a difference in your experience.
Where Do You Find The Time And Money To Travel?
You might be wondering how someone like me who works full-time and does side gigs has the time to visit so many different countries. Like building your retirement savings, it really just comes down to time, planning, and execution. Since I started getting a steady paycheck after college, I decided to try and travel to at least one foreign country every year. So far so good!
If you land a job with great benefits and stick with it, you too could work your way towards 5-6 weeks of vacation a year and build your savings to allow you to travel abroad to twice a year or more.  It just takes time, but know that if you stick with your job and practice sound personal finances, you'll be able to go anywhere you want in style.
3 Benefits Of Travel I've Learned
1) New Perspectives
Experiencing new cultures allows you to develop a better understanding of people.  You become more sensitive to different customs, and with that sensitivity comes a greater appreciation for others.  You no longer are so stubborn to think that your way is always the right way.  Conflicts are easier to resolve as you understand where others are coming from.  When someone is talking about international affairs, your ears perk up and chances are you might know what they're talking about and even participate.  The more you know, the better you become.
I remember being a guest at a cramped apartment in Tokyo for a week.  The family of three had no more than 600 feet of living space and we all slept on tatamis (the floor). One evening, the host was serving the most delicious homemade meal with grilled fish and small plates. When she went to serve me, I took the piece of fish she was holding out with my chopsticks. After I took it, she told me not to do that again. I was taken aback, but after she explained I realized I had broken a custom and committed a faux pas.
You see in Japan, most burials are cremations and there is a ritual of passing the remaining bones of the deceased into an urn from one person to another using chopsticks. This is the only time it is okay to pass anything between two people from chopsticks to chopsticks. What I should have done at the dinner table was held up my plate to receive the food instead. I never forgot that mistake to this day, and it opened my eyes to new perspectives.
2) New Languages
If you take a quick hop over to Europe and you will see Europeans on average speak at least two languages, if not many more. Part of the reason why Europeans speak two languages regularly is because of a smaller landmass, and a much earlier start to learning languages in school. Starting early is the way to go.
Even if you only have time to learn a few words in the language of the country you are visiting, it's worth it. The more you can speak with the locals, you'll make more friends, have more fun, and perhaps save a lot of money as you discover cheaper, non-touristy traps.
I took French for 2 years and when I went to Paris for the first time I decided to test my abilities. Of course, when I got to there my nerves wiped out most of my French vocabulary, but I did okay. I managed to order what I wanted and didn't get lost. It was fun being able to put all those hours in the classroom to good use even if I messed up on some words and my pronunciation.
3) More Harmony
Imagine a President who has never traveled abroad.  Then imagine that President trying to negotiate a trade agreement or an arms treaty.  Negotiations are more difficult to conduct without understanding the other country's customs.  As a result, our President is always overseas building relationships with other world leaders. By demonstrating willingness to go to our foreign partners' respective countries and experience their local customs, President Obama paves the way for better discussions on international relations.
Thanks to technology, the world has shrunk to the point where what happens in another country like Greece affects what happens in the United States. Hence, it becomes more imperative for us to travel and keep up with technology and foreign matters. It's hard to be an effective leader if you have a closed-minded way of thinking. Travel opens up people's perspectives and allows for more harmony.
Travel isn't cheap, but I think it's a great way of developing a better you. Instead of buying a $25,000 car you know you probably can't afford, think about the 10 awesome overseas adventures over the next 5-10 years you could go on for a week or two at a time. Spend money on experiences, which will continue to provide a never ending pool of happiness rather than buying materialistic things. The people you meet, the cultures you experience, and the new perspectives you gain are more valuable than any object you will ever buy.  Ready to book your next trip overseas?
Recommendations
Check out some other travel related articles I've written for further reading
Looking For A Great Place To Vacation?
Rent my friend's place in Lake Tahoe! He's got a fantastic five diamond rated two bedroom, two bathroom condominium at The Resort At Squaw Creek in Lake Tahoe. There's ski-in/ski-out, three outdoor hot tubs, three heated pools, a spa, a gym, several gourmet restaurants, fantastic children and family activities, a golf course on site, amazing hiking, kayaking, rafting, fishing, biking, and more! Lake Tahoe is one of the best places to vacation.
You can rent book a reservation as a studio (two queens), one bedroom (one king, a pullout queen, fireplace, two TVs, kitchenette, dining table, two rooms), or entire two bedroom unit (studio and one bedroom combined). Click the links for availability and click this post to see pictures and information about it. Prices are ~15% lower than anywhere you'll find online!
Untemplaters, have you been overseas before? What are some things you've learned or experienced on your travels? How many trips do you take a year on average?
Copyright 2014. Original content and photography authorized only to appear on Untemplater.com. Thank you for reading!