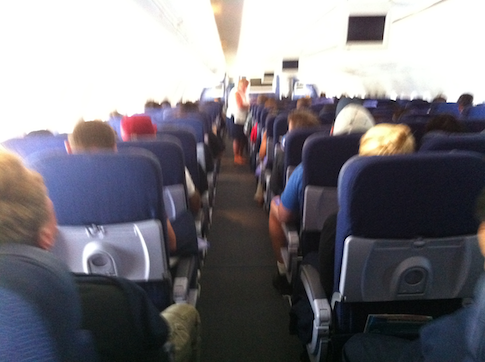 Summer is coming to a close, but many people are still running around on 1-2 week vacations basking in the sun. I'm jealous. I haven't taken a vacation since the Spring, which feels like ages ago, and I'm so ready for my next one. I just have to be patient. Perhaps you just came back from a trip and are feeling sluggish trying to get back into the rhythm of normal life again. Vacation time goes so fast, doesn't it?! Whether your next trip is for business or pleasure, here are some tips on how to travel smarter and have more fun.
Hurricanes, Muddy Trails, And Other Surprises
Have you ever tried to cut too many corners when you hired a moving company? I know several people who did and they ended up with a lot of property damage and missing valuables. What a burn. The same type of ugly outcome can happen if you book a super cheap vacation without doing your research. Nobody wants to wish they never left home. Vacations should be fun, exciting, and stress-free.
A friend of mine took a trip to the Caribbean on an all-inclusive weeklong cruise to swim with dolphins once. Sounds absolutely amazing right? Wrong. Unfortunately for her it ended up being 7 days of cramped, hungry, drenched misery. Her super vacation "cruise" deal turned out to be a rocky little boat with no private cabins and a bad cook. Oh and did I mention there was a major hurricane the week she went and her flight home was cancelled? The one positive outside of all the bad weather and poor conditions was at least she got to see some dolphins.
I was looking into travel options to Cambodia this Fall and was at first surprised to find airfare that was several hundred dollars less than I thought, and hotels were cheap too. I started to get excited about planning a trip there until I discovered it's right smack in the middle of monsoon season. Doh! Um, no thanks. I had to pass. Although I really want to go to Cambodia and I love nature, I'd rather not spend a vacation drenched and buried in mud up to my ankles. Always research temperature ranges and precipitation before committing to a location.
Read The Fine Print!!!
Traveling is exciting, and we all want to go on fabulous trips at good prices. Unfortunately, scammers love to try and lure us in because of this. Take the below postcard I got in the mail as an example. At first quick glance, I thought I won some kind of travel giveaway. Cool! …Wait… I didn't enter any travel giveaways. And why does the Expedia logo look weird printed in plain text? The whole thing started to look fishy and the more frustrated I got.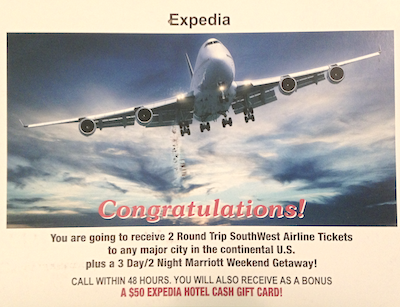 Turns out this mailer was a total bait and switch. Boy was I PO'd. First of all I'm a loyal Expedia customer and have been booking travel with them for years. So I was angry that some other business was trying to pose as Expedia to trick me. I have no idea if they knew I was an Expedia customer when they sent me this postcard or not, probably. Secondly I was mad because they got my name and address from somewhere and I loathe junk mail. And third I was upset because I'm sure this agency has been successful at deceiving a fair amount of people already.
Scammers continue to get smarter and just because something is addressed to you personally doesn't mean it can be trusted. So if something sounds too good to be true when it comes to travel, it probably is. Always read the fine print! And book with trusted, reputable travel companies that offer flexible reservations and cancellation policies.
Go Travel When Others Don't Go
What's another way to travel smarter and have more fun? Going off-season! Although it depends on your destination, the off-seasons are generally defined as April 15 through June 1 and October 1 through Dec 15. Do plenty of research first, negotiate pricing, and always ask what the cancellation policies are when booking. Plenty of resorts and family run B&Bs are flexible on pricing and amenities during the slow months, you just have to take the initiative to ask.
You'll also notice hospitality staff are more relaxed and friendly with the slower pace in these months. And they'll have more time to help you plan unforgettable excursions and guide you to the best restaurants during your stay.
There's no doubt airfare and hotels are cheaper in the slower months so you'll have a much better shot at getting the best seats on the plane with plenty of space in the overhead bins too – finally! And you're more likely to score free nights and other perks if you book four or more nights at your hotel.
Vacation rental owners are also more flexible on price than traditional hotels and tend to offer more amenities and greater square footage. It's always worth it to negotiate their rates and fees, just be reasonable and polite about it. Property owners are quite cognizant of what their rentals are worth throughout the year and if you come in too low with an uppity attitude you risk insulting them and not getting your phone calls or emails returned.
Research And Blend In Like A Local 
As explained above, you'll want to look into local weather patterns before you decide on a destination because off-seasons can sometimes mean unpleasant weather. There are a lot of great resources on the web that will show you temperature and precipitation ranges by month, hotel and cruise reviews, local holidays and festivals. I like Accuweather, TripAdvisor, and WikiTravel a lot.
Traveling without crowds can be so liberating and refreshing. And sometimes sacrificing a little on weather for cost and less waiting in line is worth it. For ex, if you're an art buff dreaming about spending lots of time at museums, you can have a great time going to London or Paris during the rainy seasons when there are no lines or crowds at the best museum exhibits. You'll have more time to see the sights and less time stuck in line for tickets and tours.
Those of you who like getting to know the locals will also have a much better experience when you won't be the 100th person asking them where the closest restroom is or directions to the train station. Most of the big tour buses don't run in the off-seasons and prices will have come down for private tour guides.
The Upside From Work
Finally, another perk of traveling off peak that helps you travel smarter and have more fun is the reduced impact on your job. Since there are more people at work during the less vacationed months, that also means better coverage while you're on vacation!
Returning to work with only a few items to get caught up on versus a mountain of stuff makes such a big difference. Furthermore, if you decide to work around the traditional holiday periods like Thanksgiving and Christmas, work will be quiet and stress free (unless you're in an industry like Retail) since there won't be so much to do!
Looking For A Great Place To Vacation?
Rent my friend's place in Lake Tahoe! He's got a fantastic five diamond rated two bedroom, two bathroom condominium at The Resort At Squaw Creek in Lake Tahoe. There's ski-in/ski-out, three outdoor hot tubs, three heated pools, a spa, a gym, several gourmet restaurants, fantastic children and family activities, a golf course on site, amazing hiking, kayaking, rafting, fishing, biking, and more! Lake Tahoe is one of the best places to vacation. You can rent book a reservation as a studio (two queens), one bedroom (one king, a pullout queen, fireplace, two TVs, kitchenette, dining table, two rooms), or entire two bedroom unit (studio and one bedroom combined). Click the links for availability and click this post to see pictures and information about it. Prices are ~15% lower than anywhere you'll find online!
Untemplaters, where have you traveled this summer? What travel disasters have you survived? How have you learned to travel smarter and have more fun?