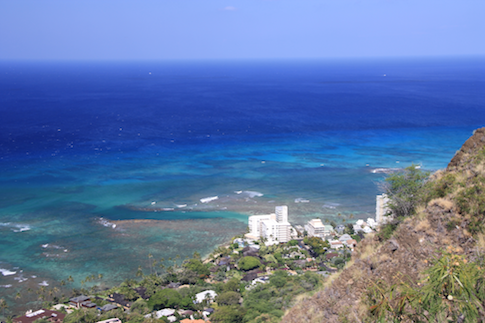 There are so many fascinating places to see out there. I've been fortunate to travel a fair amount so far (25 countries), but there are still countless more cities, villages, trails, and marine parks I want to explore. It can be so hard to figure out where to go next! You've probably felt the same way when trying to plan vacation trips. I want to touch on five inspirational travel destinations that I've been to, and highlight what made them so memorable.
Vacations That Inspire 
We each get inspired in different ways, and one place can be so different from another that it's impossible to say which one is better because we like them for completely different reasons. I went through my list of trips and picked out 5 inspirational travel destinations that I think you'll like. Your next best vacation could be on this list!
Coba
Coba is an ancient Mayan city located on the Yucatan Peninsula in the Mexican state of Quintana Roo. The Maya are a fascinating people whose history goes back to around 100 BC in Coba. The highlight of my visit to Coba was hiking the Nohoch Mul pyramid, which is 138 feet high (42 meters). It may look somewhat small from the bottom, but as you start to climb up the stairs, the height quickly surprises you.
The views from the top are what took my breath away. You can literally see for miles because the surrounding land is very flat. My pictures don't do it justice. Being able to witness such a breathtaking sight that was created so long ago by the ancient Mayans is humbling. I was also quite shocked and super excited that they let us climb directly on the pyramid! Who knows how much longer they will let visitors do that. There are also more areas of Coba to explore by foot or bike – I highly recommend paying ~$3 USD to rent your own bike!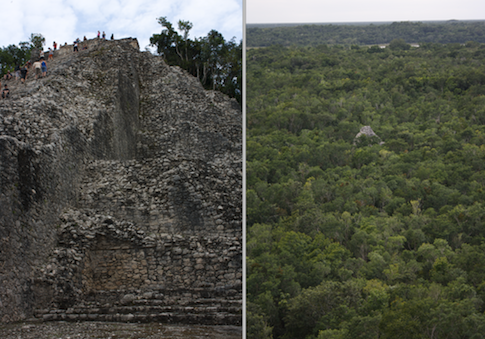 Coba was an inspirational travel experience for me because I had the chance to see, touch, and climb history. It blew my mind that so many thousands of years ago, people were already creating monumental things that still make lasting impressions today. They did everything by hand and sweat, without any technology or machinery. They had to make their own – well, everything! We have so many more resources today, so who are we to complain about anything?! Many Maya continue to live very simple lives in this region of Mexico without the use of modern amenities. Driving through some of their villages inspired me to live a more simple life myself with fewer wants. We really don't need a lot to live happy lives.
In addition to Coba, there are lots of other fantastic adventures to take in this area that are all within driving distance from Cancun and Playa del Carmen. Tulum, Chichen Itza, Xelha, cenotes, snorkeling, zip lining, repelling, scuba diving, sleeping in hammocks, drinking fresh coconut juice, and lounging at the beach.
Manhattan
The complete opposite of Coba is New York City. I used to live in NYC, and after being away for many years I took a few trips back there over the last year. You never forget the energy and buzz of Manhattan after leaving. But standing in the middle of Times Square late at night with hundreds of people walking around feels like you've got a giant battery hooked up to your veins. The intangible pulse of NYC is on 24/7 and you feel like you can do anything there. Vegas has a similar type of around the clock energy, but NYC is where you get inspired to work and dream big.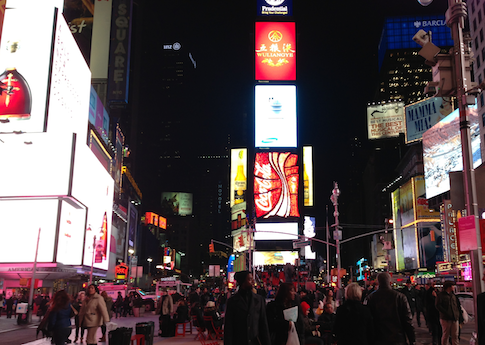 The biggest companies in the world have offices in Manhattan, and if you can make it here you really can make it anywhere. NYC is an inspirational travel destination for me because every time I go there it motivates me as a career woman to work harder, take more risks, and not be afraid to go bigger more often. You don't want to get sucked into the luxury brand obsessed crowds here, because people throw money around in this city like nobody's business, but it's fun place to people watch.
New York has so much to offer all the time, and I also love how you can go from super crowded business blocks to the peaceful quiet of Central Park all within an easy subway ride. The spring and autumn months are best imo, but the colder holiday months of Nov/Dec are special too because of the giant holiday decorations. If you're lucky you'll catch a crisp early morning with a blanket of freshly fallen snow covering the city.
Na Pali Coast Trails
Trekking along the Na Pali Coast trails on the island of Kauai, Hawaii is how I became hooked on hiking, especially in my funny looking Vibrams. Unlike the busier island of Oahu where Honolulu's famous Waikiki breach is located, Kauai is a sleepier destination very focused on nature and the outdoors. You can hike for a few hours, or for a few days here. What inspired me the most about this 6,175 acre state park are the steep, jagged, and super lush sides of the mountains that loom high above the turquoise blue ocean below.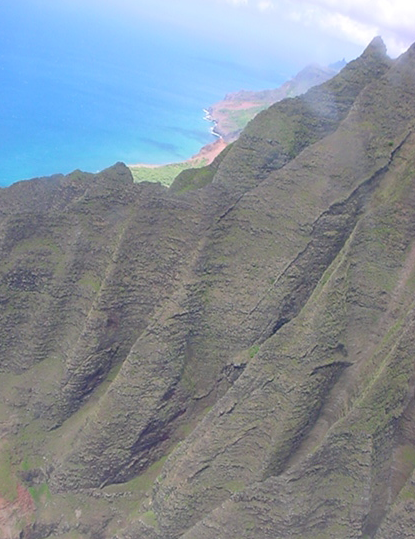 You have to really watch your footing on the trails here because they can get dangerously slippery and muddy. Don't try to hike and text or do anything distracting while you're moving here because it's easy to misstep and tumble down the cliffs that drop straight down! The raw nature and rock formations are so impressive they make you want to sell all your stuff, build a grass hut, and live in the jungle for a year.
The Na Pali Coast is an inspirational travel spot for me because the beauty and unique mountains made my jaw drop. All the time I've spend hiking in Hawaii has inspired me to unplug more often and get outdoors. Plants are some of the most eco advanced "technology" we have in this world – they can regenerate limbs, they live off of just sun and water, they're biodegradable, they produce oxygen for us to breathe, they offer healing properties, and they don't really deteriorate with age like we do. We really should immerse ourselves in their world more often. Nature is good for clearing the mind, refocusing, letting go of stress, plus it's beautiful and it's free!
Bruges
Ah Bruge. I wrote an entire post about my trip to Bruge, Belgium here. It's a small city with beautiful winding canals, cobblestone streets, and old European charm. It inspired me to relax, get a better balance from my workaholic tendencies, and focus on the important things in life – family, love, and good food! And no trip to Belgium is complete without mussels, fries, and every taste of beer you can imagine.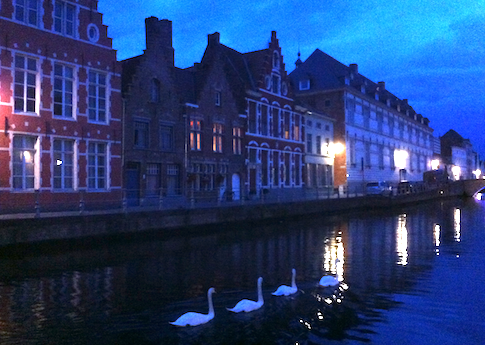 Bruge inspired me to be a nicer person. Living amongst crowds and the bustle of big city life can turn us impatient, selfish, and short tempered. Life in Bruges on the other hand is slow, laid back, and simple. The bevy of swans I saw swimming along a canal by the dim light of street lamps also inspired me to write and reflect on my life.
And the friendly locals who spoke perfect English inspired me to work harder on my foreign language skills. It would have been nice to strike up a simple conversation with them in German, but my language skills were super rusty and all I could come up with was "guten abend," "danka," and "auf wiedersehen."
Turtle Canyons
Turtle Canyons is an underwater dive spot not too far offshore from Waikiki beach in Honolulu. This is where I tried scuba diving for the first time, and it totally changed my life! If you've ever thought about trying scuba diving, I highly recommend going here with a guide here and exploring the incredible underwater world. The ocean floor isn't too deep here and there's very little current, so it's a safe place to go as a novice. I was so blown away by the amount of sea life that I saw here, and the fact that I could breathe underwater. I had no idea I'd be able to see three sea turtles up close!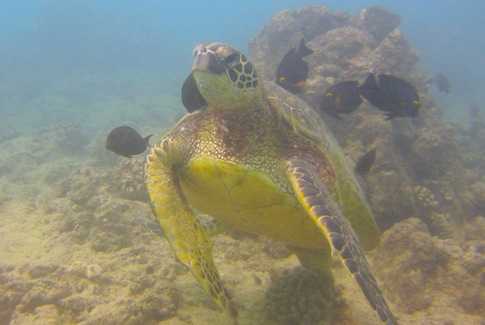 Turtle Canyons also inspired me to face fears head on and not be afraid to try new things. I had to get out of my comfort zone and really focus to be able to submerge myself under water. Fortunately, it was such a rush of excitement, happiness, and wonder that afterwards I decided to get my scuba diving certification so I could go on more dives. Now, I try to plan as many of my trips near a dive site as possible. Being able to explore both above ground and under water has opened up a whole new array of places to see.
This spot also inspired me to support sustainable fishing, help protect our oceans, and only use biodegradable soaps and products. There are SO many diverse and incredible fish, coral, jellyfish, nudibranch, and marine mammals in our oceans that we need to protect. Our planet needs healthy oceans!
Bonus: Lake Tahoe
Rent my friend's place in Lake Tahoe! He's got a fantastic five diamond rated two bedroom, two bathroom condominium at The Resort At Squaw Creek in Lake Tahoe. There's ski-in/ski-out, three outdoor hot tubs, three heated pools, a spa, a gym, several gourmet restaurants, fantastic children and family activities, a golf course on site, amazing hiking, kayaking, rafting, fishing, biking, and more! Lake Tahoe is one of the best places to vacation. You can rent book a reservation as a studio (two queens), one bedroom (one king, a pullout queen, fireplace, two TVs, kitchenette, dining table, two rooms), or entire two bedroom unit (studio and one bedroom combined). Click the links for availability and click this post to see pictures and information about it. Prices are ~15% lower than anywhere you'll find online!
Untemplaters, have you been to any of these 5 inspirational travel destinations? What are some of your most memorable vacation spots you've been to that left you inspired?
Copyright. Original content and photography authorized only to appear on Untemplater.com. Thank you for reading!