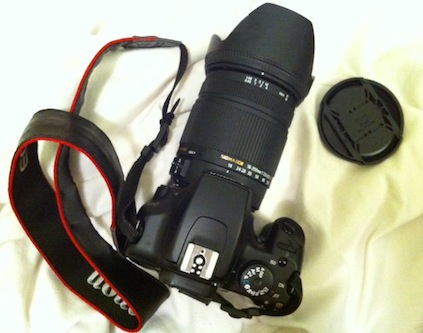 Anyone who wants to live an untemplate life will find themselves wondering at some point in their life, when is it time to quit?  We all have had lofty dreams and passions that we'd love to make a living from, but realistically a lot of those dreams don't come true, and sometimes we just need to throw in the towel or pivot in a different direction.
I got my first real camera, the Canon EOS Rebel XS, about 3 years ago for my birthday.  After years of using low resolution, pocket-size point and shoot cameras, I was ecstatic to have my first dSLR.  These types of cameras don't come cheap, and I never imagined I'd be privileged enough to own one someday.
With my shiny new camera in my hands, I instantly started dreaming about becoming the next Annie Leibovitz and making a cushy living as a talented professional photographer.  I'd start my own studio, make a name for myself, and impress clients with my skills and ability to deliver top quality photographs.  I'd be completely at ease behind the lens, knowing exactly how to capture the perfect shots without breaking a sweat, and I'd have people booking photo shoots with me months and months in advance…
When Is It Time To Quit? The Pressure To Succeed Can Backfire
Over the next six months, I tried to fast track my dream into reality and it totally backfired.  I quickly discovered how hard it is to take professional quality shots, and how challenging it is to direct and photograph people.  Just like in any profession, the pros make it look so easy, and as a result we easily underestimate their talent and experience.  I give mad props to the professional photographers out there, especially those who shoot amateur models and actresses!  Plus, I came to realize I have shaky hands, and tack sharp shots are absolutely impossible to get with shaky hands!
I became so overwhelmed with my flaws and trying to learn skills overnight that take years to master, that I stopped having fun.  I put so much pressure on myself to learn every technicality of lighting, exposure, and composition that I found myself frowning every time I picked up my camera or a photography book.
What was supposed to be a fun learning experience with my brand new camera started to feel like a stressful chore because I was never going to make it as a photographer unless I quadrupled my skills.  I constantly felt frustrated and blamed this on my lack of knowledge and not having the right tools to do things "like the pros."  I also started convincing myself that I needed to spend a couple thousand dollars on a fully equipped photography studio and more gear in order to become a better photographer.  I clearly remember constantly flipping through B&H catalogs of lighting equipment, lenses, tripods, and all sorts of fancy flashes and accessories that I thought I needed to buy.  Oh what a fool I was believing that if I had all that extra fancy equipment, my skills would be magically get better.
Sometimes A Passion Is Best Kept As A Hobby
Around this same time I became friends with a professional photographer in San Francisco.  She told me stories about how so many of her industry friends gave up within a year because of the high level of competition, or getting their gear stolen, not making enough money, and losing all their interest in photography.
She even admitted herself that she missed the days when she was taking photos just for fun and wasn't relying on booking back to back two-hour photo sessions to pay her bills.  But her talent was inspiring and I was lucky that she openly shared so many insights with me.  I still tried to convince myself that if she could make it, I could too.
Fast forward to the present, and guess what?  My friend's no longer running her photography business!  She ended up becoming so bored and uninspired with photography that she packed up her studio and sold all her gear!  How sad that something she used to love to do for fun became dull and dreary as a career.  I didn't want that to happen to me.
Why I Gave Up My Dream
While I was still dreaming about becoming a professional photographer, I started following Chase Jarvis, a talented American photographer who was just coming out with his photo app and book, The Best Camera Is The One That's With You.
I remember reading and rereading the title of his book over and over.  Here was a professional photographer making tens of thousands of dollars on his work telling me that it doesn't matter if you're taking pictures with a $15 disposable camera or a $6800 Canon EOS-1 D X. What matters is that you actually have some sort of camera on you to capture life's moments when they happen.
Brilliant.  It was the "aha!" moment I needed.  Why the heck was I obsessing about getting all sorts of unnecessary equipment when I already had a fabulous camera in my possession?
And why was I putting so much pressure on myself about taking perfect shots?  I was trying to make a crazy difficult career change I was so unprepared for that I would most likely end up losing all interest in photography.  Is that what I really wanted?  No, I just wanted to learn about photography and pick it up as a hobby, but instead I had gotten carried away.  My perfectionist nature was ruining my experience, and I didn't want to lose my love for taking photos.  So I took a step back and changed my outlook and perspective.
When You Stop Having Fun, It's Time For A Change
After I realized that dreaming about becoming a professional photographer was completely ruining my hobby, I decided to completely give up my lofty aspirations.  And what a difference that made!
I went from taking a small handful of pics and grumbling about how bad they were, to taking several hundred shots each weekend without a care in the world if 95% of them were blurry or underexposed.  I just started shooting anything I found eye catching and haven't stopped since!
I was happy again carrying my camera around my neck, and I snapped whatever the heck I thought was interesting.  I also switched to using the semi-automatic shooting modes so I didn't have to think so hard about how to get the exposure right each time.  I no longer felt frustrated that I couldn't figure out how to use manual mode because it didn't matter!
I felt free again and my passion in photography flooded back.  I focused my energy on my existing career instead, which I was already pretty happy with, and have kept my passion in photography alive.
Smiling While I Improve At My Own Pace
After taking the pressure off, my photography skills have improved over the last few years and that's plenty of motivation to keep me taking pictures and trying new things.  And anytime my friends and family say, "wow that is a great photo!" it makes me beam brighter than my flash! 🙂
And I'm also proud to say that 99% of the photos I use on Untemplater are my own work!  In fact, not a day that goes by when I haven't taken at least 20 pictures just walking around or when I'm with friends.  And when I'm on the road using my awesome travel lens, the numbers jump into the thousands!
If I had tried to continue my perfectionist and obsessive approach in becoming a professional photographer, I probably wouldn't be taking any pictures at all now because I would have ended up hating photography.  Instead, I absolutely love being an amateur photographer in my free time now.  I get to use my pics on this site, I capture moments in my life, and I'm getting a little bit better each day.
If you liked this post you'll also enjoy:
You Don't Have To Be Famous To Be A Rockstar
Making The Most Of What You Have In The Moment
Great Resource: My good friend Sam was able to negotiate a severance package equal to six years of living expenses and finally quit. Imagine being able to quit your job with money in your pocket and insurance to cover you for months. Learn how to negotiate a great severance for yourself in Sam's book How to Engineer Your Layoff. Never quit, but get laid off so you can collect a severance, health care insurance, deferred compensation, unused vacation days, and be eligible for unemployment. If for whatever reason you do not find the book helpful, Sam provides a full refund!