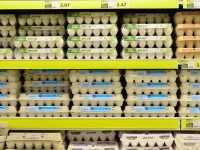 Technology has lowered so many barriers to entry when it comes to starting a business and building a name for yourself. But as you know, it's also made it pretty darn competitive. Generation Z is going to be making their mark on the world before we know it and it wouldn't surprise me if they become way more tech savvy than us "older folks." The good news for us less tech savvy folks is having technical skills alone isn't enough to be a superstar when it comes to branding. With the right approach and enough determination, you can become a branding rockstar at any age. Let's take at how to build your brand and improve its recognition.
Branding 101
Fine tune your definition of branding
The ways most people explain branding are things like coming up with a name, creating a logo, picking out a color scheme. Others describe it broadly as advertising and marketing for a business. None of those simple descriptions are very accurate, however.
Branding shouldn't be confused with marketing and advertising. That's why so many people fall short. Branding isn't just about visuals such a catchy design on a product that entices you to grab it off the shelf.
Of course brand recognition and aesthetics are important components, but the first step to becoming a branding rockstar is to recognize that business branding is much more than that. Branding also includes intangible elements like the psychological reactions and emotions of your consumers and employees. It's your job to figure out if their associations with your business create value and convince them that your products and services best meets their needs.
Answer the why's
Branding requires a great deal of thought, time, research and listening. If you rush and take too many shortcuts, you're not going to get the results you want. It shouldn't surprise you that you can't build a brand in a day and surpass your competition overnight.
If you're just starting to formulate ideas about your product and services, one of your top priorities should be figuring out why your customers would choose you over someone else. Why should they switch? Why should they pay more or less? Why is your business going to matter to them, their friends and your competition? Why is your mission statement better than others? Why now?
Start early and often
Focus on branding early on in your business development and be prepared to keep that momentum going. Even well established companies are continually tweaking and fine tuning their brands. Plus, the business you have today could be very different from what you have in 6 months or a year. Startups pivot and expand into new niches all the time.
Your brand needs to stay fresh and in synch with your ever changing business model. Continually ask yourself what you want your business to portray, what types of reactions you want from your customers and what you can do that your competitors can't.
Get your name right and own your identity
One of the hardest and also most fun steps in starting a business is coming up with name and finding a URL that not only fits but it also available. Aim for something that's unique, easy to remember and fits well with your brand. Consider utilizing key words that help people quickly understand what your business is about.
There are so many startups today that have utterly ridiculous and completely random names that are totally meaningless to people unfamiliar with the company. You don't want your prospective users to have no earthly idea what your business is about. People are lazy and you'll lose a lot of them if they can't easily figure out what you do.
Just watch this hilarious video by HBO's Silicon Valley cast guessing what real startups do to see my point.
Of course if you're a sole proprietor or want to better market yourself to get a new job, you've already got the best name possible – your own!
Own your identity and emphasize why you're unique. Differentiation is key to gaining customers and having sustainable growth. Write down your mission statement and slogan. Then make sure that you practice what you preach or you'll never retain any users.
Open up to both praise and criticism
Seek feedback on the perceptions, voice and personality of your business. You probably won't like everything you hear, but being willing to listen could very well save you from failure. Even when you think you're doing everything right, your customers may completely disagree.
So be willing to receive input, post surveys and ask questions. If there's a disconnect between your perception of your brand and your customers,' you've got work to do. Once you've processed all the bad reviews, isolate the relevant criticisms from the useless complaints. Figure out what you can and should improve upon and identify the steps you need to take.
Then lift up your spirit by gathering your most positive testimonials. Highlight your happiest customers' experiences for your current and prospective users to see.
Don't spend money before you're ready
If you think branding is just fluff and unimportant, don't start your own business. However, if you're business savvy and appreciate the importance of becoming a branding rockstar, just be careful how you spend your money. Don't blow your budget without doing your homework.
There are plenty of branding and marketing "pros" out there who will eagerly promise you the moon and the stars without anything to back it up. If you're a blogger, beware of "SEO specialists" who claim they can get your website to rank high on Google search but don't even have their own website to prove they know what they're talking about.
Whatever your line of business, make sure you have a solid grasp on your business model and mission statement before outsourcing or spending money in house.
Don't underestimate trust and reliability
Trust and reliability are a huge part of successful branding. Set clear expectations for your customers right from the get-go and make sure to regularly audit your customer service team if you have one. Consistently aim for reliability, trust and respect. Customers aren't going to come back if they don't trust you. Nor will they be willing to spend any of their money if your business has a bad reputation.
One of the worst things you can do when you're trying to establish your brand is to try and lure new customers in with what you think is a clever marketing campaign that backfires because your customers get the impression you pulled a bait and switch.
For example, I recently had a bad experience with an online florist called The Bouqs. They had a "clever" idea to send out mailers offering a "free" bouquet. Here's how they screwed up this campaign and have forever lost me as a customer:
Mistake #1) There was absolutely no fine print on the mailer. Thus, the promotion led me to believe I would get a free bouquet with no strings attached.
Mistake #2) There was nothing clearly expressed on their website detailing the terms of this "free" bouquet. Thus, I still was under the impression I would get a free bouquet with no strings attached.
Mistake #3) After selecting a bouquet that I wanted, my shopping cart showed $0 for the bouquet but a $15 delivery fee. I was disappointing this wasn't clarified earlier but decided I was willing to pay the $15.
Mistake #4) My shopping cart showed a total due of $15 so I entered my payment info and hit submit.
Mistake #5) I get an email confirming my order and a charge of $55. Wait a minute? WTH? How can my shopping cart go from a total due of $15 to them charging my credit card $55???
Mistake #6) There was no phone number I could call or online chat available for me to get immediate help.
Mistake #7) Not willing to pay $55 and feeling completely bait and switched, I frantically found a way to cancel my order fast enough and fortunately was not charged.
It seems the actual promotion was to pay for 1 bouquet full price and get a second bouquet free in the same order on a weekday delivery, but that is just my guess because the terms were never laid out up front. I absolutely hate feeling tricked. Take your customers' trust seriously and always be on the lookout for small business scams.
This company's "clever" idea to get me as a customer winded up pissing me off and has completely tarnished my image of their brand. If they had set clear expectations from the get-go I probably would feel very differently right now.
Protect what's yours
With all the competition out there, it's important to take precautions to protect what's yours. Before you work with any contractors or third parties, get a signed NDA. And talk to your lawyer about how to protect your intellectual and physical property with copyrights and trademarks. The very last thing you want is someone else stealing your great idea or tarnishing your brand by using a similar name or logo, or worse having someone else pretend to be you.
Create your own website asap
If you own a business or want to better market yourself to recruiters, I recommend you start your own website asap. It doesn't have to be fancy with lots of bells and whistles. The key is to just get your name out there and have an online presence so people can find you through a Google search. Without a website, it's hard for customers to take you seriously. Keep it updated regularly and make sure your identity rings true in how your website is presented.
A website can also help you make more money and strengthens your brand. You can create your own website the easy way with Bluehost for super cheap. Register a domain for under $20/year and get hosting for only $3.49/month. Check out this thorough Bluehost review to learn more.
Whatever your interests are, focus on building your skills and developing your own unique niche! I've been blogging since 2010 and it has allowed me to break free from the corporate grind to travel, work from home, and do so many more things I always wanted to do but couldn't. There's not a week that goes by where I'm not thankful for starting this site!
If you're interested in blogging, check out my page on how to start a blog that walks you through the process step by step.
Branding takes time, but your efforts are worth it!
Untemplaters, have you ever lost respect for a brand due to feeling bait and switched? What brands resonate the most with you? What suggestions do you have on how to build your brand and become a branding rockstar?