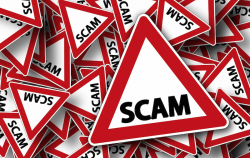 I don't hate many things in life, but I despise scammers, especially those that target small business owners and the self-employed. Running a business is hard enough as it is! As an entrepreneur – whether you're just the boss of yourself or running a growing company with employees – you've got to stay on your toes and watch out for small business scams.
Dealing with the city, state and Federal government on legal and tax requirements is a true PITA, but I respect that we need laws. Since there is so much to keep track of as a business owner, there are sadly tons of scammers out there who want to take advantage of your vulnerability.
They are deviously counting on you to be in a rush and not fully know what you're doing – and that's when they strike. The key is to always read the fine print, educate yourself before taking any action, stay on top of changes in regulations and assume that sooner or later a scammer will try and screw you over.
Real examples of small business scams
Scammers can strike from anywhere. Several of mine have been in-state but they're all over the place. Since localities have their own unique rules and requirements for corporations and the self-employed (California and San Francisco drive me crazy), a lot of scammers like to hone in on those particularities.
Two scams I've personally encountered that quickly come to mind were both related to California corporation requirements. The first small business scam that happened to me was back in 2012 and they didn't stop there. Here's what happened…
Scam # 1 – California Labor Compliance
I started getting annual documents in the mail from the California EDD (Employment Development Department). This was normal. The EDD is a vital part of legally operating a business in the state. They are in charge of payroll taxes, unemployment, disability insurance, paid family leave, notices and stuff like that.
Anyway, the EDD requires California employers to display certain notices on the mandates they administer (ex. the current minimum wage). You've probably seen one of their posters if you work in the state. If the EDD catches you without these notices on display, they can levy hefty fines. Not to mention if your business isn't compliant, your employees could sue the pants off of you.
I knew about these requirements though, so the EDD mail I received notifying me about them seemed par for the course. But, a nasty looking scam letter came a few days later. In bold letters it read, "FINAL NOTICE. Failure to comply with 2011/2012 compliance requirements may lead to government fines and/or audits. $275 NOW DUE."
"WTH?! Final notice? I have to pay the state more money?! I never even got a first notice!" I put the letter aside and let steam out of my ears for the next several hours. Later that night, I reached for my checkbook and sighed. Feeling more calm, I reread the letter… Hold on. The address to mail in my check is located in LA? Why not SF or Sacramento?
Thank goodness this abnormality got me to read through every detail of the official looking letter. What do you know. At the bottom of a bunch of block text, the scam suddenly jumped out at me. "'This is not a bill. This is a solicitation. You are under no obligation to pay the amount stated above unless you accept this offer.' This product or service has not been approved or endorsed by any governmental agency, and this offer is not being made by an agency of the government."
You can see the text in all caps below. Even though this company's "disclaimer" is capitalized, it's easy for your eyes to glaze over it because of the way its laid out.

In other words, this "final notice" was a load of horse crap. I didn't owe the government a dime and I sure as hell didn't owe this shady company in LA anything either. If you ever get a letter from California Labor Compliance, do NOT give them any money!!
Scam # 2 – Corporate Compliance Center
Just last week I got a letter titled ANNUAL MINUTES COMPLIANCE NOTICE from the Corporate Compliance Center. Remembering my experience in 2012, I was immediately suspicious. Never having received any kind of notice in the mail about annual minutes, I started scanning the page for a similar disclaimer as in Scam #1.
Sure enough, the bottom of the form reads, "This product or service has not been approved or endorsed by any governmental agency, and this offer is not being made by an agency of the government."
Bastards! This company is trying to leech $150 from me and tons of other business owners and it pisses me off. Their "service" is total crap. By the looks of the letter all they plan to do – if they even do anything at all – is take the information a business owner populates in the fields and send that back on a piece of paper that says "Certificate of Minutes" within three weeks. That is one of the dumbest things I've ever heard and it's horrible that people probably fall for this scam all the time.
If you ever get a letter like mine from Corporate Compliance Center or a similar non-governmental agency, do NOT send them any money!
Scam # 3 – Bitcoin ransom and DDOS attack threats
Unfortunately, if you own a business you probably have a website. And when you own a website you're probably going to have to deal with hackers sooner and/or later. Some people try to hack in because they have nothing else better to do. Some do it because they want to make some sort of statement while most are maliciously out to steal your information and find a way to profit off of it.
I received a threat from a supposed hacker once claiming that they would take down my site via DDOS attack on a specific date unless I paid them x amount of Bitcoins in ransom. That's a fancy way of saying, "pay me money or I will take a bunch of hacked computers and bring your website down by flooding your server with traffic – making your website inaccessible until you get your server back online."
I've been hit with DDOS attacks in the past and aaaaugh they suuuuck. Fortunately I'm on a much better and more secure server now than in the past, but you just never know when someone could hack their way into your website.
The bottom line is take your website's security seriously, back it up regularly and don't give in to extortion. On a side note, bitcoins are untraceable so there is no way to prove the identity of whomever you send money to.
Scam # 4 – Invoice past due email scams
I've noticed a huge uptick in spam scams lately related to invoices. As a business owner, any email with the word invoice in the subject is going to get your attention. And that's why the scammers love to use it. Be careful!
Never click on links or open documents from senders you don't recognize. Even if an email appears to be from someone you know, if the wording or context seems suspect, it probably is. The last thing you need is some awful virus or malware infecting your computer. And you certainly don't want to send your hard earned money to some scammer claiming you're overdue on a fake invoice.
Scam # 5 – Domain registrar scams
Another scam I've encountered is when loathsome companies send out misleading "URGENT" invoices and letters to small business owners that try to trick you into paying them money so you won't lose your website's domain name. They want you to sign up for their registrar service, which you don't need, or want to trick you into paying for a new domain name that you don't own but looks very, very similar to the one you do own.
There are also scammers who try and get you to sign over the rights to your existing domain names with the "promise"of a huge payout that is of course totally fake. If it sounds too good to be true or seems weird, trust your gut and don't fall prey to their traps.
Public records are a goldmine for scammers
Like it or not, we don't have much privacy anymore. Public records are a goldmine for scammers who can easily access information about your business, and potentially you as well, with just a few mouse clicks.
So always be wary of any communications you receive. Scammers are good at making their letters and notices appear official when they are not. Don't panic if you see the words "URGENT" or "DUE NOW!" Stay calm, know the real laws and regulations you're subject to and protect yourself.
Sadly, there are many small business owners out there who have fallen for these types of traps and scammers aren't going to quit anytime soon. Never underestimate the importance of reading that damn fine print before signing any type of document or sending a single cent to anyone!
Be on the lookout for small business scams and do your own due diligence. You will save yourself a lot of money and headaches if you do your research and listen to your gut when something seems even a little bit fishy.
Untemplaters, have you ever received a small business scam before or know someone who did?  What are some other small business scams you're familiar with? What steps are you taking to protect yourself?