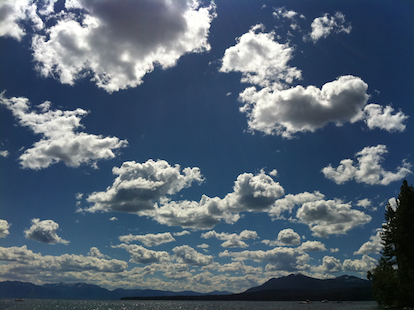 By now you've heard the term bucket list.  You know, a list of things you want to do before you kick the bucket.  I didn't really think about putting together a bucket list for myself until I watched the movie with Jack Nicholson and Morgan Freeman when I was on vacation in 2007.
The movie was simple, yet very effective.  And boy did I bawl my eyes out when Edward (Nicholson's character) crossed out "kiss the most beautiful girl in the world" and Matthew (Edward's valet) put Edward's ashes next to Carter's on the top of the Himalayas and crossed out "witness something truly majestic."
There's something magical about the word majestic and that's one of the secrets to having a great bucket list – challenging yourself to experience the MAJESTIC and feeling incredibly ALIVE while you're still able.
How To Make A Bucket List
So how do you make a bucket list?  Well the best part is there is no right or wrong way to do it!  You just have to take the time to put a list together.  Some people list theirs in the order they want to complete things and others scribble theirs down randomly.  I chose to put mine together by category.  I actually had my bucket list forming in my head for the longest time but I'm glad I finally put it together this past week when I was relaxing on the beach.
Step one is simply figuring out where you want to keep track of yours so you always have access to it.  I put mine online so that it'll never get lost and so that I can share my personal journey with you.  Whether you decide to keep yours private or show it to the world, the most important thing is to write it down and do it asap!
Trust me on writing it down because the draft version I had for my bucket list in my head was nowhere near as cool or as extensive as the one I created in writing.  It's also too hard to keep track of things if you can't stare at them, plus you'll get so much satisfaction when you get to literally cross items off your bucket list!
Quick And Easy Bucket List Tips
Write your bucket list down (trust me, just do it!)
Have a minimum of 10 items (life is too short to have a tiny list)
Think BIG (even if something seems impossible right now)
Get specific (you're more likely to accomplish things this way)
Don't worry about what other people may think (bucket lists are about YOU)
Read your bucket list regularly and get active (b/c only you have the power to make things happen!)
Why You Need A Bucket List
I'm the type of person who sets high expectations for myself and I get a big high when I complete things.  But even though I make a lot of goals for myself each year (see what I mean here: my 2012 goals), there are things I want to do in life that are bigger than my day-to-day objectives.
A bucket list will bring a lot of challenges and a lot of joys to your life.  And that's what living is all about!  I used to want an easy life just lounging around every day until I got smart.  Twenty years from now we're going to smile at all the troubles we overcame, all the things we learned, and everything we tried.  The things that are going to make you frown when you look back on your life are the things that you were too chicken or too lazy to try.  Failure is better than never giving yourself a chance at success.
I bet you didn't know I'm scared of heights and the ocean.  And if you read my bucket list you're probably wondering why I have so many things related to the water and climbing on my bucket list.  Well I'll tell you why – because overcoming fears is incredibly liberating!  Try it sometime and you'll see what I mean.
55 Ideas To Get You Started On Making A Bucket List
Ready to start making your bucket list?!  Here are some fun ideas to get you started:
Donate $10,000 to a children's hospital
Go on a humanitarian trip to Africa
Rent an RV for a month
Climb Mt. Fuji with your best friend
Win a merit based scholarship
See every country in Europe
Become a foster parent
See all of the National Parks
Take a cross country road trip
Window shop at every store in the Mall of America
Go on all the rides at Disneyland
Complete a triathlon
Teach an adult how to read
Attend an event at the Olympics
Take a transatlantic cruise
Spend the night in a Medieval castle
Sing karaoke solo in front of total strangers
Get a black belt in karate
Go on a camping trip in Alaska
Ride a donkey up the mountain to Santorini
Rent a boat along the Congo River
Kiss a dolphin
Learn how to fly a plane
See all the ancient wonders in Egypt
Have a conversation with a stranger in a foreign language
Sing the national anthem in front of 500 people
Star in a TV commercial
Attend a church service at the Sagrada Familia after it is completed
Travel entirely by train on a 6 month trip through Europe
Take a trip to see glaciers and polar bears
Ride the top 10 highest roller coasters in the world
Become a vegetarian
Attend the Iditarod sled races in Alaska
Ride on a ship through the Panama Canal
Walk the entire length of the Great Wall of China
Swim to and stand behind a giant waterfall
Give a graduation speech to 3,000 students
Zip line across the Amazon rainforest
Visit every island in South East Asia
Have dinner with your favorite musician
Get entirely out of debt
Participate in Brazil's Carnival
Make it to the final table at the World Series of Poker
Become a homeowner
Visit Victoria Falls
Save a life becoming a bone marrow donor
Swim with sharks in Palau
Audition for a game show
Become the president of a community organization
Swim from San Francisco's Aquatic Park to Alcatraz island
Help someone complete an item on their bucket list
Be a featured artist at a local gallery or business
Learn how to drive a stock car at Talladega Raceway
Attend a prayer service at The Blue Mosque
Start your own business
I hope I've given you some inspiration to work on your bucket list!
START YOUR PROFITABLE WEBSITE TODAY
Never Quit, Get Laid Off Instead. Learn how to negotiate a great severance for yourself in How to Engineer Your Layoff! By getting laid off from a job you wanted to leave anyway, you can collect a severance, health care insurance, deferred compensation, unused vacation days, and be eligible for unemployment. The book provides helpful case studies and a framework for you to have a strategic conversation with your manager on how to profitably quit your job. Can you imagine having a nice financial runway to pursue your dreams without the stress of having to make a lot of money?
Start Your Own Profitable Website Today – Want to make more money and be more free? Work on building your brand by creating your own website the easy way with a WordPress site like mine through Bluehost for super cheap. You can register your domain for under $20/year and get hosting for only $3.49/month. Whatever your interests are, focus on building your skills and developing your own unique niche.
I've been blogging since 2010 and it has allowed me to break free from the corporate grind to travel, work from home, consult for companies that I like, and do so many more things I've always wanted to do but couldn't. The income is relatively passive as posts I've written years ago are still being found through Google and generating income. What's better than making passive income and creating a valuable asset you can one day sell for a multiple of annual income?
I've conquered my biggest fears by going off on my own thanks to this website and it feels wonderful. Not a week goes by where I'm not thankful for starting this website to live the life I want to live!
Updated for 2017 and beyond