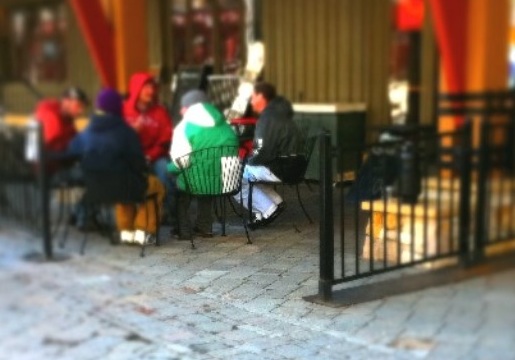 Today's focus on friends takes us to part 4 of a five part series on how all sorts of relationships benefit from constructive criticism.  I'm covering key tips on how to give constructive criticism, and how this type of feedback benefits our relationships with family, significant others, managers and mentees, and friends.
From One Circle to Another
As far as friends go, I've changed circles many times in my life and have learned a lot from each migration.  Sometimes we're compelled to make new friends because we change schools, move to a new state, get in nasty fights, or we just develop different interests and grow apart.  Don't feel guilty if you don't feel as close to some of your friends as you used to.  We are all constantly changing, and as these shifts occur, so do our priorities and our taste in friends.
The Freedom to Choose
One of the greatest things about having friends is that we can choose them.  I'm sure a lot of you have changed circles of friends multiple times during your lifetime.  It's perfectly normal and quite common.  As we relocate, experience life changes, and change interests, we tend to lose touch with friends from our past.  You do not have to stay friends with anyone.  Your time is valuable, so treat it that way and choose who you want to be around.
Avoid Clones And Break Free of Your Comfort Zone
It's really beneficial to seek out a variety of friends.  Clones are boring.  Getting to know people with different backgrounds, careers, goals, etc. can really open your eyes, dissolve prejudices, and help you become a better person.  For example, I've learned so much about Jewish, Korean, and Indian cultures from a few friends I've made that I probably never would have known about if we hadn't met.
Trust Takes Time
Select your friends carefully and be wary about whom you trust, especially when it comes to revealing personal issues and money matters.  I've been burned by so-called "friends" in the past and wish I'd listened to my instincts before spilling out personal stuff.  Make sure you really get to know someone before any divulging info you don't want leaked out.
Forget the Flakers
Friendship needs to go two ways or you'll just end up getting frustrated and hurt.  Are you the one who's always arranging to meet up, buying the movie tickets, and lending money that you never get back?  Pay attention to these signs.  If your friend flakes on you three times, trust me – move on.  Flaking is a sign of disrespect and a lack of interest.
Once you find friends that you care about who also reciprocate back, really treasure those relationships.  Be there for each other and take the time to actually meet up and go places together.  Texting and emailing is a convenient way to stay in touch but shouldn't be your primary means of communication.
Share Honestly And Listen
A meaningful friendship isn't built on gossiping and trash talking.  Share advice with each other and be honest.  Your true friends will know your weaknesses and will have the decency to tell you what they are, while standing by your side so you can get better.
Use their knowledge to your advantage and ask them along the way if they think you're improving when you're working on conquering your faults.  Take the time to help them out with their faults too.  Even though you're close friends and you've seen each other's highs and lows, don't take that for granted.  Be nice when you give each other feedback and show that you care.
Have Fun
Another great thing about constructive criticism with friends is it doesn't have to be serious or formal.  Turn it into something fun like having a feedback swap and come up with a few things you each want the other to work on and plan a reward if you both are successful.  Keep things light and motivate each other with positive compliments and finding ways to make each other laugh along the way.
Untemplaters, what have you learned from your friends?  Are your friends supportive and there for you when you need them?