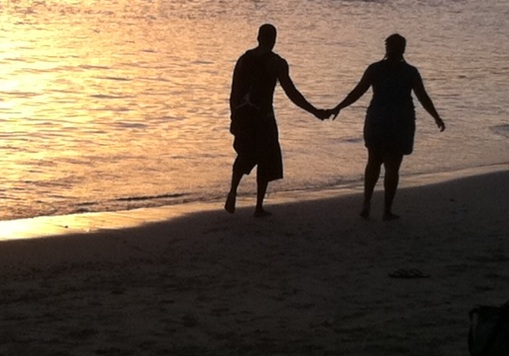 I'm so excited to talk about how the relationships we have with our significant others can be improved so much through constructive feedback.  For those of you dropping in, this is part 3 of my 5 part series on how to give constructive criticism many types of relationships (family, friends, managers & mentees, friends) benefit from feedback.
YOUR SIGNIFICANT OTHER
When you're in a serious relationship you're constantly learning about yourself, your partner, and the things that make you soar, stagnate, or crumble.  My husband has helped me become a better individual and companion in SO many ways.
Not only has he been my number one supporter and confidant since day 1, he's given me guidance and inspiration to work on my weaknesses and faults that no one else ever did before.  And I think I've also helped him improve and grow in several areas as well.
PAUSE, REWIND, THEN PUSH PLAY
Over time you can learn how to have difficult conversations together with your partner so you can attack and face problems straight on so things don't fester.  Don't have these types of conversations if you just had a fight and either of you are feeling angry or agitated.  Tell your significant you need to be alone for an hour or two to cool off first.
Before you have a serious conversation with each other, take the time to reflect on what is bothering you, and what is bothering your partner.  They are probably completely different things. Remember, for every issue you want to coach your significant on, think of several skills or tasks they've done well and BREATHE between each sentence.
STRENGTHEN YOUR FRIENDSHIP
You often hear happy couples say their spouse is their best friend.  I am a true believer in this.  Relationships often start off full of lust and excitement, but without a strong friendship neither person will be happy in the long run and the relationship will dissolve very easily.
Getting past the honeymoon stage in a relationship is when our biggest flaws and skeletons emerge.  If you throw in the towel and run, you'll only feel safe and relieved temporarily.  Problems don't disappear without solutions.  Please stand up for yourself if your partnership feels strained, stale, and off balance – and go talk to your significant or a counselor.  Let go of any stubbornness or fear that's holding you back and try to put yourself in your partner's shoes to visualize your own flaws too.
DON'T LET FEAR OR STUBBORNESS GET IN THE WAY
It takes courage, patience, and an open mind to make close-knit relationships work long term.  The tough conversations are worth it even if they involve tears, arguing, and admitting you screwed up.
The health and longevity of your relationship will require these types of candid conversations or your partnership will weaken over time and one or both of you will begin to want out.  Getting through the rough patches together is how we strengthen our love, build trust, and become more compatible.
EMBRACE YOUR DIFFERENCES
My husband and I have very different talents and skill sets.  This makes it frustrating sometimes when the other person can't keep up or understand things as quickly.  But that's also the beauty of it all because we have things we can teach each other, and we can help each other out.
Life is boring if you're not learning new things and facing fresh challenges.  Find ways to leverage your different skill sets too, but don't take each other for granted.  If one person is good at paying bills on time and handling money, the other person shouldn't take that as an excuse to be totally clueless about your financial situation and goals as a couple.
CHANGE IS A GOOD THING
Understand that not every issue or flaw can be resolved in one conversation.  If you're feeling completely overwhelmed and don't know where to start though, it's time to consult a relationship coach or a licensed therapist for help.
Relationships continually evolve and face new obstacles as we go through life changes, career moves, and new environments.  Don't be naïve and think that the current state of your relationship is how it will stay forever.  We are constantly changing and being a happy, healthy, and successful couple takes effort, patience, and lots of open, constructive communication.
Untemplaters, when was the last time you had a heart to heart talk with your significant other about areas each of you can improve?  What are some of your boyfriend/girlfriend/husband/wife's weaknesses that are putting strain on your relationship?