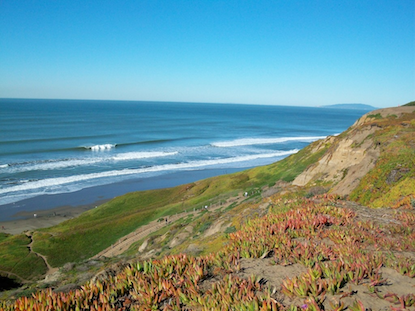 While I was on a bike ride peddling my way towards the beach on Sunday, I felt the power of the wind pushing me backwards.  The sheer force made me feel like a little kid stuck running in place because a big tall bully had his arm outstretched and his hand pushed against my forehead, keeping me from getting past him.
I shook that image out of my head and tried to peddle faster, but it still felt like I was spinning my wheels in a standstill.  As I fought my way into the wind, I felt my mouth get dry, sweat start to bead on my skin, and my legs start to burn from the strain.
Fighting The Urge To Give Up And Turn Back
I'm a casual biker, nowhere close to the gung-ho triathletes who are always out cycling up a storm, and my body was begging me to give into the temptation to just turn around and ride back the way I came.  If I turned around I'd instantly have the wind working for me not against me.
It'd be SO much easier and I could just coast along.  But this was one of the warmest, sunniest days we'd had in weeks of cold and cloud covered skies, so I couldn't bring myself to waste it.  It wasn't going to be easy, but I just had to see the waves crash on the shore, sink my feet into the sand, and soak in some sun.
Forget Wheaties, Gobble Up Problems For Breakfast!
If you want to be a successful entrepreneur you're going to have to learn how to overcome obstacles and get used to all sorts of forces working against you and start eating them for breakfast!  Your body will plead for sleep at the worst times, your brain will try to distract you with crippling back pain and other health issues, and failures of all sorts will tempt you to throw your hands up and walk away.
But you're not a quitter because you're an untemplate gladiator!  If you've set 2012 goals for a better lifestyle and more happiness, and have clear objectives for your career, business, relationships, you name it, you WILL be able to push past hurdles and rejections!
Power Up By Keeping Your Target In Sight And Mind
Now back to my bike story/analogy…Right before I was ready to pass out and fall over into the grass from exhaustion, I could see the start of the beach in the distance.  My goal and destination was still far away but it was in my sight!!  After that, the closer and closer I got to the beach, the less and less I noticed the resistance of the wind fighting against me and my physical exhaustion.
Why?  Because halleluiah I could see my final destination and that's where my focus went.  I had no more thoughts of turning back or how my legs had turned into jello.  Was this because the wind had changed and lightened up?  NOPE!  It's because I was powered up from having my target in my sight and mind, and nothing else mattered.  Before I knew it, I broke into a huge grin as the sea breeze hit my face and I heard the crunch of sand under my wheels.
One Step At A Time And You'll Get There
My little biking journey is just one example of how setting a goal and keeping it at the front of your mind will help you achieve the lifestyle you want one step (or peddle) at a time.  If I hadn't made up my mind that I wanted to spend the afternoon at the beach, I probably would have just given up and turned around a quarter of the way in because the trip there was a lot harder than I anticipated and I had so many things tempting me to quit. If you want to reach success, you have to be adamant about setting and achieving your goals.
Living a template lifestyle is generally easy, predictable, and usually rather drab.  Is that what you want?  Hope not!  To live an untemplate lifestyle, we need to constantly challenge ourselves to do new things, think outside the box, and overcome the difficulties between now and where we want to be.
Untemplaters, how easily do you give up when faced with an obstacle?  How are you doing on your 2012 goals so far?  When was the last time you gave up on something you wanted and do you regret it?