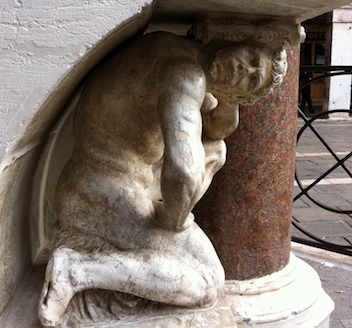 Have you ever had an upset stomach before an important meeting, frequent headaches at work, or back pain so bad you can't concentrate on anything else besides how much it hurts?  I've suffered from ALL of these and MORE for years, with back pain and neck tension being the most intense and discomforting for me in the last 8 months.
Recently I learned the most simple, and pure genius method of how to cure back pain in addition to many other health issues.  I'm determined to spread the word about the M.D. who explained it all to me because my results have been fantastic and I want help you benefit too!
Untemplate Your Views On Pain And Its Causes
The doctor who opened my eyes to a whole new way of looking at medicine, pain, and health is Dr. John E. Sarno.  Maybe a few of you have heard of him but I'm guessing the majority of you have not.  He is almost 90 years old, a Professor of Rehabilitation Medicine at NYU's School of Medicine, has his own private practice in NYC, and looks like an adorable, happy version of the grandpa in the movie Up.
And you know what's neat?  I've never even met this doc in person!  So how could I learn how to cure back pain and my other health issues without ever having actually been treated by Dr. Sarno in person?  His books!  My favorites are Healing Back Pain: The Mind-Body Connection, and The Divided Mind: The Epidemic of Mindbody Disorders.
And I'm not joking around here.  I know some of you are probably skeptical, thinking I'm full of bologna for suggesting books could actually give you the knowledge to cure your own physical pain and ailments, but please hear me out!
Look Past The Lab And Into Your Life
I've seen all sorts of normal, everyday doctors my whole life.  They told me exactly what I was suffering from, what caused it, some medicine to treat it, and that was that.  There's not much to question when you get the flu from a virus going around, sprain your ankle from tripping over an uneven surface, have sore muscles from carrying 30 pound boxes all day, or get covered in a rash after walking through a patch of poison ivy.
But what if there is no obvious, identifiable cause to what's ailing you, especially if it's pain or muscle related?  I had sudden onset back and neck pain, fibromyalgia, IBS, vertigo, and frequent headaches at various times over the last 3-5 years and my visits to the doctor only resulted in a ton of prescriptions (which didn't help), more questions than answers, and typical suggestions for me to get more sleep and exercise.  These doctors only used lab results and x-rays to explain what was going on with me.  I was in my 20's when these things started popping up, and it was concerning.
Your Brain Is Extremely Clever And Wants You To Feel Pain
When one of my ailments mysteriously started to go away, another one cropped up in its place, but my back pain was the most severe.  I was so convinced that there was something wrong with my body that I never even considered there was something wrong with my mind.  I wasn't imagining my symptoms, but I failed to realize that I was going through a lot emotionally at each of those times.  Little did I know those troubles were affecting me physically.
Dr. Sarno explains the mind body connection in his books way better than I can, so I'm not going to get into much detail here, but the fundamental concepts of his books are that our emotions can and do cause physical pain and ailments.  Our minds are so clever that they distract us from coping with our emotions by triggering pain and other health problems.  The video at the bottom is also quite helpful in understanding all of this.

Pain Is Socially Accepted As Normal
Life can be really challenging at times, and if we don't work through what's bothering us emotionally, especially if we have repressed anger and a lot of stress, our brain will make us suffer more and more by triggering Tension Myositis Syndrome (TMS) and other problems.  TMS is most commonly experienced as lower back pain, but can be felt anywhere in the back, neck, or shoulders.  I had it primarily in my upper back and neck.
Back pain, ulcers, tendonitis, carpel tunnel, and even fibromyalgia are chronic problems in our country and it annoys me they are socially accepted as normal and commonly occurring conditions, unlike their underlying emotional causes.  For example, if you take a day off of work because you have a physical ailment, that's not going to raise any eyebrows.  But if you take a day off to deal with stress and emotional issues, people view that differently and some may even accuse you of slacking off and being weak.
Identify Everything That Is Weighing You Down Emotionally
If you're experiencing chronic back pain, or some of the other health issues I've mentioned, please read Dr. Sarno's books, especially Healing Back Pain.  As soon as I accepted his concepts, read people's testimonials, and admitted that both of my intense episodes with back pain last year happened at times when I was at heightened stress levels, my pain started to melt away.  I still have aches in my back here and there, but I'm able to shut off the pain within a few minutes when I feel it creeping back because each time it has tried to return I knew I was struggling with stress and other anxieties.
Simply acknowledging my emotions and letting them go has been my cure, a completely free and natural "medicine" that I have full control of.  My other bouts with vertigo, IBS, fibromyalgia, and frequent headaches are also completely gone since reading Dr. Sarno's books!  I've also been actively helping my mother decrease her pain with this same method as she has a laundry list of physical issues and unsurprisingly a mountain of anxiety and emotional traumas to work through.
I'm A Believer And Hope You Will Be Too
It is not very often that I can say a book changed my life, but Healing Back Pain really did and I wish I had read it a lot sooner.  A big shout out to Sam from Financial Samurai who first suggested the book to me when he heard I was struggling with a recurrence of back pain this past December.
In fact, if it weren't for Sam's insistence that I read Healing Back Pain, I probably wouldn't have checked it out or fully understood his personal experience being fully cured of chronic lower back pain and tendonitis.  I'm a believer now because my own pain is cured too!
Understand that your pain may not be cured in a day and it may take weeks or even months if you have deep emotional issues to work through, and not every type of pain or illness can be cured with this method.   I'm not a doctor either, and take no responsibility for your actions or results, so please consult a medical professional if you have ailments.  If you do take the time to read Dr. Sarno's books and follow his guidance though, I think you will be thrilled and quite relieved with the results!
His books are all available for purchase on Amazon: Healing Back Pain, and The Divided Mind.
Untemplaters, have you ever suffered from severe back pain?  What do you think of Dr. Sarno's research and the mind body connection?  Is your brain currently giving you aches and pains so it can distract you from dealing with stress and other emotions?