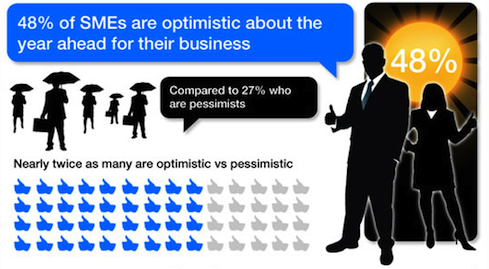 Have you ever wondered if people are born entrepreneurs or if they're made? I've come to believe that both are true and also that there is no perfect, magic formula for becoming a successful business owner. I've met entrepreneurs from all sorts of backgrounds and cultures, some who dreamed of starting their own business before they could even tie their shoes, and others who simply fell into entrepreneurship as a means to survive after graduating and not being able to find work.
Where Are The Optimists?
The economy seems to be coming back, but some people are still struggling and many businesses continue to watch their expenses closely and limit hiring. More people are continuing to turn to entrepreneurship though, whether it be for income diversification in a side business, the allure of having more freedom and a mobile lifestyle, or the autonomy of letting their creative sides run wild.
2012 Global Entrepreneur Survey
So what's in the DNA of today's entrepreneurs? What are they thinking this year and how are their businesses coming along? Are entrepreneurs in some countries are more optimistic than others? Let's take a look in this infographic:
Untemplaters, were you surprised at any of the results of this 2012 global entrepreneur survey? Do you have any theories on what's in the DNA of today's entrepreneurs and if it varies from those working for big companies? Would you have guessed that 55% of SME's in the US are optimistic about the year ahead but 49% reported increased stress?
Further Untemplater reading on entrepreneurship:
The $100 Startup: Do What You Love For A Benjamin
Be On The Lookout For Small Business Scams
Tips For Overcoming Stress As An Entrepreneur
The following two tabs change content below.
Hi there, I'm Sydney! After ten crazy years, I left a grueling six-figure job in 2015 for a better life. Now I spend my days writing, freelancing in various capacities and finding new ways to stretch my brain. I'm crazy about photography, gadgets, traveling the world and stopping to smell the roses. Untemplater is where I share my insights and adventures with the world. I'm continually motivated to write and evolve in hopes that I can help others improve their lifestyles, careers, wealth and happiness. Every day is a gift! Be sure to check out my
how to start a blog
and
Untemplater recommendations
pages. Thanks for reading!