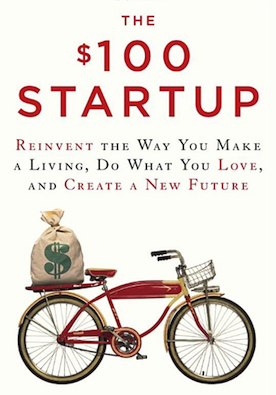 A lot of people are too scared to start a business because they're too afraid to fail and think they don't have enough money.  I had those same fears myself for a long time, but thankfully I got over myself and stopped being afraid of taking chances.  Life is too short to waste it living a life you don't enjoy and to never take any risks.  After all, being frozen by fear and self doubt is exactly what our competitors want us to believe!
The $100 Startup
Chris Guillebeau has a new book out today called The $100 Startup.  It talks about how to reinvent the way you make a living, do what you love, and create a new future.  I was fortunate to get my hands on an advance copy as I'm a big fan of Chris's work.  (If any of your want to be an author, check out my review on his latest guide on how to get published)
Now for those of you who haven't heard of Chris Guillebeau before, he's a young entrepreneur, writer, and traveler in his early 30's who has trekked to ALL corners of the globe.  He has an uber cool goal of visiting every country in the world by April 2013, and I think he'll get there!  He's already at 183 out of 193 countries and counting.  Now how impressive is that?!
Turning Ideas Into Income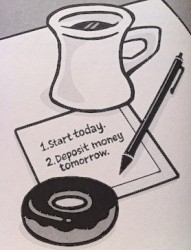 One of Chris's strengths is his ability to turn ideas into income.  The $100 Startup gives you lots of insights on how to find more purpose in your life and turn your passion into a career.  There's a simple drawing in the book that says it all: 1. Start today.  2. Deposit money tomorrow.  Too often we let life get in the way of being adventurous and getting off the couch.  We put off taking the most important first steps until tomorrow, and then the next day, and the next day…
Remember you don't need to brainstorm some complex invention, or have a masters degree to become an entrepreneur!  What you DO need is drive, curiosity, guts, and something that people want.  Having some savings that stays siloed from your business venture for emergencies is always a good idea too though for the unexpected.
Real People, Real Success Stories
What I think is most cool about The $100 Startup are the real life stories of self made entrepreneurs that Chris weaves into each chapter.  He also talks about some of his own failures and successes, but it's really fun getting to read about the unique experiences of so many other people, across all sorts of industries.  Before writing the book, Chris compiled data on 1,500 individuals in his research who each built $50,000+ businesses of their own from very little.  A lot of these entrepreneurs spent $100 or less when they first started, hence the book's title, The $100 Startup.
The book covers tid bits on 50 of the most interesting entrepreneurs from Guillebeau's study.  So if you think the only way to start a business for $100 or less is online, you'll be happy and surprised to know that there are LOTS of other industries that people have succeeded breaking into on the cheap.  For example, some of the entrepreneurs in the book have their own businesses in furniture, fitness, food and wine, toy manufacturing, clothing, photography, and even a cowboy ranch!
The Road Map
The $100 Startup is divided into three parts:
Unexpected Entrepreneurs
Taking It To The Streets
Leverage And Next Steps
The book is comprised of fourteen chapters across 285 pages that are easy to follow and fun to read because of all the real life stories and tips you'll learn.  At the end of each chapter you'll find summaries of Key Points, and I also think you'll enjoy the simple and effective illustrations by Mike Rohde throughout the book.  If you are ready to dive into a copy for yourself, the book is now available for purchase on Amazon here: The $100 Startup.
I'll also be giving away a FREE COPY to a lucky Untemplater Newsletter subscriber this week!  You can sign up for the Newsletter using the blue form at the top right of our website where you'll also find buttons to subscribe to our RSS feed, Twitter feed @untemplater, and FB page.
Untemplaters, have you ever started a business for $100 or less?  What is the biggest entrepreneurial hurdle you're trying to overcome?  What's your biggest fear or joy in starting a business?
If you enjoyed this post, you may also enjoy reading Be On The Lookout For Small Business Scams, and Would You Take A Steep Paycut To Live In Paradise?