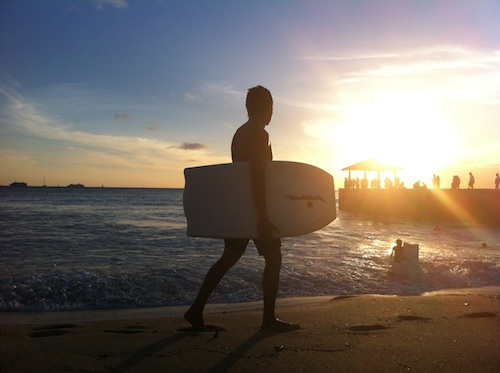 An interesting thing occurred to me today.  I'm here in Honolulu, Hawaii on vacation and I decided to Google the state manager of a major wealth management company one morning.  As a personal finance blogger, working as a financial advisor for a wealth management firm is about as synergistic a offline/online combo as can be!  Financial Advisers help clients in wealth accumulation, wealth preservation, and wealth transfer strategies through comprehensive financial planning.  The process includes asset allocation, portfolio management, liability management, tax minimization, and asset protection.  Hey, sounds exactly like what I write about on Financial Samurai!
To my surprise, the state branch manager responded the same day and mentioned he'd be happy to meet up over a cup of morning coffee.  I met up with Jack for one full hour and at the end of the conversation he asked me, "So what do you think Sam?  Are you interested in joining the firm?"  Wow, did I just get a job offer after just one hour and meeting someone for the first time? I thought to myself.
I told Jack I had to think things through, but I would love to meet up with him again when I return in late May.  Jack even invited me up to his offices to have a look around and meet his colleagues, but I had to decline due to the one hour parking meter limit!  Jack gave me his card and urged me to contact him to set up lunch when I return.
WOULD YOU TAKE A STEEP PAY CUT TO LIVE IN HAWAII?
I love Hawaii, and have been coming here for years.  I've written about Hawaii being the best place for online entrepreneurs to live and work, and I've always fantasized about one day moving back here myself.  The problem with Hawaii is opportunity and pay.  Furthermore, I don't have my network of friends in Hawaii as I do in San Francisco.
After surveying five people who moved back to Honolulu from the mainland one night, I discovered that everybody comments on three things: 1) You'll make 50% less here, but pay 50% more for everything, 2) You won't be able to do a weekend jaunt to other parts of the country except for other islands, and 3) The lifestyle here truly is fantastic.
I've been slowly transitioning my life from the balls-to-the-wall type mentality, to the more balanced lifestyle approach for the past three years.  If you read my About page on Financial Samurai, one of the first things I wrote was no longer seeking to make the most amount of money anymore, but instead, seeking a more enjoyable lifestyle.  In three years, I've been able to build up my online properties to the point where I can live off my online income from anywhere in the world.  The income is much less than my day-job income, but nonetheless, it's enough to survive and be happy.
STARTING ALL OVER SOUNDS PAINFUL
If I were to take this financial advisory job in Hawaii, I'd be starting at the bottom of the rung again.  The pay is about $50,000 a year, and I have to go through a 3 year training program where only 20% of trainees make it through.  I have full confidence that if I enter the program, I will be one of the 20% to make it.  However, there are no guarantees in life, and I might just get so bored that I'd just quit before making it through.  Worse yet, maybe I won't be able to get along with my co-workers.
One of my goals is to get my Certified Financial Planner designation (the article shows you how).  Ever since getting my MBA, I've come to appreciate the value of education even more.  One of the ways to overcome the fact of having to start all over is by treating the 3 year training program like getting another Master's Degree, but actually getting paid to do so!  In these three years, I plan to get my CFP license, develop a network of friends on the island, and learn about the company's various products and services.
If I achieve the company's asset accumulation and revenue generation targets, Jack said I would make about $120,000 a year and I'd either continue to build my own practice, or get recruited by a senior Financial Advisor to join his/her team.  $120,000 a year sounds damn good for living in Hawaii with no mortgage or rent.  But again, there's no guarantee I'll make it through.
It's hard to leave friends behind, but it's also exciting to meet new people as well.  I would get on Craigslist and try and join a USTA tennis league team.  Through Craigslist, I'll also see if there's an Outdoors Club.  Perhaps I would look into joining a golf club, or a social club of golfers as well.  Everything takes time, and it certainly feels like a lot of work to re-establish a network.
FOCUSING ON THE LONG RUN
My main goal is to work for myself so I can have as much freedom to do what I want, when I want.  That's the entire Untemplater mantra.  With the combined passive income (click to see how much) that I spent 13 years developing + my current online income (which stays private), there's no reason to ever have to work for anybody again.  However, I love the idea of working without having to work!  Grad school was incredibly rewarding because I didn't have to worry about getting A's.  I attended class for the pure benefit of learning.
Imagine doing something you enjoy doing without having the stress to do it well in order to make money.  Without this stress, you might very well do your job even better!  Of course, there is a risk you might get lazy and stop making that extra call, or going that extra mile for your client.  However, I bet that people who work because they enjoy the work do far better than those who have to work because they need the money in the long run.
A lot of things can happen in three years.  Perhaps Financial Samurai and the Yakezie Network will grow so big that I'll need to dedicate my time, full-time.  Or perhaps Google will crush everything I've worked so hard for and I'll be left with nothing.  What I do know is that after 3 years, at least I'll have my CFP (you not only need to pass the courses, but need many relevant hours of work experience to get the designation) along with my MBA.  Only 20% of Jack's Financial Advisers have their CFP's, so it's not necessary to do a great job in the FA business as many of them are making hundreds of thousands of dollars, if not millions a year.  I just think it's a worthwhile designation to have anyway.
WOULD YOU MAKE THE MOVE?
There's so much stuff I would have to do to make the move to paradise.  I'd have to sell my house that I just refinanced, engineer my own layoff, say goodbye to all my friends and clients, and get registered for the Series 66 and insurance designation to sell fee based products.  There are many more things I would need to do to make the transition smooth.
Taking a huge pay cut is psychologically difficult thing to overcome and there are no guarantees I will get along with my new co-workers and find a good network of friends to hang out with in Hawaii.  That said, I'm generally always a very optimistic and happy person, so I'm not too worried about not being happy in paradise.
Amazingly enough, I wouldn't have to do anything as it relates to my online business thanks to the internet. My recent "Get On The Map" product can be done just as easily here in Honolulu as in San Francisco.  Finally, being closer to close family is also a big bonus. Ahhh, decisions indecisions.
Can't Make It To Hawaii But Want Another Great Place To Vacation?
Rent my place in Lake Tahoe! I've got a fantastic five diamond rated two bedroom, two bathroom condominium at The Resort At Squaw Creek in Lake Tahoe. There's ski-in/ski-out, three outdoor hot tubs, three heated pools, a spa, a gym, several gourmet restaurants, fantastic children and family activities, a golf course on site, amazing hiking, kayaking, rafting, fishing, biking, and more! Lake Tahoe is one of the best places to vacation. You can rent book a reservation as a studio (two queens), one bedroom (one king, a pullout queen, fireplace, two TVs, kitchenette, dining table, two rooms), or entire two bedroom unit (studio and one bedroom combined). Click the links for availability and click this post to see pictures and information about it. Prices are ~15% lower than anywhere you'll find online!
Untemplaters, what would you do if you were me?  Have you ever taken a huge pay cut and uprooted yourself and/or your family for a better lifestyle?  If so, what were your regrets and triumphs?    How much is too large of a pay cut?  If living in Hawaii is the goal, does it really matter how big the pay cut is and starting all over?
Regards,
Sam