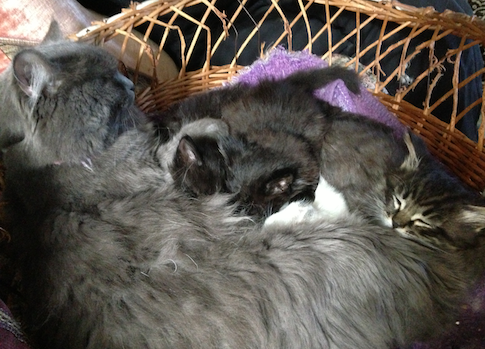 As a former owner of two cats for 17 years, I've been thinking about getting another pet recently and wondering "should I get a cat?" When you've had any pet for that long, it's not as easy a decision as you might think to get another pet. A LOT happens in 17 years. After all I had my two cats for half of my entire life! It's pretty crazy when you think about it that way.
So getting a cat is a lot to think about. Am I ready for that big of a commitment, especially as a working adult? I won't have any help taking care of them from my mom this time around, and I admit she did a lot of the work with them. Plus I'm not sure if my current and future lifestyle are going to be the suitable for owning a new cat. And now that I'm older and much more cautious about how I spend my money, I'm not sure if I really want to take on extra financial responsibility either.
Please Help Me Decide If I Should Get A Cat!
I'm hoping writing this post will help me come to a decision that's as well informed as possible based on my own situation, some research, and input from you guys (please leave me your thoughts and comments below!). Surely some of you reading this post have also asked yourself  before "should I get a cat?" or a dog, rabbit, turtle, etc. I like being thorough when I make any big decision, so I don't want to rush into just saying yes because I have a soft spot for cats.
I also need to point out that I already have a guinea pig. He's getting up there in age at 7 years (guinea pigs can live up to 12 years if they're healthy and well kept). So, this makes my decision a bit trickier. I've read that cats and guinea pigs can get along, so I'm not too worried about bringing a new species home. Plus, my guinea pig is protected in a cage, I could always keep him separated, and I'd be introducing a cat into the family as a kitten not as an adult cat. Who knows maybe they could become friends with time and close supervision. I've read that cats can get along ok with guinea pigs, so I know it's been done before.
Also, I will point out that I'm unable to adopt a rescue unless it comes from a local breeder. As much as I would love adopt, I developed allergies to cats over the years and am limited to hypoallergenic breeds. Since I have no desire to have a hairless cat, I'm only looking to get a Siberian cat. They are a hypoallergenic breed that I was introduced to from friends. Although sometimes you'll see cats advertised as Siberians on adoption sites, they are usually incorrectly identified. And I can't take any risks due to my allergies. I went to visit an experienced Siberian breeder in the Bay Area and didn't have any allergic reactions, which was incredible. I never thought I could have a cat again until I discovered this breed!
Okay here goes my list of pros, cons, and costs of getting a cat.
Pros Of Getting A Cat
Hands down, I love cats – I also grew up with dogs, fish, and hermit crabs and although they are great, I'd much rather live with a cat. I have no doubt that I'm a cat person.
Affection and companionship – Both of my cats I grew up with were sweet, funny, and loving companions. We did homework together, napped together, hung out watching movies, chased each other around the house, etc. They were a huge part of my life and I miss that.
Siberians are hypoallergenic – I used to wish that someday they'd invent a cat that didn't cause allergies. This wish came true when I discovered Siberians! Although they are not 100% allergy proof, I don't appear to have any issues.
Good demeanor – This breed has a wonderful demeanor. They're playful, agile, intelligent, pet friendly, kid friendly, nice to strangers, affectionate, and are a good lap cat.
I've lived with cats before – Although this will be my first time having a cat starting as an adult, I know what I'm in for because I've lived with cats before. There's a lot of fun, but I know there's work and time involved too.
Don't have to walk them – I love that cats don't need walks!
Lowers stress, blood pressure – Cats come with great health benefits and I definitely believe they help reduce stress.
Trainable – Being an intelligent breed, I should be able to train my Siberian cat if I stay patient and persistent.
Eats spiders and bugs – There's something in my blood that attracts spiders. Having a cat around to munch on bugs will be awesome. 🙂
Mice deterrent – One downside to big city living is there can be mice and rat issues sometimes. Having a cat in the house should help keep them away.
Experienced breeder – I feel comfortable buying from an experienced breeder who offers a health guarantee and is also open to refunds if I were to somehow develop an allergy.
Neighborhood vet – I live near an animal hospital, which is really convenient, but the recent ratings aren't that good. At least I already know a great vet across town, where I take my guinea pig, if the closer hospital doesn't pan out.
Responsibility test before starting a family – I used to be so unsure if I wanted to start a family someday. Now I think I've turned the corner. But I still wonder if I'm ready for that big of a step. If I can commit to taking care of a cat, that may help me get some practice in first and gauge my readiness for even more responsibility.
Cons Of Getting A Cat
Cat hair everywhere – Siberians have a lot of hair! They shed quite a bit too, and that will be tough to keep things fur free. I really like living in a fur free environment right now, so this is high on the cons. Siberians also need about 15-30 minutes of brushing a day. Could be a good way to multitask while watching TV though.
Allergies are still a possibility – Although Siberians are hypoallergenic, it's still possible I could develop allergies living with one and may have to surrender the cat. At least the breeder is understanding of this and has a return policy.
Expenses add up quick – Buying a pure breed is expensive, plus there are a lot of supplies, and vet bills to pay.
Damage to rugs and furniture – Hopefully I'd be able to train my cat early on not to scratch the rugs, furniture, or curtains in my house. But that's probably easier said than done. Soft nail caps for claws sound like a potential solution.
Extra work for a busy person – I can't deny that I live a hectic life. Am I really willing and able to take on more responsibility? Cats aren't a huge time commitment as long as they're healthy, but they still require care every day.
Can't really travel with a cat – I travel about six weeks a year. That's a lot! Even though my trips are broken up in one or two week chunks, I'll need to hire a pet sitter or put my cat in boarding several times a year. That's not ideal.
Potential difficulties if I relocate – Right now I don't have any plans to move, but it's always a possibility. Moving gets more complicated with pets and chances are high I will move at least once during the cat's lifetime.
Could invest the money instead – Getting a cat is not just expensive upfront, it's expensive long term. I like keeping things simple, so I've been asking myself should I get a cat when I could invest that money and have more free time instead?
Trimming nails is a pain – My two cats hated to get their nails trimmed. It was a tough job chasing them into the bathroom every few weeks to get the job done too. Although declawing my potential cat would be convenient, it makes my stomach queasy. So nail trimming is something I have to be willing to take on.
Takes space – Litter boxes, scratch posts and boxes, cat beds, and toys take up space and can make things feel cluttered if they aren't tucked away or concealed. I'm not a fan of clutter and don't have a perfect place for all of these things, but I do have some space to spare.
Complications with a baby – I may have a baby someday, so I can't help but wonder what if the baby is allergic to the cat? It'll also involve more training for the cat and making sure he/she doesn't get jealous with a new addition.
Potential conflict with my guinea pig – Although Siberian's are a pet friendly breed, there's always a chance my cat may not get along with my guinea pig. Although I can easily keep them separated, that wouldn't be ideal.
Costs Of Getting A Cat
Here's a look at my potential upfront costs of getting a cat, what my estimated annual cost will be, and what I could end up paying over the lifetime of the cat. Siberians average life span is 11-15 years, so I took the high end of the range of 15 years in my calculations. My first reaction after putting all these numbers together was "YIKES! Maybe this is a bad idea!"
The boarding costs are really high since I travel a lot right now, so I may need to consider sweet talking a friend to cat sit for free, or at least pay them a cheaper rate than a professional sitter. But I anticipate my travel frequency is going to start decreasing so the boarding costs won't stay high every year.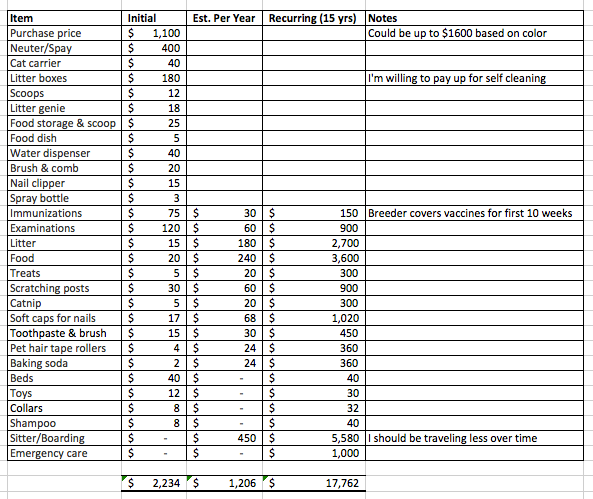 Not A Quick & Simple Decision
Yikes! I certainly didn't think the costs of getting a cat would be so high. I think my figures are on the conservative side however, so I probably won't end up having to pay this much, but I wanted to be as realistic as possible. And based on my experience with my previous 2 cats, the costs can definitely add up over time. It does make me realize that it's no wonder many people had to give up their pets during the peak of the recession. That must have been heartbreaking.
So it's hard for me not to take the monetary costs into consideration because I don't want to put myself into any type of financial jeopardy especially when a cat's life is involved. I have the means to afford a cat, but I do wonder what if I put that money towards a charity or my future son/daughter instead? Or if I work harder I could be able to do both.
The Value Of Love & Laughter
I like how Chaz points out below that there are intangible benefits of having a cat too. How do you put a price on love after all? Although I love my guinea pig, I can't exactly get snuggly or super close with him because he lives in a cage and doesn't like to be handled that much. Having a cat on the other hand would be a lot different. Based on the description of the breed, I can definitely imagine a Siberian coming to greet me at the door, wanting to play, hanging out on top of the fridge, snuggling in my lap, making me laugh, and coming to say hi after a nap in the sun.
Those type of moments are so precious and makes me really miss all the years I had with my previous cats. It takes time and being responsible every day to care for a cat, but it's not so bad when it's all for love and laughter. I know if I bring a cat home he'll become a part of my family and we'll be with each other through thick and thin for many, many years. And I have no doubt we'll share a lot of silly moments. Cats are curious creatures and are so much fun because of their personalities. They can turn a cardboard box or a piece of loose ribbon into the world's best toy.
I still have a lot to think about, but I sure can feel my heart strings being pulled towards bringing a cat back into my life. The earliest I'd be able to get one is June based on the upcoming litters. And it's totally possible I may have to wait until the next round in early winter since my name might be too low on the waiting list for June. In either case, it's exciting to think about the possibilities!
Untemplaters, what do you think – should I get a cat? For those of you who have pets, what went into your decision? How much time and money do you spend a year on your pets? Do you have any regrets, or had to pay unanticipated pet expenses? Have any of you ever paid for a pure breed cat or dog? What's the longest you've left your cat alone when you were traveling?
Copyright 2014. Original content and photography authorized only to appear on Untemplater.com. Thank you for reading!