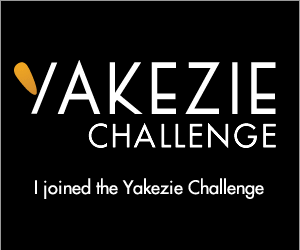 Hello Untemplaters! I wanted to take a few minutes to formally introduce myself and give you an update on the current goals for the site. So with no further ado, hello everyone my name is Sydney and I'm the new Untemplater.com dedicated webmaster, staff writer, community builder, and cheerleader all in one!
I want to give a big thank you to the founders for their genius vision and hard work in creating Untemplater and our community. The founders were so successful in 2010 they are now fully committed to their own sites and projects full time, and are living proof that you CAN work where you want…live how you want…be who you want to be! Another big round of applause goes to Norcross for the sweet site design, and to all the past contributors for your insightful posts and stories – hope all of you will continue to share your expertise and latest projects with us!
Who's This Sydney Gal?
Now for a little bit about me. In a nutshell, I'm a glass half full California busy bee gal currently working two jobs in addition to Untemplater. By day I'm a full time Customer Relations Manager at an awesome office job, and by night, weekend, and in anytime I can squeeze in between, I'm a property manager and the Jane of all trades for Untemplater. Is it really possible for me to do all of that and not be a walking zombie? Absolutely, and I'm the happiest I've ever been.
Now if I had to pick just one word to describe myself I'd probably pick "nerd" as I love writing vba macros and complicated Excel formulas at my office job, am so attached to my iphone I suffer from vibranxiety (aka phantom vibration syndrome), and am always sitting in front of a book, newspaper, or computer at home or in the library.  I wasn't always so actively geeky though.  Believe it or not, I used to be a total sloth.  I slept in until 12 on weekends, watched 6+ hours of TV a day, didn't socialize or keep in touch with family/friends, and just shuffled my way to and from a boring job everyday with no purpose and no sense of direction.
My Quarter Life Crisis
Then I went through a quarter life crisis and tried to break into acting, singing, and teaching music lessons. I grew up performing in school plays, playing piano and violin, and singing in the choir. So much of my childhood was involved in the arts and music that I thought it was my destiny to break free of the corporate world and go back to my artsy roots. I decided to take the leap, and gave it my all. I took acting classes and singing lessons, posed for headshots, started playing music several hours a day, went for auditions, gave lessons to some beginner violin students, etc. etc. To my surprise though, by the end of just eight months I lost interest in it all and really missed office work, and most of all – my computer!
Long story short, I found my passions in my current jobs and count my blessings every day. Even though I lost a lot of money in the eight months I tried to become a full time actor/singer/musician, I have no regrets and actually appreciate what I have now even more. Now that I'm married and my 30's are right around the corner, my hopes are aimed towards savings as much as possible and retiring from my CRM job in few years so I can start a family and blog for Untemplater as a SAHM (stay at home mom).
Content & Community
One of my main goals with Untemplater is to publish more regular content and have a nice variety of topics to keep things fresh and fun. I want to rebuild the activity within the community, get more dialogs going in the post comments, and find more guest writers to share their insights with us. If you are interested in submitting a post for publication please read through our style guide and instructions on our Write For Us page.
Interview Series – What Are Your Dreams? What Is Your Story?
Untemplater wouldn't be what it is today without you! We want to hear about the projects you're working on, your rises and falls, how you got to where you are today, and your current motivations. If you're interested in sharing your story, please submit a brief summary of your current projects, explain how Untemplater has helped you, and list 3 things you think readers would be interested to learn about you. Please submit through our Contact page and include "Interview Series" in the subject line.
The Yakezie Challenge
Sam at Financial Samurai recently shared a post with us on the best place for entrepreneurs to live right now.   We got to talking and I immediately became enthralled by his current initiatives with Yakezie – a personal finance and lifestyle blogging network he created that also features a quarterly writing contest for students!  I think joining Yakezie will do great things for Untemplater and we are joining the Yakezie Challenge! Over the next six months, we will be working hard to get Untemplater's alexa ranking below 100,000, build relationships with current Yakezie members, market the site, and bring in more readers and contributors.
I've also been so inspired by the Yakezie Writing Contest that I'd like to donate a portion of Untemplater's profits to the contests. It's impressive how well written the finalist essays were in the last round and I love supporting motivated youngsters who are in need.
In Closing
I think it's going to be a fun ride getting to know you, building our community and outreach, publishing a variety of posts, and keeping the Untemplater dream alive. Work where you want…Live how you want…Be who you want to be!