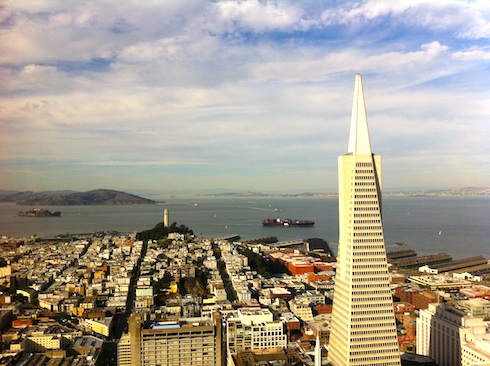 If you don't know, we are in the midst of a great big Social Media BUBBLE. With companies such as Facebook, Twitter, LinkedIn, Airbnb, and Uber continually raising their valuations, Silicon Valley/San Francisco is experiencing one of the biggest influx of wealth with more and more Internet and Tech companies going public. Money from all over the world is being thrown at the Social Media space, and thousands of employees who work at these start-ups are killing it.
Wealth spreads vigorously and has a positive knock-on effect. Perhaps some of the employees will cash out to start their own start-ups, thereby hiring new people. Perhaps others will go on a spending rampage and buy cars and houses in droves. It just might be a good time to put down that deposit on a Maserati or Bay View Pacific Heights penthouse before Facebook goes public with a $70 billion valuation! Government coffers get a nice influx of tax revenue and start spending on ridiculous infrastructure projects again. Whatever the case may be, the tidal wave of money is about to get unleashed in the Bay Area, and this is the place where you want to be.
The LA Waiter



There's a common perception that all waiters in Los Angles are starving actors. Is that so bad? No, not at all! These aspiring actors are here because they've taken a risk to follow their dreams to Hollywood. They audition for roles during the day and bust their butts at night making $13 an hour waiting tables. Who knows, maybe a Director or Producer will spot them one day and invite them to audition. Perhaps they'll bump into someone who is connected in the movie business. Whatever the case may be, those who are in Los Angeles looking to break in certainly have an infinitely higher chance of success than someone who never comes.
My Indecisive Friend Craig.



I was at a conference in Buenos Aires, Argentina the other day when I bumped into a friend of mine who was also attending for the week.  He told me about his desire to relocate from New York City to South America, but he was having an awful time landing anything. "I got some interviews here and there, but nothing ever came out of it," said Craig. Craig is extremely accomplished with 10 years of experience and an MBA from Dartmouth, yet he couldn't find any real leads.
The problem with Craig is his situation, I told him. Few firms are willing to hire him if he's living all the way out in New York City. Instead, he needs to come out to Buenos Aires for a month, get a temporary apartment, and show to his employers that he is serious about living there. Just like a start-up asking for capital, a founder will have a much likelier time raising capital if he is working on his company full-time rather than on the side.
Boom Town Baby



I might be jaded, having lived in San Francisco for the past decade. That said, I've also lived in six countries and have worked in New York City as well. Nowhere is more dynamic than right here right now. When example after example of success hits you in the face, you stop being jaded and start being realistic.
During Sunday open house hunting one time, I asked what the sellers of this $2.7 million house do for a living since they looked so young in their mantle pictures. The real estate agent said, "They're 28 years old and work at YouTube. The couple met when the company first started and they've now sold their shares and are relocating back to Texas to start a family." Awesome!
Just the other day, I asked my friend who is a partner at a Private Equity shop how business was going. He actually just said, "So so." When I asked how come, he mentioned, "In the past, start-ups and later stage companies alike would come knocking on my door for capital. Now, we have to knock on their doors and make a presentation to pitch why they should accept our capital!" In other words, there is so much liquidity out here and not enough companies, even though there seems to be countless!
Every Friday or Saturday I have poker night with my buddies. Three are running their own startups, one is an internet lawyer, two work at Google, and another two work at Private Equity shops. We talk about everything and anything business related in between hands. We often joke that our poker table alone would be a good startup management team, but too bad we're all sharks who would try and out bluff one another!
The point is to be around like-minded people. You can't go to a coffee shop and not hear about someone talking to their friend about starting a company or creating a new mobile app.  It's as if entrepreneurship is embedded in our area's culture. You might not think many people succeed, but you're wrong. More people succeed at creating companies and making tremendous wealth than you can imagine.  The amount of wealth is bursting at the seams!
Come Hither
Don't follow those silly Money Magazine stories about the best X, Y, Z towns to live in you've never heard of. You need to be where the action is, despite the cost of living. Because when you hit it big, or land that plum job at the next big thing, the cost of living will become a secondary issue. The reason why things cost the way they do is because people get paid or create wealth the way they do. Otherwise, it's unsustainable. If you are an aspiring entrepreneur, what are you waiting for?
See you by the Bay before the bubble bursts!
The Best Way To Be Free Is To Take Control Of Your Finances
Ready to move to Bay Area? Get your finances in order first! Personal Capital is a free online money management platform I use that organizes all of your money related accounts in one place. It lets you safely and securely link your checking, savings, retirement, CD, mortgage, credit card, overdraft protection, and investment accounts together in the cloud. Since I use four different banks, being able to see all of my money in one place makes it SO much easier to manage and analyze my spending, and savings progress. Their offices are also right in my backyard in Silicon Valley and SF.
It costs nothing to join and takes just a minute to sign up. You don't need to input any credit card info to sign up or maintain an account either. Personal Capital also is offering one free session with a financial adviser after you register, and you also have the option to pay for additional advice if you like. A few of my favorite features of their website are being able to add offline assets into my account (jewelry, heirlooms, electronics, etc.) and their 401k fee analyzer. If you want to be free and have more flexibility in your lifestyle, take control of your finances now and start paying more attention to your money.

Updated: 4/13/2015
Best,
Sam