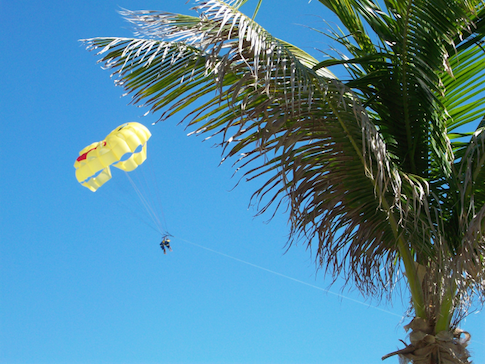 If you've come looking for bucket list ideas, you're in the right place. What I love about bucket lists is that there's no right or wrong way to make them, and the items on your list can evolve with you over time. Write a new list every few years if your aspirations and interests change. Keep your bucket list ideas fresh and fun.
And if you haven't already, check out my first post in this series, 55 Bucket List Ideas Part 1 that also explains some key benefits of making your own bucket list and writing it down.
It's fun to dream big and think of adventurous, daring, ambitious, and wacky bucket list ideas. Here are an additional 55 bucket list ideas in part 2 for you to browse and choose from.
1. Buy a vacation property in your favorite getaway town
2. Get scuba diving certified and go on a 7 day live-aboard in Indonesia
3. Watch molten lava flows at an active volcano
4. Hike down the Grand Canyon, camp out overnight, and watch the sunrise
5. Ride a camel in the Sahara desert
6. Visit all 7 continents
7. Make a time capsule and bury it in your back yard
8. Take a cruise around the world
9. Grow out your hair and then donate it to a cancer/hair loss charity
10. Be an extra in a movie with your favorite actor/actress
11. Get out of all your debt for good
12. Make a video of your kid/nephew/niece burying you in sand up to your neck on the beach
13. Fly first class on an international flight that's  at least 10 hours long
14. Take a picture of yourself every day for a year and turn them into a video
15. Go on every ride at Six Flags and Disneyland
16. Read 52 books in twelve months
17. Watch an event live at the Olympics
18. Snorkel in the Great Barrier Reef
19. Visit each of the 50 states
20. Write a journal entry every day for a year
21. Go hang gliding in Kitty Hawk, NC
22. Self publish a book of your best photographs, poems, or artwork
23. Stay a week at an overwater bungalow in Fiji
24. Learn how to play a musical instrument and perform in front of strangers
25. Go on a river cruise through Egypt
26. Create your own mobile app
27. Get a stamp on every page in your passport before it expires
28. Start a scholarship fund for your favorite school or group
29. Rent a flat in a foreign country for a month
30. Apply and get selected for your house to be on an design or garden show
31. Go to the next World Cup
32. Make homemade ice cream with all your relatives at a family reunion
33. Learn how to fly on a trapeze at a circus school
34. Print a book of your best recipes and gift copies to your friends
35. Take panorama pictures from the top of the London Eye and the Eiffel tower
36. Climb an ancient ruin in Europe while your knees are still good
37. Trek through the Amazon rainforest
38. Hike Half Dome in Yosemite
39. Visit every National Park
40. Start your own blog and share your life experiences
41. Try skydiving indoors or outdoors if you're brave enough
42. Ride in a hot air balloon race
43. Swim with whale sharks in the Philippines
44. Help a person or animal in distress when they need it most
45. Meet someone famous and get your picture taken with him/her
46. Revisit a favorite family vacation spot with all your siblings as adults
47. Write a letter to your future self
48. Land a six figure job
49. Attend a tea ceremony in Japan
50. Go on a safari and get up close with the wildlife
51. Walk or bike across the Golden Gate Bridge
52. Become a self made millionaire
53. Win a state or national food/baking contest
54. Attend a Hollywood awards show and dress to the 9's
55. Learn how to whistle with two fingers and then make a ton of noise at a sports game
Untemplaters, have you written down your bucket list yet? What's one of the bucket list ideas that you're currently trying to achieve in the next year? What other bucket list ideas do you have?
55 More Bucket List Ideas
Want even more bucket list ideas? Check out my first post in this series, 55 Bucket List Ideas Part 1  as well as my own Bucket List that I keep up to date.
Improve your finances while also supporting charity. Want to increase your financial knowledge and grow your wealth? Want to give back in the process too? Check out The Best of Financial Samurai eBook. It contains 180 pages of the best 35 articles written by Financial Samurai over the past seven years to help readers achieve financial freedom sooner. All of the book proceeds are donated to a charity that helps inner city kids stay off the streets and stay in the class rooms. You can purchase The Best Of Financial Samurai here for $9.88. Why not learn and give at the same time!
Track And Grow Your Money The Easy Way For Free. Need help keeping track of your money? Since bucket list adventures can sometimes be expensive, I highly recommend you sign up for Personal Capital's free financial tools that consolidate all of your accounts in one place safely and securely through the cloud. They have a lot of helpful financial tools that are so easy to use and help you prepare for retirement and managing cash flow. They've been featured in Time, the Wall Street Journal, Forbes, CNBC, and the New York Times to name a few. I use their mobile app all the time to keep track of my money on the go and it's really helped me grow my savings.
Start Your Own Profitable Website Today – Want to make more money and be more free? Work on building your brand by creating your own website the easy way with a WordPress site like mine through Bluehost for super cheap. You can register your domain for under $20/year and get hosting for only $3.49/month. Whatever your interests are, focus on building your skills and developing your own unique niche.
I've been blogging since 2010 and it has allowed me to break free from the corporate grind to travel, work from home, consult for companies that I like, and do so many more things I've always wanted to do but couldn't. The income is relatively passive as posts I've written years ago are still being found through Google and generating income. What's better than making passive income and creating a valuable asset you can one day sell for a multiple of annual income?
I've conquered my biggest fears by going off on my own thanks to this website and it feels wonderful. Not a week goes by where I'm not thankful for starting this website to live the life I want to live!
Updated for 2017 and beyond