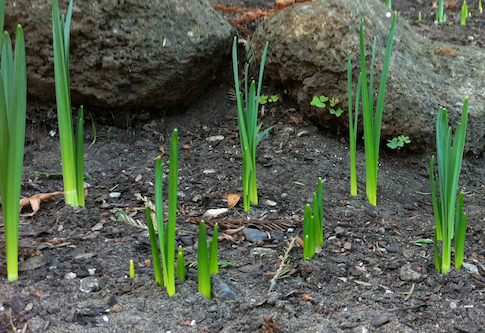 Growth can be so darn hard as adults. The older I get, the more I understand why older people are stereotyped for being stubborn, stuck in their ways, and close minded. Even though change brings progress and growth, the longer we do things a certain way, the less and less we are willing and eager to change. But that doesn't mean we should use years of experience as an excuse to ignore our weaknesses and things that are changing around us. With a few simple self improvement tips we can continually increase the quality of our lives. As the catch phrase YOLO goes (YOLO = you only live once), let's make each day count!
Your Worst Enemy Is Yourself
When we're kids, we're constantly being coached by our parents and teachers to study hard, get better grades, and grow. We had very specific goals each year that we had to work towards and meet in order to move on to the next grade in school. Report cards set off warning bells several times a year if we were getting into trouble and parent-teacher conferences were mandatory.
We lose a lot of that discipline and guidance as we get older, go through college, and get pushed out into the real world as adults. There are no mandatory measurements or requirements we have to meet each year. We're no longer constantly getting coached on what we're doing wrong and how to fix it. And there are no guaranteed alarm bells going off if we're headed down a slippery slope of procrastination, laziness, and slacking off.
It's pretty much up to us to decide how hard we want to work and what we want to achieve each year. And time runs away from us so much more as adults. Years can pass by while we work like zombies if we're not careful. Your worst enemy is yourself. You're the only one who can decide if you want to change and actively grow and develop.
Don't Hold Yourself Back Anymore
Laziness becomes a big hurdle as adults. We get ourselves into a routine and blindly go through the motions day after day after day. Procrastination and fear can drain us completely of motivation and courage without anyone around to slap us into shape. Don't make things harder for yourself than they have to be. Shake some sense into yourself and get pumped already!
There is never a perfect time to begin. Just go ahead and start!
Growth doesn't happen automatically. Self improvement takes effort, awareness, goals, and dedication.
There will always be someone better than you with more experience. Don't let that stop you from trying to blow past them.
Don't expect growth to be easy. Remember how much we got nagged as kids? Now is the time to crack the whip on yourself.
Don't wait for all the answers to make a change. There will always be unknowns.
Failure isn't the end of the world. It happens to everyone and you're a fool if you let fears keep you from trying. You can't grow if you never give yourself a chance to succeed.
Analyze Why You Want To Grow And Identify Your Obstacles
Self improvement involves self awareness and tapping into your analytical skills. Ask yourself questions every day, and tap into your gut instincts as well as your fears. Spend some time alone and ask yourself difficult questions that you've been ignoring, avoiding, or haven't thought about before. I like to go on hikes along the coast to clear my head of stress and spend time reflecting on my life and goals. There's something about seeing the ocean that inspires and reminds me that the world has so many incredible wonders if we take the time to tap into them.
It's okay if you don't have more questions than answers at first. Just keep those questions at the front of your mind and eventually you will get the answers you seek. And recognize that your answers may change over time. Our priorities shift, relationships come and go, and our interests and desires are kinetic.
Along with your self reflection excercises, I encourage you to seek guidance from a mentor as well and ask for their opinion on what your biggest obstacles are. You could be surprised by their responses. The way we perceive ourselves can be quite different from how others observe and interact with us. Just don't rely on a mentor to do all the work for you. Ultimately you're the one who has to grow, change, and all of these self improvement tips to heart.
Ask Yourself These Questions
"Successful people ask better questions, and as a result, they get better answers." Anthony Robbins
Growth doesn't happen by itself. We have to work at it, we have to want it, and we have to accept everything that comes along with it. We all have the potential to do great things! You just have to start by believing in yourself and ask yourself a lot of questions. These questions will help you along in your growth journey.
What has been the biggest mistake I've made so far and why?
What are my top 3 career goals, how will I achieve them, and when?
Why are my current goals important to me?
Why am I so afraid to grow and change my future? What's the worst that could happen?
Why didn't I finish what I wanted to do yesterday? And how can I make sure I finish today?
Am I actually so scared of success that I am too afraid to give myself a shot at winning?
Or is the fear of failure holding me back? Why am I so scared to make mistakes?
How have I grown from past failures? And what were the main reasons I failed?
Is jealousy making me a bitter and difficult person to work with?
Why do I keep making so many excuses? Which excuses are hindering my growth the most?
Why am I interested in self improvement tips? How will growth increase the quality of my life?
What are some good habits I can work into my daily schedule?
Why am I so bad at following through and leaving things hanging?
What do I need to do in order to complete all of my projects?
What are my current priorities and do they need to change in order for me to grow?
What am I good at right now and how can that help me get what I want?
When am I the most satisfied and why? How can I incorporate that high into each day?

Don't Be So Hard On Yourself All The Time
Are you feeling totally lost and don't know what you want to do with your life? Perhaps you know what you want to do but are so frustrated that you haven't done it yet. Are you so hard on yourself that you give up too quickly? Press pause for a minute and give yourself time to grow.
Growth involves cutting out distractions like watching too much TV (read my tips on overcoming a TV addiction and procrastination), and setting aside time for yourself. Remember, the longer you wait to do something, chances are you will never do it at all. Don't let that happen!
Celebrate the little victories along the way and keep track of your progress. I love looking at all the things I've done as motivation to keep setting and striving for bigger goals. Don't worry or obsess about how incredible other people are all the time. Focus on your own growth so you can measure your own personal development and continually build your skills and confidence.
And stay consistent as much as possible. You need discipline to develop new skills and patience to get you through all the practicing. Take a look at this inspiring video of a San Francisco Bay Area woman who set a goal to learn how to dance in a year. She had no formal training but didn't let that stop her. It took a lot of sweat, time, discipline, and repetition, but look at what she was able to accomplish! Her growth as a dancer is undeniable and you can tell she spent a lot of time analyzing her skills and asking herself questions about how she could get better. Her happiness is radiant!
Why is growth so hard?! Because it takes so much work! But it's so worth it to give yourself a chance to reap the rewards of your efforts. We all need a kick in the pants every now and then to push ourselves to continually grow. Just take a minute and think of all the fabulous things you've learned over your lifetime so far. Doesn't that make you excited about the infinite possibilities of the future?!
Untemplaters, why is growth so hard for you? What other self improvement tips do you have? How often do you work on personal development skills and goals?
Copyright 2013. Original content and photography authorized only to appear on Untemplater.com. Thank you for reading!