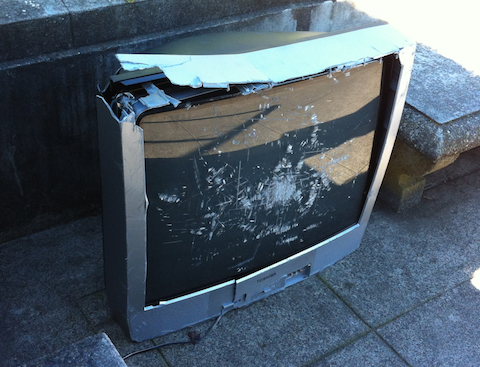 Ever since I can remember, I've loved watching TV. I used to be seriously addicted to TV though, and fortunately I've learned to discipline myself and have cut back a lot over the last couple years. Because I understand how addicting watching TV, movies, and streaming videos can be, I want to help more people learn how to get their viewing habits under control. Watching TV is a cheap and fun form of entertainment, but it can take over your life, turn you into a habitual procrastinator, and negatively impact those you live with. Part of Untemplater's value proposition is about finding ways to get more out of your life, which involves becoming more productive and trying new things. So I hope you will make an effort to quit watching TV and stop procrastinating this year.
Here are 10 easy tips to get you off the couch so you can get busy living and doing more things you love.
1. Don't upgrade your TV or DVD player.
I went over to one of my friend's apartments about a month back and her husband was super excited to show me the 55 inch Samsung Smart LED TV they had just bought. I wasn't even sure what a Smart TV was at the time, so he happily showed me how he could surf the Internet, log into his Facebook account, and play videos he'd recently uploaded to the web. The picture quality and features were quite impressive, and I could tell this type of technology would be trouble for TV addicts.
So if you're trying to quit watching tv and videos, save yourself some money and don't upgrade your TV, dvd player, or internet package. The newer technology will only tempt you to watch more! I have an older TV but I don't plan to upgrade it to a SMART TV anytime soon. I'm trying to hit my goal of saving 30% of my income this year and don't want any more temptation to watch TV and stream shows.
2. Reduce the number of devices in your house and avoid having a TV in your bedroom.
I used to have a TV in the kitchen, living room, and bedroom. Yes, I realize that sounds pretty ridiculous. I used to enjoy watching TV in the kitchen when I was washing dishes or making dinner, until one day about 2 months ago the audio stopped coming through. A few days after that I lost picture. Comcast had finally pulled the plug on the analog channels in my neighborhood. Left with a useless TV, I started searching around for a digital converter box, until I decided "why bother?!"
So I packed up that TV and donated it to Goodwill. I missed having it for a few days but I quickly got over it. Now I'm thinking about donating my second TV in my bedroom. I don't use it much anymore, and I'd be able to save $10 a month by having one less cable box. I'd also be making my chiropractor happy because he said watching TV from bed has been hurting my neck.
3. Stop paying for cable all together.
A lof of my online friends have happily cut cable out of their budgets entirely, especially those in the personal finance space. They like saving money, use the funds that would have gone to the cable bill to pay down debt, and put their freed up time towards building new income streams and being with their families.
If you're struggling with debt you should seriously consider going cable free until you get your finances in shape. Cable isn't a necessity and should be one of the first things to go if you're in a money crunch.
4. Get a library card.
I love my library card so much that I've memorized the 14 digit account number, lol. That is part of the reason why I consider myself a bit of a nerd. I encourage you to quit watching TV and go check out your local public libraries. There are so many incredible resources and best of all they're FREE!
You can learn a language, teach yourself how to program, read about business law and accounting, browse the Internet, etc. Some of my favorite collections at the library are the travel books, magazines, and colorful reference guides. Staying interested in reading and learning new things has really helped me stop procrastinating. If you decide to ditch your cable you could also take advantage of the wide range of DVDs at the library, and watch the occasional show for free in your downtime.
5. Replace your least favorite shows with an activity.
We all have favorite shows, which are the hardest to cut out. But if you came across this article doing a search on "how to quit watching TV," chances are you have plenty of so-so shows you could easily cut out from your watch list.
Come up with a fun or productive activity to replace the time that you used to spend watching those shows. This will help you appreciate your time more and will provide more motivation to quit watching TV. And if you're not already getting regular exercise, go for a jog, do some yoga stretches, or get out and walk the dog in your newly freed up time. You'll be happy that you did.
6. Go to bed earlier and wake up sooner.
One sign you have a TV addiction is if you're watching shows until 1 or 2 am until you fall asleep with the TV still on. I used to do this many times before I got my watching habits under control. It was bad. If you get more sleep at night however, you'll be more motivated to get things done the next day when you wake up refreshed.
Plus if you wake up sooner you'll have more time to get ready in the morning and can even throw in a 20 minute exercise routine while you're at it. We've all heard our doctors say, "Take better care of your health. Get more sleep, eat healthy, and regular exercise." Being healthy means you'll have more energy each day and won't feel tired all the time. The more energy you have, the more living you can do! So work harder at taking care of yourself. I know I definitely feel better when I get in a good work out and go to bed early.
7. Use a timer and stick to it.
A lot of people who have TV addictions and problems with procrastination don't recognize when they've had enough. They'll often say to themselves "I'll do xyz after I watch 1 more episode" or "I'll rest some more today and start on my to do list tomorrow." The trouble is they end up saying these same things over and over again and never get started on anything.
I've been there. And I know how hard it can be! So try disciplining yourself with a timer. Set it for a reasonable time such as 30 min or an hour, and put the timer across the room so you'll have to get up off the couch to turn it off when it rings. You can use one of those traditional kitchen timers or a digital one in your smart phone. As soon as the timer goes off, make sure to cut the power on the TV at the same time.
8. Keep a list of your accomplishments.
One thing you want to get addicted to is the thrill of reaching goals and the incredible sense of reward that comes with completing tasks. I keep a regular log of all the things I finish at work and in my personal life. Whenever I'm feeling lazy, I pull it out and remind myself of all the things I've done.
If it's been a while since I added something to the list, it helps me realize I need to get out of my funk and gives me a boost to get some new achievements on there. You can also set goals like "I'm going to do xyz today first, before I even turn on the TV." You're the only one you can blame for the things you do and don't do. Remember that your competition is always out there and it's up to you whether or not you can stay ahead of them or not.
9. Team up with a friend or family member.
Overcoming any addiction or bad habit is hard to do alone. Reach out and team up with a friend or family member that you're close to for support. Set goals together and let them know how much their help means to you. Some friendly competition can also get you motivated to push yourself harder and break out of your bad habits.
10. Donate your DVDs or sell them for cash.
If you have a TV addiction, chances are you have a large DVD collection as well. I used to have close to 100 DVDs but I've cut that down to 50 which I still think is way too many. Before I started blogging I used to watch 2 or 3 DVDs each weekend, but I haven't touched most of mine in two years now. So I'm giving away a bunch of the DVDs I have left to free up more space on my bookshelf and have fewer things to dust!
If you have the patience you can also try to sell your DVDs for cash at a garage sale or online. You probably won't get that much but it always feels good getting paid to declutter!
Recommendations For Increasing Your Financial Freedom
* Manage Your Finances In One Place: Get a handle on your finances by signing up with Personal Capital. They are a free online platform which aggregates all your financial accounts in one place so you can see where you can optimize. Before Personal Capital, I had to log into eight different systems to track 25+ difference accounts (brokerage, multiple banks, 401K, etc) to manage my finances. Now, I can just log into Personal Capital to see how my stock accounts are doing and when my CDs are expiring. I can also see how much I'm spending every month. Let Personal Capital track your finances so you can gain more freedom to do your own thing. Personal Capital takes less than one minute to sign up!
* Never Quit, Get Laid Off Instead. Learn how to negotiate a great severance for yourself in How to Engineer Your Layoff! By getting laid off from a job you wanted to leave anyway, you can collect a severance, health care insurance, deferred compensation, unused vacation days, and be eligible for unemployment. The book provides helpful case studies and a framework for you to have a strategic conversation with your manager on how to profitably quit your job.