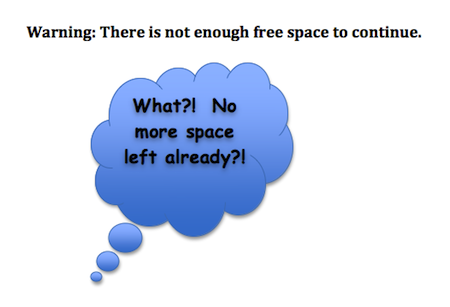 As many of you know, I am a bit of an obsessive minimalist because I get so excited when I find things I can donate or recycle. I'm always looking for ways to simplify, only keeping things that I actually use and enjoy. I'm certainly not at the level of owning less than 100 things right now, but I've made a lot of progress over the past year and it feels great.
When we think of decluttering and minimalizing, it's almost always in the physical sense, centering around removing objects that are physically taking up space in our closets, shelves, and garages. When we are living in spaces with fewer possessions, there's less to pick up, less to wash, less to dust (I hate dusting!), and less to worry about in general. It's a fabulous and freeing feeling not to have junk!
Next Target: Digital Clutter
Over the last few days I have been obsessed with a different type of messiness and waste – digital clutter! It may sound funny but it's true. We're so digitized these days and we're constantly downloading and uploading content to and from our devices all the time. Even though new computers and electronics can accommodate more and more data each year, the size of all the files we're accumulating is simultaneously increasing.
Remember the days when a 1 megapixel digital camera was a big deal and 1 MB pictures were enormous?! I chuckled to myself today when I found a 512 MB CompactFlash memory card inside one of my old cameras that I was packing up to donate. Ha! Boy does that sound tiny now. I'd fill that card up without even blinking today with my 10 megapixel DSLR camera, and that's even small compared to the tons of cameras out there now that can take 20-30 megapixel images.
Better Gadgets → Bigger Files → More Organizing And Archiving
I'm constantly taking pictures, especially when I'm traveling and can easily fill a 8 GB SD memory card on a 1 week trip. And believe me gigs add up fast these days. I remember when I first got my laptop I thought I'd never fill up the hard drive because it was double the size of my previous one, but boy was I wrong.
After I finished uploading the pics from my recent trip to Istanbul, I went to check out how much free space I had left on my laptop. I thought I had about 40% of free space left, but turns out I had less than 12% left (only 38 GB)! Wow I was way off. No wonder my computer has been acting slow!
Finding Hidden Space Hogs
I immediately went to find out how big my photo and music libraries were because those are my biggest space hogs. Turns out my iTunes library was 22 GB (not too bad) but my iPhoto and Aperture photo libraries together were about 200 GB. WOW! While 200 GB of photos is tiny in comparison to professional photographers who often have photo libraries 2-3 terabytes in size (1 terabyte = 1000 GB), it's huge for me especially since my laptop's capacity is 319 GB.
When I was locating the size of my picture folders, I fortunately noticed that Aperture had actually created a duplicate library, probably when I upgraded the software. Feeling robbed of precious space by these mysterious copies, I immediately backed everything up and then deleted the duplicates. Turns out there's a bug in Aperture too that doesn't purge the thumbnails of deleted images so I quickly located and erased those too.  I felt lighter already.
Free Up Space And Get More Productive
So far I've cleared up about 20 GB of free space just by removing duplicate files! I freed up about another 5 GB by archiving files to my external drive and deleting other digital clutter. My computer is already running faster and isn't overheating as much, nice! As you may know, computers run better when they're less clogged and aren't close to running out of space. We all go nuts when we see that dreaded pinwheel or hourglass on the screen and none of us want to be slowed down by that kind of added stress and frustration. So keep your devices happy and clutter free and you'll easily get more productive and won't have to scream at them anymore.  🙂
Give Yourself A Digital Makeover Today
Backup your devices regularly to an external hard drive or cloud service
Remember to empty trash within programs like iPhoto and Aperture
Remove files from your desktop so it's clear and organized
Use an orderly folder structure. Sub folders and smart folders are great for this.
Externally archive important files that you don't use regularly to free up space
Setup automated checks for new releases and keep your software up to date
Clear out your downloads folder, relocate what you need and erase the rest.
Delete programs, apps, music, pics, videos, docs you don't use anymore
Consider getting more RAM if freeing up space doesn't improve speed
Empty your main Trash/Recycle bin regularly
Untemplaters, how much free space do you have on your computer right now? What's your biggest culprit of digital clutter? What digital makeover tips do you suggest?