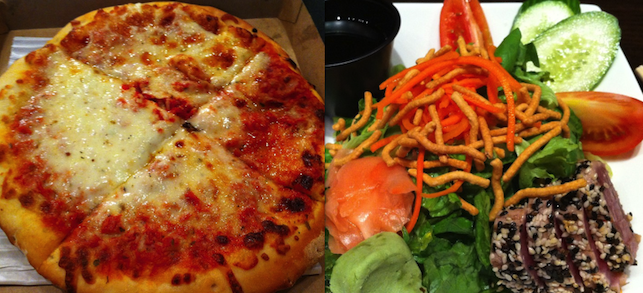 In my quest of living an untemplate life, I am always looking for new sources of inspiration and motivation to keep me active, trying new things, and working towards crossing off things on my bucket list.  I got to thinking the other day about harnessing the power of before and after and how that is one way I like to motivate myself and others.
What does harnessing the power of before and after mean exactly?  It means that embracing change and believing that we are all capable of extraordinary things is quite empowering and liberating!  Take an easy example of the contestants on reality TV shows like The Biggest Loser who are able to achieve dramatic weight loss.  Before I overcame my TV addiction, I used to channel surf and I remember gawking at the screen when I landed on season recaps that highlighted the transformations of the contestants.  Yes it takes a lot of sweat and tears to get those kind of results, but if they are capable of it, you are too!
Transform Your Body
It is amazing what we can do with our bodies if we are disciplined enough.  Part of living an untemplate life is taking care of your health and keeping fit so you can live an active life and possibly even a mobile lifestyle.  We all know it's not easy though to lose 20 pounds, get six pack abs, or to touch your toes with your palms flat on the floor with a flat back.  It takes a lot of effort and persistence to be able to accomplish any of those things.
Yet why do we give up so easily and so fast before giving ourselves a real shot at results?  Ever year we observe the gyms overflowing with people the first few weeks of January all set to get fit, but by the time February rolls around way more than half of the crowd has vanished into thin air and back to their couches.
Instead of just thinking to yourself that you want to get fit, put together a plan and stick it somewhere you'll see it everyday.  If you put a picture of a fat person on your fridge that's just going to make you grouchy.  But if you replace it with a before and after picture of someone who once was overweight who became super fit, you're much more likely to start believing in yourself that you can do it too!  And that will help motivate you to make healthier eating choices and start exercising regularly.
Give Your Mind A Makeover
I've come to realize how enlightening it is to understand the mind body connection.  Our emotional state has a constant, direct impact on our physical being, with stress being the biggest culprit of bodily ailments and discomforts.  If you've ever suffered from back, neck, shoulder pain or any recurrent pains – please read my post How To Cure Back Pain And Other Ailments – The Mind Body Connection.  I've learned first hand that our brains are too smart for our own good because they manifest all sorts of real physical problems to distract us from the things that make us feel overwhelmed, angry, upset, and that we are trying to avoid thinking about.
Our mental and emotional health are just as important as our physical fitness, yet they often get overlooked and brushed aside because they can't be seen or touched.  People are more sympathetic if you're taking a sick day due to illness versus taking a personal day for mental health and that drives me crazy!  We can't achieve optimal physical health without strong mental health.
Give your mind a makeover and learn to embrace every single thing that is causing you stress and anxiety.  If you suppress it or try to ignore it, your brain is going to take advantage of you and start manifesting aches like lower back pain.  Try your hardest every day to let go of negativity, anger, fears of failure and then Untemplate And Go Against The Grain!
Take A Spiritual Journey
While I do have my own religious beliefs, the older I get the more open they've become.  I've traveled to many foreign countries and experienced all sorts of other cultures, and I've come to embrace other religions and understand those who have no beliefs at all.  I was taught growing up that anyone who wasn't a Christian was being controlled by Satan, would go to hell, and that we had to "save" them from evil.  That just sounds so bizarre to me now.  I still believe in God, but no longer do I believe that I have to go to church or deem other religions as evil in order to pray, be a good person, and have faith.
Whatever you define in your religious beliefs, or lack thereof, when was the last time you took a spiritual journey?  Are you the same person now that you were 10 years ago?  Of course not!  Think about what you used to believe when you were younger and how your life experiences have since changed your beliefs.  Perhaps time has strengthened your faith, or maybe everything you were taught is totally irrelevant and meaningless to you now.  I know people who have converted from Christianity to Judaism, atheist to Islam, and Buddhist to Christian.  Don't be afraid to challenge what you believe, strengthen your faith, and take a spiritual journey to find your inner peace.
Harnessing The Power Of Before And After
Life would be too boring if we stayed the same all the time.  Transformations, growth, and advancement are powerful life experiences.  Some of the most inspirational people are those who came from little to none and became CEOs of huge companies, Olympic athletes, or your neighborhood entrepreneur who runs their own small business. Others are inspirational for their radical changes in philosophy and spirituality.  Just because something seems impossible now doesn't mean it isn't achievable.  And even if something seems utterly complex and confusing, believe that you DO have the power and the ability to master it.  Transform your body, give your mind a makeover, and take a spiritual journey.   Get going and harness the power of before and after!
Untemplaters, have you had any dramatic before and after transformations?  Have you gone on a spiritual journey, given yourself a mental makeover, or made any big improvements to your health and physique?  In what ways are you harnessing the power of before and after?