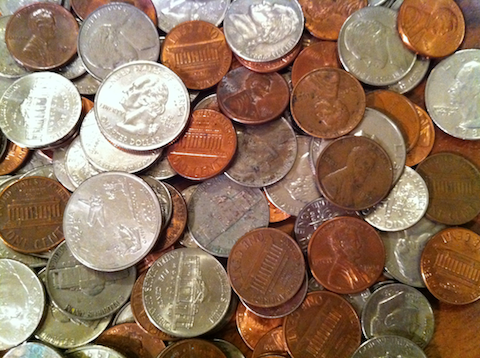 I don't consider myself a big spender. I only shop for myself once or twice a year and I like to take my time searching for sales and reading reviews before I buy things. I like to save and use more of my disposable income on experiences and travel instead of on trendy clothes, accessories, gadgets, and stuff that ends up becoming clutter. When I first graduated college though I was the complete opposite! Not only did I make less money then, I was rather careless with my money and often went into debt buying things I didn't need.
Hole In My Pocket
About a week ago when I was cleaning my closet, I realized it'd been a while since I bought new clothes for myself. I discovered the lining in my winter coat had completely ripped through all the repairs I had sewn in it last year and the fabric was falling to pieces.  One of the pockets even had a huge hole in it, so I decided it was time to start searching for a new one.
Some people are happier paying more money to have top quality items, but I've got a bargain shopper mentality engrained in me now that I can't seem to shake. I'd rather pay $50 for a coat that does the job and has 2-3 years in it, versus pay $300 for a top of the line parka that has 5-10 years in it.  Spending less just feels better.
Using Sales To Get Stuff You Actually Need
After deciding to spend some money on myself on Black Friday this year, I was determined to find the best bargains. It felt weird shopping for myself since I normally put my extra money in my travel fund or retirement savings, but I did well finding some good sales.  I got a hooded winter coat for $45, two collared work shirts for $15 each, and black knee high socks for $2.  Nothing exciting, but it feels good to get practical stuff, especially when it's cheap!
Where Does All My Money Go?
Thinking past what I bought, I got to wondering: where does all my money go? Even though I knew I hadn't spent much money on myself this year I wanted to see what my spending habits really looked like on paper. Normally I request an annual summary from my credit card company in January, which shows a breakdown of what I charged for the year. But feeling too impatient to wait another month and a half for that report, I started digging around my online banking account for some insights.
To my delight, I discovered my bank has automated reports now that show how my spending breaks down by category across all my accounts. Being able to see transactions from my checking, savings, and credit card accounts together was the type of data I was seeking to answer my question, where does all my money go?  However I noticed that the auto generated reports didn't classify any of my check payments, and some of the category percentages looked off, so I found a way to export the raw data into Excel.  Then I corrected the entries the bank had blank or classified wrong, and created my own pie chart.
This is what my results look like year to date: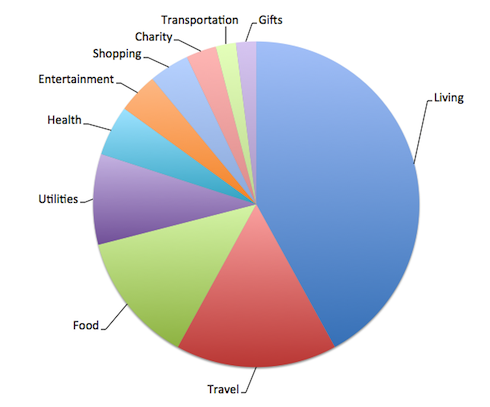 Easy to understand and pretty cool to see as a pie chart right? Even though I use spreadsheets to put together my budget every year, this was the first time I'd ever seen how my spending breaks down visually. Like most folks, I spend the most on living expenses. Travel is my second largest, which I'm not too surprised by since I took several trips this year including my recent adventure to Istanbul.  I have to save a lot of money in order to take trips, but it's what I love to do and I want to travel while I'm still young and without kids.
Food is a big expense but an important one, and utilities are a pain but a necessity.  I'm thankful that I've been healthy this year, and that most of my spending there has been for preventative and personal care.  I didn't spend much on concert tickets and such this year so my entertainment portion is pretty small and I'm glad to see my personal shopping spending is low too.  I think my charitable giving seems reasonable and I save a lot by using public transportation year round which feels great.  And since I got an early start on my holiday shopping buying presents in Istanbul, I don't anticipate the gifts category to increase by much in December.  Overall, I think my spending chart looks pretty good!
Make The Most Of Your Break Down
If you make the effort to analyze your own spending, you'll easily be able to answer the question, where does all my money go?  You could be quite surprised by your own data.  I plan on going through this exercise at least once a year to help keep my budget and goals in check and encourage you to do the same.  Remember you're never too young to start taking a proactive approach to personal finance!  Get curious about your spending and set some financial goals right now while it's fresh in your mind.
Untemplaters, when was the last time you analyzed your spending in categories? So where does all your money go?