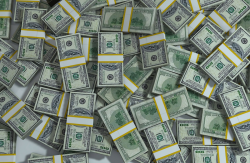 It's funny how our aspirations change over time. When I look back to my younger years, I wouldn't have ever imagined I could get to where I am today. I just didn't have any real idea what I could be capable of in the real world.
I had hard working parents who took great care of me, however they didn't graduate from 4-year colleges or have masters degrees. They had humble blue collar and secretarial careers with lower middle class incomes. Making a lot of money and climbing the ladder in a prosperous career wasn't something I had any direct exposure to.
As a result, great wealth felt rather unrealistic in my teens and during college. Yet, I was still determined to get a BA degree with a strong GPA and find a way to make a reliable income that would bring me financial freedom.
From Small Aspirations To Larger And Larger Ones
Here's a look at how some of my goals have changed as I've aged. They started out small and have grown with me over time.
Ages 14-18
Goal: Get as high a GPA as possible and get into one of my top three schools.
Result: Graduated with mostly A's and B+'s. It wasn't easy. I studied hard, squeezed in extra curricular activities like theater and orchestra, and completely skipped the party scene. I felt so lucky to get into two of my top three schools. I chose the College of William and Mary for its academic reputation and phenomenal in-state value.
Ages 19-20
Goal: Pack in as many college credits as I can, get good grades, and graduate early.
Result: Got a 3.5 GPA and graduated in 3.5 years! Even though I did skip a few classes from time to time, I studied hard and packed in more credits each semester than all of my friends. They all thought I was crazy while I wondered why they weren't taking more classes. Most of my weekends were filled with studying sessions, foreign language club events, playing music in the concert building at night instead of partying, or volunteering at the campus art museum. I worked so hard each semester, I was absolutely thrilled to graduate early. All I wanted was to leave studying and college fees behind and start making money.
Ages 21-24
Goal: Get a job that was worth going to college for and pay off my student loans.
Result: Started off with a temp job for about a month and then landed a great entry level job at a startup that allowed me to wear a lot of different hats. I wasn't sure it was the best career path for me at the time, but I went with it and worked my tail off anyway. Paid off ~$12,000 in student loan debt by the time I was 24 thanks to diligent saving. Going to a cheap, yet well respected state school was so worth it. Thank goodness I didn't get into NYU or my family and I would have probably gone bankrupt in the process! Scholarships, government grants, help from my family, and disciplined saving thankfully allowed me to get debt free early on.
Ages 25-27
Goal: Climb up the career ladder, stop having to do so much grunt work, and make a six-figure salary.
Result: Thanks to a nice bonus in 2007, I made six-figures by age 27. It was an incredibly exciting and also humbling feeling saying I crossed the $100,000 salary mark – something my parents never got to experience. Unfortunately, the financial crisis brought me slightly below six-figures for the next couple years, but I felt very fortunate to have a job during that financially scary period, and made it back above 100k by age 30. I also got promoted and finally started to have enough "pull" to delegate work to junior team members. The taste of leadership motivated me to work even harder.
Ages 28-32
Goal: Go into aggressive savings mode, invest more regularly and avoid lifestyle inflation.
Result: My net worth finally started to make a more meaningful climb during these years. I kept my spending habits low and put as much money into my retirement and investment accounts as possible. I continued living pretty simply and really started enjoying the benefits of a frugal lifestyle.
Ages 33-35
Goal: Become a property owner and minimize taxes.
Result: The more money I started making, the more determined I became to maximize my tax deductions. I successfully bought a house and a small stake in a rental property, which felt fantastic. I'm loving the interest write-offs too. Owning property completely changed my outlook and respect for having a home and all the little things that go into making it work. I went into DIY mode more than ever too – I can fix toilets, trim trees, paint, assemble furniture, caulk bathrooms, unclog sinks, get rid of pests, fix sliding closet doors, and scrub surfaces spotless. I refuse to pay someone to clean my house either when I can do it myself. Never underestimate what you're capable of!
Ages 36-40
Goal: Get to a $1.3 million net worth by age 40. I want to grow my retirement and investment accounts, continue to pay down my mortgage at a steady pace, and keep building both active and passive income streams. If that goes well, I hope to have a $2 million net worth by age 50 and potentially a $2.5-3 million net worth by age 60.
Result: To be determined.
My Net Worth Reporting Begins!
In my November 2015 income report, I mentioned that I would begin publishing my net worth on Untemplater. I am currently undecided about the frequency of publishing my net worth updates, but I'm aiming for twice a year at a minimum, perhaps quarterly. My income reports will continue to be monthly. Without further ado, here goes!
I was able to dig back into my old budget spreadsheets that I used to keep track of my financial progress all the way back to 2005. I thought it was pretty cool I was able to retrieve data going back that far. Next, I put together stats on the years from 2001-2004 using rough estimates. Here's how the numbers shake out: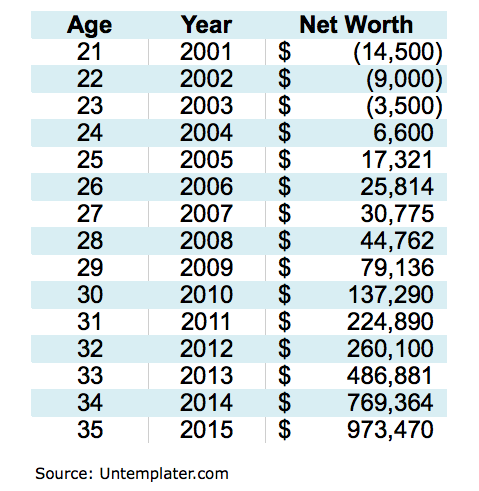 I was fortunate that I didn't go to an expensive college, so when I graduated I wasn't in a huge amount of debt. I had help from multiple sources, refinanced my student loans, and paid off my debt in a relatively short time frame. If you're looking to refinance your student loans, I'd check out SoFi. Their interest rates are regularly 1-2% lower than what's out there, thanks to their new lending algorithm and massive funding.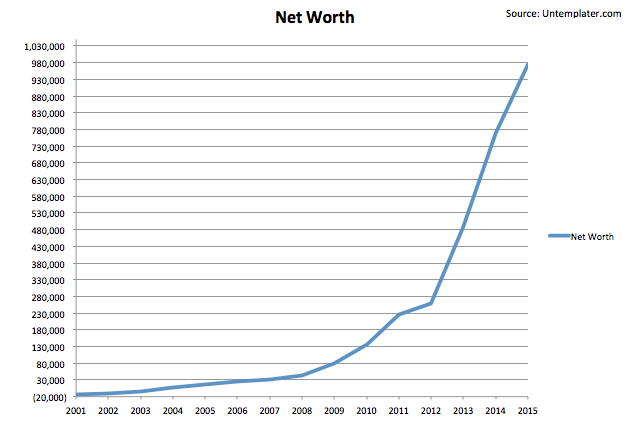 My net worth has jumped a lot in recent years thanks to my determination to save, invest, ask for raises, build passive income, and work multiple jobs. Side hustling and staying disciplined has really paid off and helped me grow. It isn't easy though; I think I work harder than the average person.
But I'm fortunate to be healthy and have the energy – although not as much energy as in my 20s – to juggle many things at once. I'm not a severe workaholic by any means, but I only allow myself relaxation in moderation so that I can maximize my time while I'm still able. I figure I might as well work as much as I can while my body and mind can still handle it. Goodness knows my parents (mid/upper 60s now) can't handle what I'm doing, so it's likely I won't be able to either at their age.
Being a property owner in San Francisco has also been a huge blessing – the market has finally starting to cool off some, but property values have done very well here. It seems like everyone wants to live in the Bay Area and condos continue to pop up everywhere in San Francisco.
Another reason I think I've been able to grow my net worth to where it is today is because I don't have a taste for expensive things. I think I'm lucky that way, especially as a woman. Some of my close female friends and coworkers spend crazy amounts of money each month on girly things like makeup, cosmetics, shoes, purses, clothes, and hair treatments. I buy a fraction of what they do and have cut my own hair since my early 20s.
Net Worth Breakdown By Asset Type
Now that you know how much my net worth is, you're probably wondering how it's divided up. Here's a look at the breakdown of my net worth by asset type: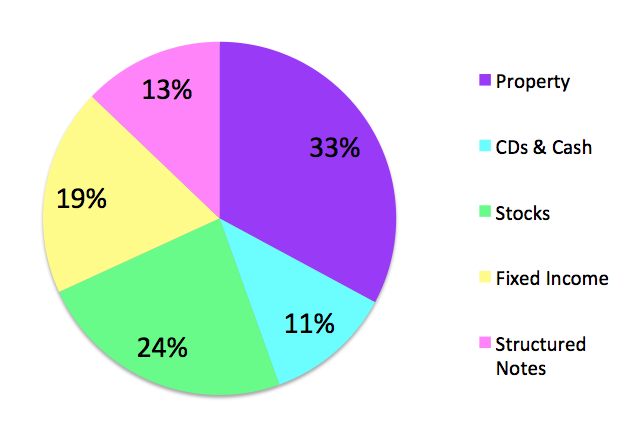 I have quite a lot tied up in CDs that are set to expire in 2017. I used to love CDs when interest rates were decent, but I don't plan on rolling my existing CDs when they mature. I doubt rates will be as good in 2017 as they were when I first got into my current positions, and I anticipate being able to make a higher return in the stock market or other alternatives.
I also own a lot of fixed income for my age because I'm definitely more of a conservative investor than a high risk speculator. I should also note that most of my structured note positions are based on indexes like the S&P, DOW, and the STOXX 50 so I do have an element of equity exposure embedded in that 13 percent. But I wanted to delineate my structured notes from the naked stock positions in my net worth chart by asset type because they are much less liquid after all. I like the terms of my structured notes and several of my holdings have nice dividend payouts.
I Want To Be A Multi-Millionaire And Perhaps You Should Too
So there you have it. That's what my net worth looks like. Putting it all out there does make me feel more pressure to meet my financial goals, but that's probably a good thing. It takes a fire in your gut, smart choices, discipline, and luck to grow your wealth. Since I want to become a multi-millionaire by the time I'm 50, I can't let myself get soft once I reach the $1 million mark, which isn't too far away.
Why do I want to be a multi-millioniare? Even though I'm close to a $1 million net worth, which certainly is a lot of money, $1 million isn't setting the bar high enough for me. As Sam says, $3 million is the new $1 million. I couldn't agree more with healthcare costs continuing to rise and especially living in an expensive city like San Francisco.
Most people grossly underestimate how much money they'll need in retirement and I don't want to fall victim to ignorance, lack of planning, or denial. I'd much rather have too much money in retirement than too little!
My parents certainly have fallen short in their retirement savings, and that's had both a psychological and financial impact on me. I constantly worry they won't be able to take care of themselves and that responsibility will thus fall on me. It doesn't help that they are divorced and thus don't have economies of scale.
If I want to be able to have my own comfortable retirement and not go broke helping to pay for theirs, I'll need more than $1 million to do so. If I think about their unfortunate situations too much, I tend to get depressed. So instead, I focus on how much they've done for me that has enabled me to get to where I am today.
We all have more than we think. Instead of feeling sorry for myself or for them, it's important to respect that the brick walls are there for a reason. I stay positive by reminding myself that I have the ability to help my parents along, even if that means I have to work harder for my own future.
We just don't know what the future holds, but if we try our best every day we shouldn't have any regrets. I'm working hard to become a multi-millionaire over the next couple decades and perhaps you should too.
Recommendations To Build Wealth
Track your own net worth for free – If you're interested in tracking your own finances, sign up for a free account with Personal Capital. You can quickly link your checking accounts, savings accounts, investment accounts, mortgage, student loan debt, credit cards, etc. all in one place. The best features are their Portfolio Fee Analyzer tool and their Retirement Planner. I found out I was paying over $1,000 a year in fees I had no idea I was paying. The Retirement Planner is great because it uses your real inputs to calculate your future cash flows. Try to get above a 95% probability. Take advantage of Personal Capital's free financial tools to maximize your net worth today.
Get help managing your money for cheap – Wealthfront is an excellent choice if you want help with investing. Instead of letting your cash sit around doing nothing because you don't know what to do with it or are too busy doing other things, let Wealthfront manage your money for you. Opening an account is free and only takes a couple minutes. There are $0 fees for the first $10,000 in your account and only 0.25% for any money over $10,000. One of their great features is they allow you to automatically contribute to your investment account every month, just like contributing to an IRA or 401k. It's all about paying yourself first. Get started with as little as $500. Learn more.
Untemplaters, do you have any financial goals for 2016? Have you ever tracked your net worth and set savings targets by age? If not, what's holding you back? If you are into personal finance like me, what has been your greatest tactic for growing wealth? What are your biggest financial challenges?