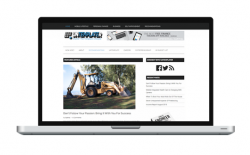 Hold on to your hats – heavy winds are knocking over trees, hail is falling out of the sky in San Francisco and snow is dumping in Tahoe. Winter is really here! Today was a perfect rainy day to stay indoors, do some writing, spend time with family, and put together this income report.
I'm happy to announce that November was a wonderful month. Traffic was up, I was quite productive on various projects, and I'm really proud of the extra income I generated.
What's also been keeping me happily preoccupied recently is I adopted a beautiful five-year-old cat! She's absolutely the sweetest cat I've ever met and quite funny too. I think we're going to be great companions!
Another announcement is I'll be putting together a post on my net worth soon, so be on the lookout. It will provide an even broader picture of my finances, and should further motivate me to continue building wealth.
New Here? Welcome! Be sure to check out my about page and read how I got paid to break free from a grueling desk job earlier this year. I publish monthly income reports to track my progress and push myself forward.
2015 Goals Update
I have three main career goals for 2015. In each of my income reports, I provide a quick update on my progress:
1) Goal: Grow More Traffic
November vs. October:

It's a relief to have a rising trend after several months of slowdowns. I had a nice traffic spike when I published my last income report, so it's encouraging to see that you guys are enjoying them.
Year over Year:

I decided to start looking at data comparing the last two years instead of just one to get a bigger picture of the trends. I'm liking the widening gap!
2) Goal: Land More Freelancing Gigs
I picked up a lot of extra freelancing hours in November and it paid off really nicely! I was working five days a week at my consulting gig at my former employer (versus just three days a week) for a good part of November since I wanted to make up for taking some time off to travel. My boss is super flexible about me working as many days as I want and setting my own hours, so I didn't need to worry about getting approval to bill more hours. Cha-ching!
On the other hand, one of my other freelancing gigs has been forcing me to cut my hours back, which has really bumming me out. I really like working for them, but my fear is they could continue reducing my hours to the point that I get cut out of the budget entirely. At least I have expanded my client list so I have alternatives to fall back on if I do get the boot in the near term.
I didn't get to make any money teaching music in November due to my students being out of town and getting sick. I'll probably only get to teach one day in December as well due to the holidays, but hopefully we'll get back to a more regular schedule starting in January.
A new freelancing income stream I started exploring recently is pet sitting. A friend of mine told me she's been making about $2,000 a month doing overnight stays at people's houses in her spare time. That's quite a lot of supplemental income for hanging out with pets! I don't think I'll be as active as she is because of my other, but I have my first gig booked to cat sit over the week of Christmas so hopefully that will go well and I'll see how things go from there.
3) Goal: Build More Affiliate Income
I experimented with promoting more products on Amazon due to Black Friday and the holiday shopping season, but nothing much has come of that. I wish I could have earned a commission on my own Amazon purchases since I did a lot of Black Friday shopping for my new cat, but alas that's against their policies.
Income Report November 2015
Onwards to the November Income report…
Total Revenue Streams = $18,137
FREELANCING: $14,000
Project consulting $11,480
Editorial, writing, online marketing $2,520
Teaching music $0
INVESTMENTS: $164
Rental income $100
Dividends & Interest income $54
Prosper P2P investment income $10
ADVERTISING & AFFILIATE: $3,973
Affiliate Partnerships: $3,073
Advertising other: $485
Contextual Advertising (Adsense): $213
Bluehost: $180
Amazon Associates: $3
Genesis $0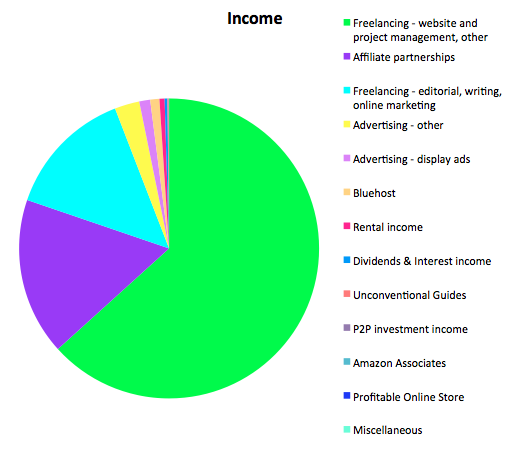 Expenses = $(5,825)
BUSINESS: $(1,465)
Aweber, Marketing, Subscriptions, Fees: $(295)
Meals & Entertainment – business: $(275)
Quickbooks: $(50)
Hosting, web related: $(30)
Supplies & misc: $(0)
Outsourcing: $(0)
PERSONAL: $(4,360)
Living expenses: $(3,360)
Shopping & misc expenses – personal $(650)
Meals & Entertainment – personal: $(365)
Travel – personal: $(350)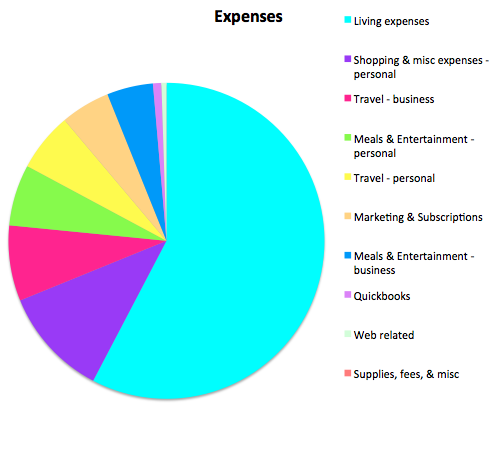 PROFITS: $18,137 (Income) – $5,825 (Expenses) =

$12,312
November Takeaways
I'm feeling good about November's results! It's hard to feel confident that December will be on par or better since everything just seems to slow down during the holiday season. But maybe my luck will continue and hopefully the upcoming Google Penguin update will treat me well.
I spent way more money on myself in November than I normally do. However, the majority of it was preparing to adopt my cat. The upfront fees of getting a pet can add up, but the cost afterwards shouldn't be too bad each month. I was able to save a lot of money on her pet supplies and food thanks to Black Friday sales, which was awesome. I also took advantage of the sales to get myself some skincare products that should last all year and some Christmas gifts for the holidays.
Recommendations
Take a free mini course on how to create your own online store – If you've been thinking about starting an online business, you should consider starting an online store. Check out this free mini course on how to get started creating a profitable online store. You can also sign up for the full course and get access to over 70 hours of step-by-step videos instruction that guide you through the entire process. Steve is an incredible instructor and I've met him in person too.
Try your hand at freelancing – Motivated to become a freelancer full-time or just want to make some extra cash on the side? The possibilities are endless! If you're a creative person, it can be quite profitable to learn how to sell your products. Like to write as much as I do? Find out how to get published, earn money as a writer, and have flexibility and fun working on the road. You can also work on building your brand by creating your own website the easy way with Bluehost for super cheap. Whatever your interests are, focus on building your skills and developing your own unique niche.
Get help managing your money – Wealthfront is an excellent choice for those who want the lowest fees and can't be bothered with actively managing their money themselves. Don't let your cash sit around doing nothing. Unsure how to invest in the markets? Not a problem – Wealthfront will invest it for you! Opening an account is free and only takes a couple minutes. Wealthfront charges $0 in fees for the first $10,000 and only 0.25% for any money over $10,000. Get started with as little as $500. Put your cash to work so it doesn't lose purchasing power due to inflation. Learn more.
Break free! If you're burnt out of your day job, believe that you have options and can turn your career around. I didn't believe I could escape for the longest time, but fortunately I wised up before I destroyed my relationships with family and my health. I never would have thought I could negotiate a severance package and get paid to leave a job I grew to hate, but I did! Learn how you too can get paid to leave your job like I did and open your eyes to new opportunities.
Untemplaters, how was your November? Did you do a lot of shopping over Black Friday weekend? Feeling ready for the holidays?