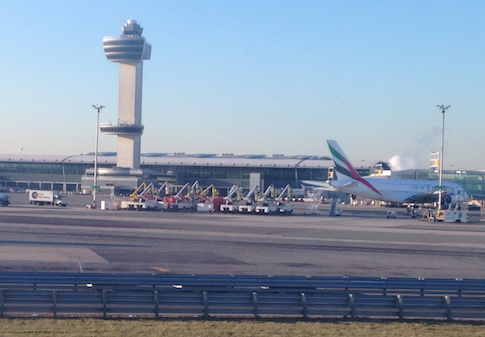 Because of my work and personal addiction to see new places, I think it's pretty fair to say I travel a lot more than the average person. I'm not a ten million miles reward member like George Clooney in Up In The Air by any means, but I've seen a lot of places and have no plans to stop my mobile lifestyle.
The main things I've learned from all my traveling over the years are how to save money, how to pack smart, and how to maximize my time on the road. Traveling is fun most of the time, but as I've learned it can turn you into a burnt out explorer if you're not careful. So finding ways to plan and save money really helps avoid stress and fatigue in the process.
Here are a few tips on how I save money on travel without getting stressed out along the way. After all, travel is much more rewarding when you can relax and feel like you've gotten a great deal!
Get Obsessed About Planning In Advance
I used to be an obsessive planner. I'd get my travel dates approved and on my work calendar many, many months in advance so I could get first dibs on the dates I wanted. While I'm a bit less obsessive now, I still try to have an idea of which months I'll be traveling 6 to 12 months in advance, and then I narrow in on the specific dates as each trip approaches.
Although unexpected fuel price drops could lower fares close to my date of departure, it's been my experience that booking flights far in advance comes out cheaper. I'll aim to book at least 30 days in advance whenever possible if my travel dates are set. And with hotels, it's no big deal booking way in advance because most offer a generous cancellation policy.
Avoid Other People!
Ok, I admit it…I like to avoid other people! I love traveling off peak and not only does this avoid crowds, it does great things for rates and fares. Depending on where in the world you want to go, the local off peak months will vary, but my favorite periods to travel for fun are late September through early November, late February, and early May.
Like most people in the US and major regions, most of my colleagues don't take time off during that period. So it's easier to get time off approved from work, airlines and hotels are more inclined to offer deals and lower rates, and there are less people around to cause lines, long wait times, and stress! Going off peak is a relaxing way to save money on travel when demand is low and supply is high.
Ask For Upgrades And Don't Hoard Rewards
Another tip I've learned is not to hoard your rewards. Some have expiration dates, but even if yours don't, I'd advise against hoarding rewards. Take advantage of them and enjoy yourself! My last free hotel night was at beautiful spa resort down in Monterey, CA and I'm tempted to go back again. It was such an awesome escape trip, and I have absolutely no regrets that I used that free night already.
It's also always worth asking for upgrades when you travel because asking is free and you have nothing to lose. When I was in Cancun off-peak, I asked if I could get a better room at check-in and got upgraded from the lowest rack room rate to a private Villa for no extra cost! Now that was sweet!
What's Better Than Free?!
I love to do research before I travel to a new place so I can make sure I can schedule in enough time to see the top sights, but also so I can take advantage of free attractions and activities. Sometimes the best things a city offers are free. If you want to save money on travel, there's no better feeling than taking advantage of things that are free.
For example, London has tons of free museums that are absolutely incredible and oozing with some of the world's best art. And also while I was on my last trip to London, I went to visit St. Paul's Cathedral for free, which normally charges admission. I arrived about 20 minute before a church service started and because of the timing I was able to get in for free, soak in the beauty of the church for a short stop, and quietly exited before the service began.
Don't Overlook The Benefits Of A Travel Fund
Another way I save money on travel without getting stressed out, is having a travel fund. I usually have an idea of where I want to go each year, estimate how much it will cost, and put aside money each month to go towards the expenses. Setting a goal and putting money aside for that goal helps make my trips happen. And it also gets me excited that my efforts will help me get to where I want to go.
Ride Like The Locals Do
I take public transportation everywhere around San Francisco, and I try to do the same when I travel. Most public transit systems aren't that hard to figure out and are really affordable, especially compared to taxis and tour guides. Just carry small bills and coins, and ask for directions. The busses in Cancun are a fraction of the cost of taxis, the tube in London is way cheaper and faster than taxis, and the train system in Japan is impressively punctual and clean.
Try A Train And Skip The Airport
Another way I save money on travel is taking trains over planes when I have the chance. Depending on where you're trying to go, it's not always the most convenient, but train travel is typically a lot cheaper than airfare. I can't count how many times I've taken Amtrak up and down the East Coast to save a couple hundred dollars a trip. And I loved taking the Eurostar between London and Paris instead of flying.
Get Outside And Don't Pay For A View
And lastly, another way I save money on travel is skipping the room with a view. To me, traveling is about being outdoors and exploring, and not so much about spending a lot of time in a hotel room. Sure, having a view is awesome, but I'd much rather put the cost savings towards activities and devouring the local food.
LOOKING FOR A GREAT PLACE TO VACATION?
Rent my friend's place in Lake Tahoe! He's got a fantastic five diamond rated two bedroom, two bathroom condominium at The Resort At Squaw Creek in Lake Tahoe. There's ski-in/ski-out, three outdoor hot tubs, three heated pools, a spa, a gym, several gourmet restaurants, fantastic children and family activities, a golf course on site, amazing hiking, kayaking, rafting, fishing, biking, and more!
Lake Tahoe is one of the best places to vacation. You can rent book a reservation as a studio (two queens), one bedroom (one king, a pullout queen, fireplace, two TVs, kitchenette, dining table, two rooms), or entire two bedroom unit (studio and one bedroom combined). Click the links for availability and click this post to see pictures and information about it. Prices are ~15% lower than anywhere you'll find online!
START YOUR PROFITABLE WEBSITE TODAY
Want to make more money and be more free? Work on building your brand by creating your own website the easy way with a WordPress site like mine through Bluehost for super cheap. You can register your domain for under $20/year and get hosting for only $3.49/month. Whatever your interests are, focus on building your skills and developing your own unique niche.
I've been blogging since 2010 and it has allowed me to break free from the corporate grind to travel, work from home, consult for companies that I like, and do so many more things I've always wanted to do but couldn't. The income is relatively passive as posts I've written years ago are still being found through Google and generating income. What's better than making passive income and creating a valuable asset you can one day sell for a multiple of annual income? There's not a week that goes by where I'm not thankful for starting this site!