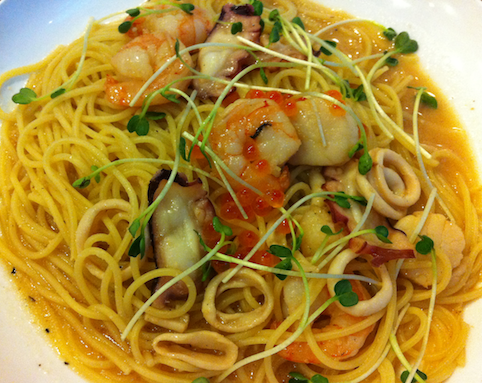 Most of my favorite memories are from traveling to new places and experiencing new flavors, cultures, and adventures. Although I'm not much of a creative cook myself, I love eating good food and trying new dishes from around the world. I've put together a list of some of the best eats from around the world that I've found on some of my trips below.
I'm lucky to live in San Francisco because there is such a diverse range of cuisines to choose from here. But I've had fantastic meals pretty much everywhere I've traveled. And eating is one of the best parts of a mobile lifestyle, wouldn't you agree? I've picked up an addiction of photographing a lot of the food from my travels too, and all of these pics are my own. Be forewarned, this list of best eats is apt to get your stomach growling!
Best Eats From Around The World:
Istanbul, Turkey: A trip to Instanbul isn't complete without a cup of Apple tea, a plate of baklava, and a handful of Turkish delight. The spice market is also not to miss. It's so full of color and you can get super cheap kebabs there too. Also, make sure to try the fresh grilled corn and hand squeezed pomegranate juice from one of the street vendors. YUM.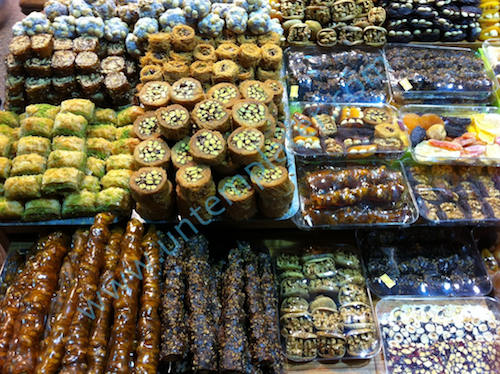 Helsinki, Finland: What I remember most about Helsinki are the grilled fish stands down by the water at Market Square. Most of the vendors will let you sample one or two, which is just enough to get you hooked. There's also lots of salmon, and grilled potatoes. Also don't miss the super sweet strawberry stands. There are also bounds of red currants and chanterelle mushrooms for sale here too.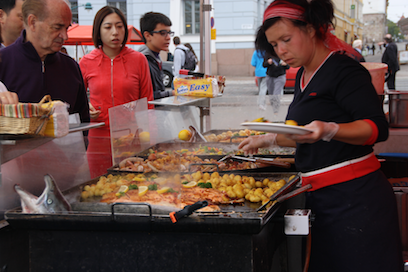 Amsterdam, Holland: If you go to Amsterdam you have to try the Indonesian food (the Dutch colonized Indonesia if you're wondering) from a family run restaurant like Soenda Kelapa. You get lots of little dishes packed with flavor. My favorite was a squid dish with curry and spices. There are also lots of fantastic cheese shops all around Amsterdam that let you sample pretty much everything and have all sorts of fantastic cheeses. Also try the sweet and chewy desert stroopwafels.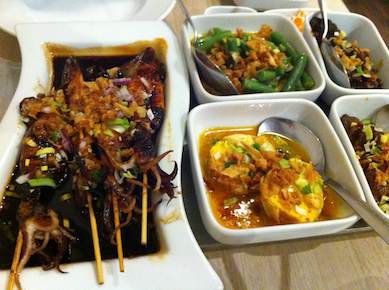 Venice, Italy: When in Venice you must try squid ink pasta. If you've never seen it before, it may look scary because it's black, but oh man is it so good. Also don't miss the fish market here. There's a huge range of seafood and it's fun to walk around and see the selection. The gelato in Venice is also not to miss, and you'll find it everywhere.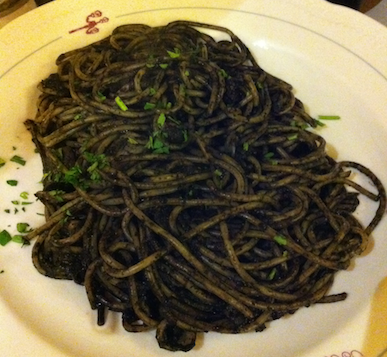 Bruges, Belgium: The mussels, Belgian fries, waffles, and chocolates in Bruges are so delicious. My favorite meal was at Bierbrasserie Cambrinus which I paired with a perfect fruit lambic beer. There are literally hundreds of beers to choose from. Make a reservation or get there early as Cambrinus fills up quick.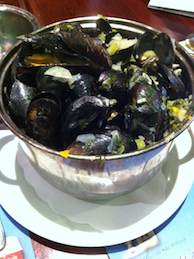 Paris, France: There's nothing quite like eating fresh pastries and breads in the heart of Paris. Crepes are also a nice light meal or snack. And if you want something a little more hearty that's also super cheap, pick up a hotdog baguette from a food stand as you stroll the city. Delish!
Naples, Italy: Two words: margherita pizza. People really aren't kidding when they say you haven't had a real pizza until you go to Italy. My mouth is watering just thinking about how incredibly good the pizza is fresh out of the wood ovens. Order your own because you're not going to want to share!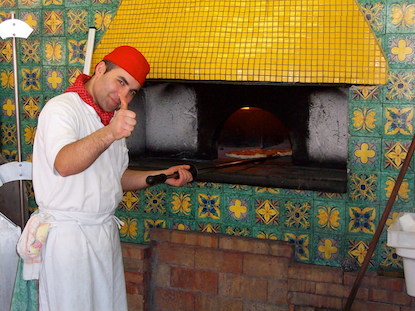 Barcelona, Spain: Tapas, tapas, and more tapas. YUM. Barcelona is a city that you want to take your time in. Grab a late dinner with a pitcher of sangria, some seafood tapas (squid is excellent), and finish with some fruity gelato which I found to be really good here. Paella is also a must, just stay away from the super tourist traps, and be aware that many places will charge you extra to dine in.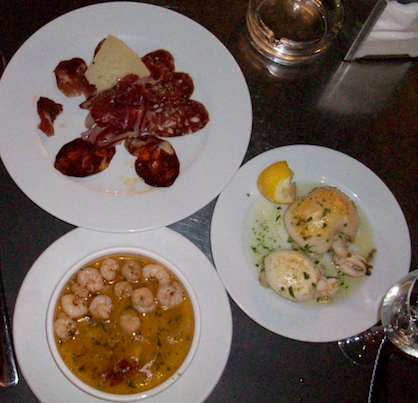 Rome, Italy: I had a fabulous frutti di mare linguini in Rome along Piazza Navona. It's a great place to people watch as you enjoy a delicious meal. Make the effort to find restaurants that use fresh pasta in their dishes because it makes a big difference in taste.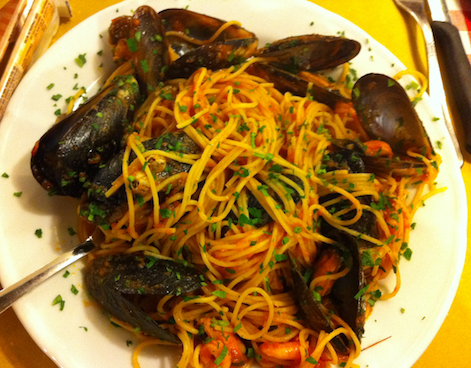 Mykonos, Greece: This was another place where I had a delicious frutti di mare pasta. The prices are insane though if you want to get a table right along the water, so be prepared to pay up. Restaurants are piled right on top of each other here, so it's easy to stroll around and see which dishes looks best before sitting down. Grilled octopus is another great dish to try.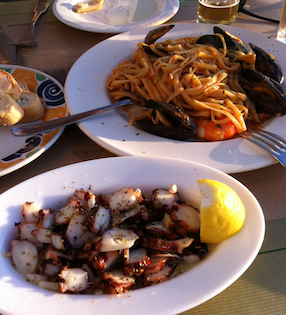 London, England: I enjoyed eating in China Town the most. Grab some Malaysian food or dim sum. Simple, cheap, and tasty. London will leave you broke very quickly and it's not really a place you want to splurge on fine dining. But there are some great up-scale Indian restaurants that are very tasty. Head to Tamarind if you're feeling rich.
Tokyo, Japan: You can't go wrong with food in Japan. Try Japanese spaghetti, fresh noodles, homemade silken tofu, azuki bean ice cream, shabu shabu, omanju, and sushi. You'll also find some of the most perfect, and very expensive, fruit that bursts with sweetness. Head to the top floor of any department store for great restaurants and browse the huge selection of sweets and food gift boxes in the basement levels.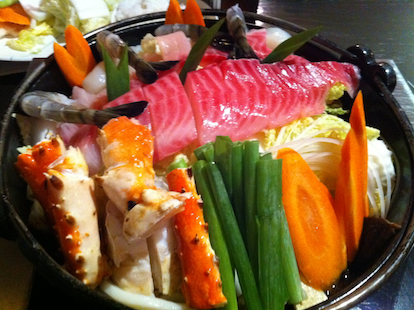 San Juan, Puerto Rico: The street food in San Juan is cheap, filling, and will leave you smiling. You can have your pick of fried plantains, empanadillas, alcapurrias (fritters), lechon pork, and rice dishes with chiles and beans. You'll also want to enjoy the fresh fruit, and sip local coffee and rum.
Toronto, Canada: I went to a fabulous vegetarian restaurant in Toronto called Fressen. It's a little bit pricey but the cocktails and ambiance were nice, and the food was really fresh and packed with flavor. I also had decent Indian and Thai food during my treks around the city too.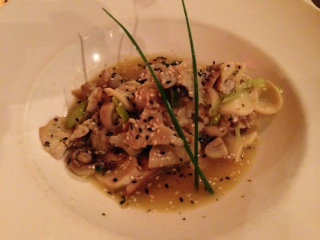 Cancun, Mexico: I went on a snorkel tour around Isla Mujeres and had the best homemade food there. Spaghetti with poblano chile sauce, rice with local spices, and freshly caught grilled fish (red snapper I think) with lemon and orange spices. The Mayan influence here makes simple dishes incredibly delicious.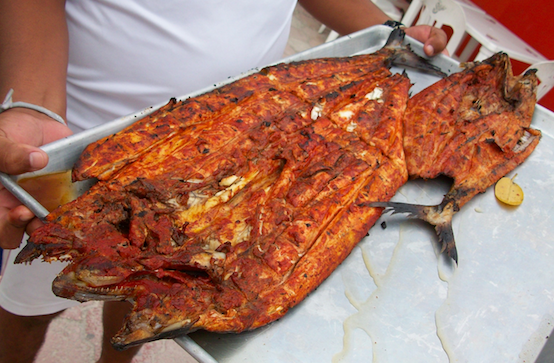 Untemplaters, what are your favorite best eats from around the world? What city are you dying to go back to for the food? Do you ever set a food budget when you travel?
Copyright 2013. Original content authorized only to appear on Untemplater.com. Thank you for reading!