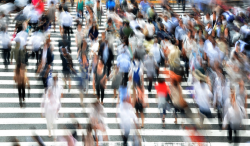 My confession / soundbite for April is that I have workaholic tendencies. Working a crazy number of hours last month reminded me why working only 40 hours a week is so easy in comparison. While it felt good to get so much accomplished, it also reminded me that we all have a breaking point no matter how motivated or invincible we may feel.
Although my personality is pretty calm and mellow, work can really get me…well, all worked up. I take so much pride in what I do that I simply can't do assignments half a$$ed even though I often have to work with a few people who couldn't care less about their performance.
Anyway, while March was a work hard play hard month, April was pretty much just a work hard month. The good news is I'm laying off the gas this month in May to reboot and get any residual stress toxins out of my system. Stress can literally manifest back pain and neck pain, which I was all too well reminded of in April. I constantly wanted to crack my throbbing back and had to fight off aches I hadn't felt since before I left my stressful day job, which as you regular readers know if where I'm now consulting practically full-time.
Maybe this month I'll finally go get the massage I've been dreaming about for the last several weeks!
New Here? Welcome! Be sure to check out my about page and read how I got paid to break free from a grueling desk job earlier this year. I publish monthly income reports to track my progress and push myself forward.
2016 Goals Update
I have three main career goals for 2016 and I'm actively hustling to meet or beat them this year. In each of my income reports, I provide a quick update on my progress:
1) Goal: Invest At Least $5,000 Every Month
April was so crazy for me I didn't think about investing until the last week of the month. I was so uninspired by the stock market I decided to forgo investing for April. What I decided to do instead was pay off $3,000 in mortgage debt.
I think I'm going to do that from now on – if I just don't feel good about the timing of the stock market, I'll pay down debt instead. Seems like a happy compromise to me.
2) Goal: Grow My Net Worth By $75,000
I am on a quest to become a multi-millionaire! It's a long journey, but an exciting and fulfilling one. If I can grow my net worth by $75,000 this year I'll pass a net worth of $1 million and will be in good shape to hit some financial goals I want to reach before I turn 40. How do I plan to accomplish this goal? I plan to save a lot of money continue doing as much as I can freelancing.
I can give myself a pat on the back for maximizing my income opportunities in the month of April. As of now I'm sitting on cash that I hope to deploy in the coming months when I get a better feeling about the markets. My instincts suspect the markets could go down further as the economy slows, more layoffs occur and the property market slows down.
3) Goal: Grow More Traffic
Growing traffic is easier said than done, but I keep reminding myself its possible as I've witnessed by many other sites.
April was pretty flat compared to March which I'm actually ok with. Thanks so much to those of you who have become regular readers and leave such thoughtful comments. I have comment rounds on my to do list and hope to share the love soon.
April is a good reminder that seasonal slowness is coming as students get out of school and people start traveling and spend less time surfing the web.
April vs March:

Year over Year:

Income Report April 2016
Onwards to my April Income report…
Total Revenue Streams = $23,816
FREELANCING: $20,193
Project consulting $16,280
Editorial, writing, online marketing $3,738
Teaching music, pet sitting $175
INVESTMENTS: $471
Dividends & Interest income $290
Rental income $160
Prosper P2P investment income $21
ADVERTISING & AFFILIATE: $3,152
Affiliate Partnerships: $2,682
Contextual Advertising (Adsense): $210
Bluehost: $180
Amazon Associates: $5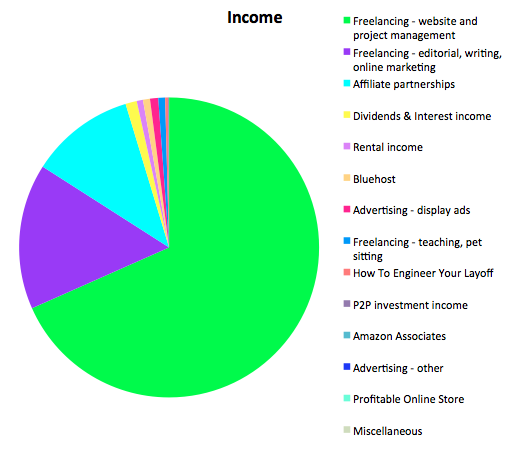 Expenses = $(4,655)
BUSINESS: $(805)
Aweber, Marketing, Subscriptions, Fees: $(355)
Meals & Entertainment – business: $(280)
Travel – business: $(60)
Quickbooks: $(50)
Supplies & misc: $(30)
Hosting, web related: $(30)
PERSONAL: $(3,850)
Living expenses: $(3,360)
Meals & Entertainment – personal: $(320)
Shopping & misc expenses – personal $(120)
Travel – personal: $(50)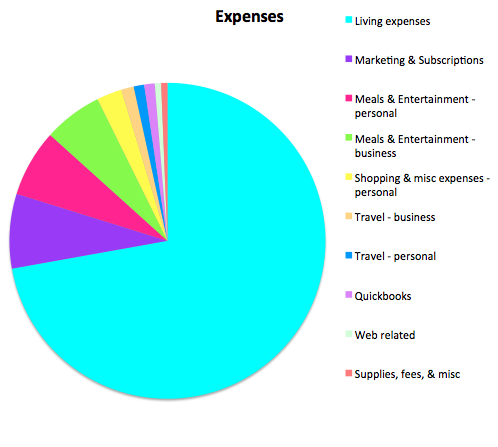 $23,816 (Income) – $4,655 (Expenses) = 

$19,161 PROFITS
April Takeaways
Work hard while you can is one of my main mottos because I know someday I simply won't be able to. Although most people don't regret working more when they are near their end of days, I like money 🙂 and I like the satisfaction and rewards of hard work. My perfectionist tendencies also make me a good candidate for workaholics anonymous.
I have a pretty strong inner drive to make as much money as I can while I'm still relatively young and don't have the responsibility kids or my parents as dependents. I do get stressed out worrying about my parents who are in their late 60s, which makes me worry even more that things will get even harder when they're in their 70s and 80s, but I'm doing the best I can to help them now and maintain my sanity.
There's not much sense in worrying about things that haven't happened yet either, right? Hope you had a great month of April and I wish you the best in whatever goals you're striving towards today. To infinity and beyond!
Recommendations
Start Your Own Website – Want to make more money? Work on building your brand by creating your own website the easy way with Bluehost for super cheap. You can register your domain for under $20/year and get hosting for only $3.49/month. Whatever your interests are, focus on building your skills and developing your own unique niche! I've been blogging since 2010 and it has allowed me to break free from the corporate grind to travel, work from home, and do so many more things I've always wanted to do but couldn't. There's not a week that goes by where I'm not thankful for starting this site!
Track Your Net Worth For Free – Utilize free technology to track your own finances and net worth with Personal Capital. You can quickly link all of your accounts in one place. The best features are their Portfolio Fee Analyzer tool and their Retirement Planner. I was able to save over $1,000 a year in fees by using their free tools. The Retirement Planner is also great because it uses your own inputs to calculate your future cash flows. Take advantage of Personal Capital's free financial tools to maximize your net worth today.
Get A Free Personalized Investment Plan – Wealthfront is an excellent choice for personal wealth management for those who want the lowest fees and can't be bothered with actively managing their money themselves. In the long run, it is very hard to outperform any index, therefore, the key is to pay the lowest fees possible while investing your money in the market. Get a free personalized investment plan from Wealthfront in just a couple minutes by answering a free six step questionnaire. You don't have to transfer a single penny to see Wealthfront's recommendations for your investments, but it's easy to fund an account if you choose to do so.
Break free! If you're burnt out of your day job, believe that you have options and can turn your career around. I didn't believe I could escape for the longest time, but fortunately I wised up before I destroyed my relationships with family and my health. I never would have thought I could negotiate a severance package and get paid to leave a job I grew to hate, but I did! Learn how you too can get paid to leave your job like I did and open your eyes to new opportunities.
Untemplaters, did you have a successful April? What are your upcoming plans for the summer?
Copyright 2016. Original content and photography authorized to appear solely on Untemplater.com. Thank you for reading!