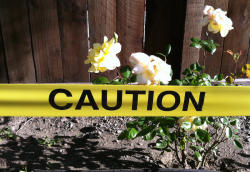 Do you have a sinking feeling in your gut that more layoffs are coming? You're not alone. I don't think we're doomed to relive a recession as dire as 2008 in the near future, but the economy and the job market seem to be softening. I'm erring on the side of caution this year by making as much money while I can and being conservative with my spending. Although the job market was generally quite strong last year, I'm uncertain that trend will be sustainable this year. I think a lot more layoffs are coming.
Layoff News 2016
Here are some recent stats on layoff news that I think everyone should be aware of. The technology and energy sectors in particular are getting hammered and could create a ripple effect into other sectors. (Sources: Reuters, CNBC, Fortune, Yahoo Finance, DataFox)
Energy sector layoffs:
January and February 2016 had 32 percent more layoffs than the same period in 2015.
Down sizing in February 2016 alone was 22 percent higher than February 2015.
40% of the layoffs – or 25,051 layoffs – in February 2016 came from the energy sector. A significant factor is oil prices, which were down 43 percent year over year.
Over the next 2-3 years, it's estimated 5 to 6 million state workers in China will be laid off in the coal and steel sectors. (that's not a typo folks! Source: Reuters)
Additional sectors that are likely to experience significant cutbacks and layoffs in China include cement, glassmaking, shipbuilding, and solar power.
The U.S. has suffered cutbacks and layoffs in the manufacturing and fossil fuel industries due to wavering in China, declining oil prices, a stronger dollar, and slowness in Europe.
Halliburton, an oil field services company, is cutting 5,000 jobs due to declining oil prices.
Technology sector layoffs:
Tech layoffs during January and February 2016 had 143 percent more layoffs than the same period in 2015. 16,000 people lost their jobs due to layoffs.
Some analysts estimate there could be 330,000 tech layoffs this year.
Many tech firms are struggling with slower growth, cash management, over hiring, and declining funding.
Yahoo is cutting back 15% of its work force – that's 1,500 jobs. Some predict the number could rise as high as 3,500.
Intel is closing older factories, which will displace an estimated 5,000 to 6,000 workers.
IBM has been actively laying people off. It's been reported they have also slashed their severance program from six months down to one month for those who opt for early retirement.
Hewlett Packard, VMware, NetApp, Blackberry, DataGravity and Zenefits are just a few of the firms that have announced and begun layoffs in recent weeks.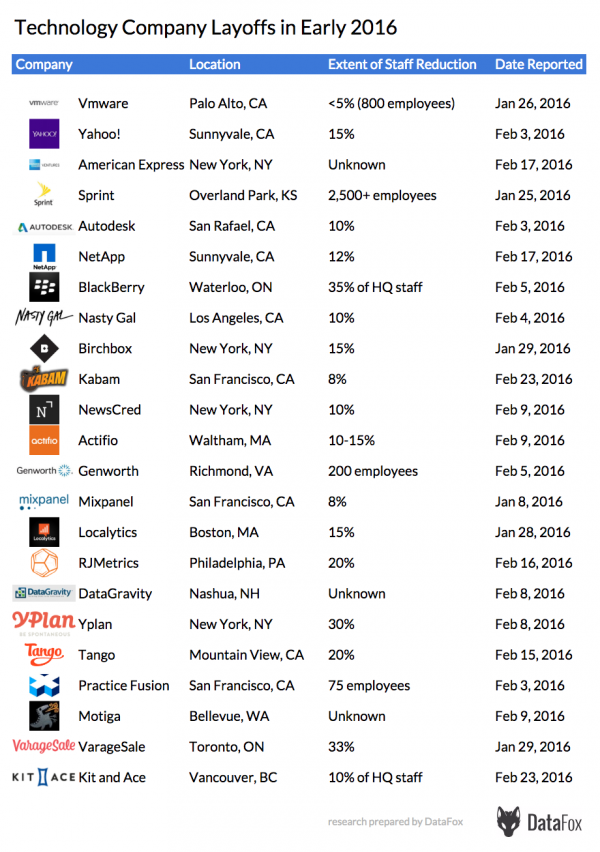 Let's Not Forget The Past As We Look To The Future
While the financial meltdown of 2008 may seem like a distant memory, it's not a time that we should ever forget. Thousands of people lost their jobs and finding work was extremely difficult. We've come a long way since then, but we shouldn't just sit back and assume our economy is "fixed" and that we're immune from future downturns.
The economy and the stock market are always changing and most likely the next recession will occur for different circumstances than what we've seen in the past. Perhaps we could experience a tech bubble burst, an energy crisis, or a revolt from the widening income gap.
I plan to keep a close eye on the election and the stock market while I continue to save. January was certainly an ugly month in the stock market and February wasn't a whole lot better. Things are looking a bit better in March so far, but anything can happen.
How Do You Know If You Will Get Any Severance?
First of all, it's important to re-read your offer letter back from when you started your job. If you are employed "at will," which most people are, your employer can send you packing at any time without recourse. Likewise, you can choose to leave at any time on your own accord.
The downside of at-will employment is your employer could tell you that your services are no longer needed without any warning and no severance to walk away with. However, the good news is there are employment laws designed to help protect workers. Let's go over the basics you should know about how to get a severance package.
What Is The WARN Act?
Since 1989, the U.S. Department of Labor has enforced the Worker Adjustment and Retraining Notification Act (the WARN Act). It states that any business with 100 or more full-time workers that is planning plant closures or mass layoffs that meets certain criteria must provide at least 60 days notice to the state(s) where they operate, the affected workers or their representatives (e.g. a labor union), and the relevant unit of local government. The below chart is a general summary of how it works.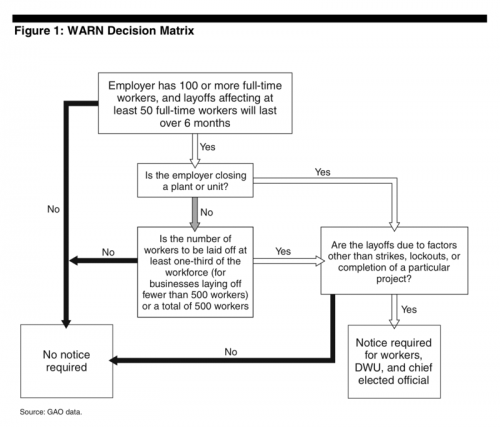 The good news for workers is that several states have additional WARN rules on top of those set at the federal level including California, New York, New Jersey, Massachusetts, Illinois, Hawaii, Maine, New Hampshire, Iowa, Tennessee, Wisconsin, and the city of Philadelphia.
California law applies to firms with 75 or more full-time or part-time employees and removes the one-third rule. New York law drops the company size down to 50 or more employees where 25 or more workers are affected that are one-third the workers at the site, and raises the notice to 90 days.
If you suspect that your company could have upcoming layoffs, keep a close eye on the WARN listings for your state's labor department. A quick Google search can take you to your state's website listings, which should be regularly updated. Keep in mind if you are suddenly part of a large scale layoff but are kept on payroll and benefits for two months you're essentially just receiving mandatory WARN coverage versus a true severance beyond what is required by law.
How Much Is The Average Severance Package?
It might seem unfair, but employers are not legally obligated to provide severance to laid off employees. That is why it is especially important to pay attention to the financial health of your firm throughout your career. If a company is closing down things can get tricky, especially if the firm has not taken preemptive measures and quickly exhausts its runway. It is unlikely for employees to get any money if the company can't even afford to pay its bills or process payroll anymore.
It's important to realize there is no one-size-fits-all severance package. Many different factors can impact how much or how little you could receive such as your company's total number of employees, its financial status, whether it is public versus private, its age, industry, your department's contributions to the firm, your level of seniority, and your recent performance.
Fortunately, many firms want to provide as much assistance as possible and generously offer extended benefits and severance when they make cutbacks. A commonly accepted formula for coming up with the average severance package is:
Number of severance weeks * Number of years worked + Minimum state mandated base = severance package. Usually, the number of severance weeks can range from about 1-4 weeks. The typical severance package averages about 1 to 3 weeks of pay for every year worked (in addition to the WARN Act).
Sometimes firms use the formula 0.5 * N instead. N represents the number of years worked and the result equals the total number of months in severance an employee would receive. For example, an employee with three years experience would receive 1.5 months of severance and a five-year employee would receive 2.5 months.
Untaken paid vacation days are also generally paid out in severance packages, while unused paid sick days are not.
When It Comes To Layoffs, Get Proactive And Negotiate
Unexpected layoffs can be a scary and confusing time. If you haven't been laid off yet but have suspicions, the more proactive you can be with your situation the better. If your company is really struggling, you may be better off trying to get out sooner rather than later. Those who get out first usually get the most. The earlier you take action, the more time you have to prepare and make your next move.
Many people don't realize that they can proactively negotiate severance terms. Employers won't publicly announce that negotiating is an option, but can be amenable if you take the right steps.
How much you can negotiate will depend on your tenure, company culture, individual performance, timing, and relationships with HR and your boss. An optimal severance package isn't just about how many weeks of pay you'll get either. Negotiate as best you can on insurance benefits, deferred compensation, stock benefits, vacation payouts, and outplacement services in addition to severance pay.
Learn Even More About Severance Packages
Here are some helpful links for further reading about layoffs and severance packages.
Most importantly, I highly recommend reading the book How To Engineer Your Layoff. It teaches you everything you need to know about negotiating a great severance package. The book provides many helpful case studies, including my own success story, useful checklists to help take the stress out of the process, offers both employer and employee insights, and a framework for having strategic conversations with your manager. Get all the details on How To Engineer Your Layoff and take control of your future.
Untemplaters, is your company going through layoffs? Do you think more layoffs are coming this year? Do you know what your firm's average severance package like?
Copyright 2016. Original content and photography authorized only to appear on Untemplater.com. Thank you for reading!